Larger milk payout affecting sales in other than dairy as confidence turns to conviction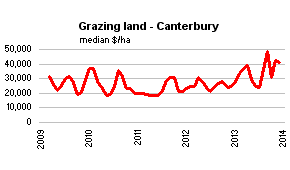 The predicted larger milk payout is having spillover effects into dairy support and arable land prices.
Finishing and arable land prices have been strengthening since mid 2012.
In its February, Agri Focus, ANZ says finishing property activity levels have been the strongest of all property types with total turnover in recent periods nearly double the 10-year average just 2%.
However, there are recent reports of buyer resistance on the traditionally more expensive regions of Waikato, Taranaki and Canterbury leading some buyers to search for deals elsewhere.
Confidence is turning to conviction in many cases and there are now rumblings that rural property prices may be entering speculative territory.
On arable farms the value of the land has been around the $22,400/ha mark and returns have been around 1.9% over the past couple of years.
Prices for both have moderated in recent months after earlier breaking out of their 2-year ranges in the winter and spring period.
Turnover has picked up substantially for both in recent months and this appeared to be giving buyers more options.
Again the large majority of sales have been in the traditional dairying areas or those which are growing quickly.
Prices, the bank said, would imply rising expectations for dairy grazing and cash crop prices as well as more dairy conversions.
A move, however, substantially higher with already slim rates of return in place seemed unlikely or at least unwarranted.
Average monthly arable prices got as high as $28-$30,000 ha in the winter and spring but had moderated back to $25,000 recently. This was still a 9% increase from the previous two years of $23,000ha and turnover was now nearly 50% above the10-year average and its highest level since prior to the GFC.
Elsewhere, the monthly turnover of grazing properties has pushed up to the 10-year average but average prices have moved back to $15-$16,000/ha range.
Confidence continues to rise in the horticultural sector with robust turnover in the past six months at nearly 80% of the 10-year average. Demand for kiwifruit orchards has lifted with Psa less prevalent