Parliamentary Commissioner for the Environment says nitrogen leaching intractable problem; says Councils may need to limit dairy conversions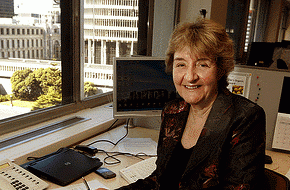 By Lynn Grieveson
Attempts by Fonterra and others in the dairy industry to mitigate the effects of dairy farming on water quality were doing little to fight the "intractable problem" of nitrogen pollution of waterways, said Parliamentary Commissioner for the Environment Jan Wright.
Councils may need to limit dairy conversions in some water catchments, she said.
Appearing before Parliament's Local Government and Environment Select Committee , Wright gave a spirited defence of her office's recent Water Quality in New Zealand report, as well of her submission on the proposed amendments to the National Policy Statement for Freshwater Management.
She said the Land Use in Rural New Zealand (LURNZ) model results were reliable and she was not "being radical" in her conclusions on the threat from nitrogen.
"2012 satellite photos have yet to be converted, however we have looked at latest statistics of land uses from a number of sources and the actual land use change is happening on track with what the LURNZ model predicts and possibly a little bit faster. Year on year more and more nitrogen is getting into the water and unfortunately this is despite all the good work going on in mitigation. The model makes assumptions about mitigation going forward to 2020. They are generous assumptions. This is not a worst case scenario as some commentators have said."
Wright said it was much easier to stop phosphorus getting into waterways, but mitigation efforts such as the fencing of waterways by Fonterra, containing dairy shed effluent and planting of stream banks were not as effective in preventing nitrogen pollution.
She also said it was the conversion of land from sheep and beef or forestry to dairying that was the biggest factor in water quality, rather than intensification and in some catchments it may be necessary for councils to set limits on the number of conversions to dairy.
"When declining water quality has been attributed to dairy farming the cause is generally given as this fairly undefined word intensification - putting more cows on each hectare of land. But what this shows is the bigger problem is putting cows on more and more hectares of land," she said.
"We know that if forestry is replaced by dairy farming the nitrogen goes up 10 times regardless of mitigation. It's really hard to deal with the business of trying to control land use change in any way. We have a long tradition of allowing people to do what they like with their own land."
Wright also reiterated her criticism of the proposed amendments to the National Policy Statement for Freshwater Management, saying it would not ensure that water quality of all waterways was "maintained or improved" but allowed for some to be degraded, and there needed to be a "strategic element to that framework so councils are told to identify the most urgent problems and get going on those first".