China acknowledges "the land is sick and we need to have fundamental change in agricultural management"; will need more food imports during a long remediation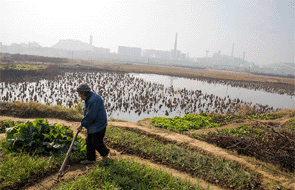 By Bernard Hickey
During a visit to Wellington a senior Chinese official has given a detailed and rare insight into why demand for New Zealand protein imports has risen so quickly in the past five years.
The official indicated that sales to China of New Zealand dairy products and meat would continue accelerating not only because of growing demand from its increasingly wealthy and still-rising population, but because supply growth inside China was restrained.
He said China planned to retire "sick" land poisoned by chemicals and heavy metals, and use the remaining capacity for staples of human consumption such as wheat and rice, rather than more expensive protein.
Giving a rare public speech through a translator from the lecturn in the Beehive's Theatrette, China's Deputy Head of the Central Rural Work Leading Group, Chen Xiwen, explained to Primary Industries Minister Nathan Guy and officials why China's demand for New Zealand milk powder and meat had grown so fast.
New Zealand dairy exports to China rose 79% to NZ$4.7 billion in 2013 and milk powder exports doubled to NZ$4 billion.
More than 90% of China's increased imports of milk powder came from New Zealand, helping to make China New Zealand's largest trading partner for the first time in calendar 2013.
Demand from a growing and increasingly rich population had more than overwhelmed a doubling of food production over the last 35 years to over 600 million tonnes, Mr Chen said.
China's population had been rising around 0.5% a year, resulting in almost 7 million "new mouths to feed" each year. This growth was not expected to plateau until 2025.
"The major challenge we face in China is how to rebalance the supply-demand equation," he said.
"We can't fully satisfy the requirement so we've had to import," referring to more than 7 million tonnes of soya bean and wheat imports last year to use for animal feeds, biofuels and edible oils.
China's population was not only growing, but getting richer and more urban, which meant demand for animal protein was growing quickly. "We don't have the ability to match that demand," he said.
Mr Chen said China imported 2 million tonnes of dairy products last year "and a significant proportion of that is milk powder, and the majority of that is from New Zealand."
"We expect the demand for animal protein and dairy will continue to rise, which is a reflection of disposable income and population," he said.
"The gap between supply and demand will continue to widen."
Westpac Economist Anne Boniface reports in this research note that the Food and Agriculture Organisation expects the pace of China's annual dairy production growth to slow from 7% in 2012 to 2% in 2022.
China's land shortage
Mr Chen then went on to explain the pressures on China's food production, given it had 19% of the world's population and less than 10% of its arable land, with the average land per person less than 40% of the global average. Increasing incomes increased pressure on supply, he said.
"This will continue to deteriorate as living standards improve," he said. "We need global cooperation and we need to look outwards."
Only 14% of China's land-mass was arable and a significant portion of that would have to be retired to rest and recuperate, he said. China also faced water shortages.
China aimed to ensure the basic staples were produced locally. "We should be at least independent in the staples," he said, referring to rice and wheat. China aimed to produce over 90% of its food domestically. "For the rest we will have to seek international cooperation and we will have to import."
Mr Chen spoke for over an hour through a translator and spent a significant portion of the speech on environmental problems and how that would affect production as land was retired and repaired.
He said over the last 35 years China's use of chemical fertilisers had been more than double international standards, with over 40% of the fertiliser used being un-productive, which had caused soil and water degradation. "We want to reverse that," he said.
"We in the central government recognise that the land is sick and we need to have fundamental change in agricultural management," he said. "We need to leave sustainable, arable land for our children and grandchildren."
"We can't continue to demand rising food production per square kilometre. We need to allow the land the recover," he said.
Some land was poisoned with heavy metals, which was affecting the health of the local population, he said. That land would need to be retired and cleaned up. About 4 million hectares of land had unstable slopes and there was land the Government was considering not using because of its proximity to major rivers.
"Central Government has decided from this year onwards we need to protect these important areas temporarily or permanently. This will mean a drop in production, but this is important, because without these sacrifices there is no future," he said, describing these changes as a "major change of paradigm" in China.
Mr Chen said food safety and environmental protection was a critical area where New Zealand was a leader and there was an opportunity for cooperation and technology transfer with China.
"Minister, New Zealand can never feed China, but it's about how we work and cooperate together," he said, addressing Guy directly.
Mr Chen spoke through a translator after being introduced by Guy to an audience of New Zealand officials, New Zealand business people and Chinese officials, including China's Ambassador Wang Lutong.