Opposition parties call for government to resume all meat inspections after Metro investigation reveals food safety concerns over outsourced inspections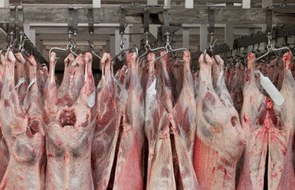 By Bernard Hickey
The Labour and Green parties have called on the Government to reverse its outsourcing of meat inspection to meat company employees after a Metro Magazine investigation found sub-standard inspections were causing food safety concerns.
Journalist Max Rashbrooke reported in a Metro feature article titled 'Scandal in the Slaughterhouse' that the move to allow meat companies to employ inspectors was putting both consumers and New Zealand's export reputation at risk.
The article reported seven examples since 2012 of meat shipments to America being rejected by US authorities because of faecal contamination missed by inspectors, although New Zealand officials later said the shipments were not from plants monitored by outsourced inspectors.
The Ministry of Primary Industries (MPI) was allowing inspectors employed by meat companies to inspect meat for faecal contamination, and had allowed meat workers to inspect carcasses after just two days' training, whereas government inspectors were trained for 20 weeks, Metro reported. Many inspectors were being paid by the carcass and were under intense company pressure to keep production lines running as fast as possible, Metro reported.
Labour Primary Industries spokesman Damien O'Connor said a Labour Government would set up a separate food safety agency away from MPI.
"The National Government's decision to deregulate meat inspection in 2011 has contributed to a lowering of the standards that has led to these market problems, as happened with the Australian and Canadian meat industries," O'Connor said.
"Self-regulation has had disastrous consequences across the New Zealand economy, from mining to electricity to health and safety. The National Government's philosophical approach to deregulation is exposing one of the largest primary sectors to reputational damage," he said.
Green spokesman Steffan Browning said the Government needed to stop allowing meat companies to undertake their own inspections.
"This is another example of deregulation letting New Zealanders down," Browning said.
"We need independent safety inspection of our meat, our reputation depends on it," he said.
China's official news agency Xinhua reported the concerns in Chinese publications, and in English here.
Elsewhere, Metro reported that meat companies were paying incentives to inspectors not to slow down production. It also said MPI had failed to inform export markets about the change in approach.
MPI statement
In response, MPI Deputy Director General for Standards Scott Gallacher said through an emailed statement the alternative meat inspection system was being used at seven processing facilities.
He said a wide range of controls to ensure food safety still applied with an official inspector continuing to carry out food safety functions, including an official inspector always being at the final post-mortem inspection and a 'roving' official inspector being on site.
"We are confident that the alternative meat inspection system meets MPI's strict requirements for ensuring meat is safe to consume," Gallacher said.
"The alternative meat inspection programme applies to post-mortem meat inspection for sheep and cattle at meat export premises—it follows successful trial results and acceptance by the United States of America (USA) and European Union (EU)," he said.
Company-employed inspectors were trained and assessed by food inspection SOE AssureQuality and the outsourced inspectors had NZQA level four qualifications, which required six months to attain.
Gallacher confirmed that the US Department of Agriculture's (USDA) Food Safety and Inspection Service had failed seven containers containing 38 tonnes of meat between 2011 and 2012 because they had not met its 'zero tolerance' standard for contamination. New Zealand exported 11,000 containers of lamb and beef to America in 2013, Gallacher said.
"Importantly, none of the port of entry rejections were associated with any of the meat supplied to that market under the alternative meat inspection system, since the inception of the system in 2011," he said.
MPI reviewed the premises involved after the USDA notified of the failures. "The review found no systemic failures and that all New Zealand establishments were compliant with USDA Food Safety Inspection Service requirements," Gallacher said.