Claims over rejection of meat by the US because of deregulation failings disputed by MPI report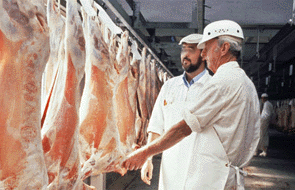 Another embarrassing moment for our meat exports with a claimed seven meat consignments refused entry to the US is compounded by the speed at which the news travels.
Barely hours after the story was out in Metro magazine it was on the official Chinese web site Xinhau ... and before major New Zealand news outlets.
It was headlined "Deregulation blamed after US rejects failed New Zealand meat".
However, today it seems deregulation was not the cause at all as the meat involved came from normally regulated plants.
The original claims blaming the system comes after a three-year battle by a number of government-employed inspectors to prevent meat companies before being allowed to inspect most of their own product.
Once again the bad news that the meat had faecal contamination, albeit over a period of three years and a very small amount in the scheme of things, further harms our export reputation in a country obsessing over food safety at the moment.
Nothing escapes the attention of the Chinese media these days and the coverage given to even something like Fonterra's minor cream recall grabs the headlines in China.
As Labour's primary industries spokesman Damien O'Connor also says it is last thing the under-pressure meat industry here needs.
However, claims that have surfaced that the incidents were sparked by the change of regulations to inspections which allowed them to be done "in house" are disputed by the Ministry of Primary Industries.
Scott Gallacher, deputy director-general standards, MPI told interest.co.nz today MPI had been informed by the USDA's Food Safety and Inspection Service of seven port of entry (border) issues between 2011 and 2012, where containers - representing a total of 38 tonnes of meat products - failed to meet its zero tolerance standard.  There have been no further port of entry issues raised by the USDA Food Safety and Inspection Service since that time.
NOT ASSOCIATED
 "Importantly, none of the port of entry rejections were associated with any of the meat supplied to that market under the alternative meat inspection system, since the inception of the system in 2011," he said.
 "In response to the USDA's notifications of the port of entry issues, MPI conducted a thorough review of meat premises, which included reviewing hygiene procedures, monitoring systems and product check procedures."
"The review found no systemic failures and that all New Zealand establishments were compliant with USDA Food Safety Inspection Service requirements," Gallacher said.
Our priority is on ensuring that New Zealand food - including meat products - is safe for consumers to consume both here and overseas.
The alternative meat inspection system - which seven New Zealand premises have opted to use - is in-line with the relevant international Codex Meat Hygiene standard issued by the Codex Alimentarius Commission in 2005. It also aligns with our domestic legislation which has permitted company inspection since the Animal Products Act was passed in 1999.
The wide range of controls to ensure food safety in the processing of meat still apply. An official inspector continues to carry out food safety related functions. For example:
An official inspector is always at the final post-mortem inspection point.
An official inspector also provides a roving function: oversight of the system, including company inspection.
"We are confident that the alternative meat inspection system meets MPI's strict requirements for ensuring meat is safe to consume," Gallacher said.