Southern breeders fight to maintain Invermay research centre, resisting AgResearch efforts to shift it to a new Lincoln hub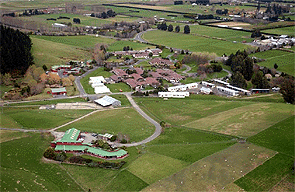 Content supplied by the Southern Texel Breeders Association
A meeting was convened by the Southern Texel Sheep Breeders in Gore, 12 March 2014, the topic being the Sheep Breeders opposition to the AgResearch Future Footprint Proposal which included the shifting of 85 scientific positions from Invermay to a new "innovation hub" at Lincoln.
The AgResearch CEO and the Chairman presented the plans, and in response to other presentations and comments from the floor refused to discuss specific points raised, and simply repeated their perspective on how the new innovation hubs would provide advantages.
At the conclusion of the meeting a motion of NO CONFIDENCE was left to "lie on the table" to allow AgResearch Board and Management to consider the counter presentations from the day's meeting.
Also, to review their decisions to move the Sheep Genetics and Genomics teams to Lincoln and to reduce staff at Invermay.
AgResearch CEO Tom Richardson was quoted as saying post meeting "it would be business as usual", even before any discussion by the Board at their scheduled meeting the next day.
Formal and genuine consultation (which AgResearch has to undertake) requires interested parties:
- to be provided with relevant information and be allowed to present their views
- to have their presentations considered with open minds . and after due consideration to be informed of decisions and reasons for those decisions.
None of those presenting at Gore has had any response from AgResearch Board or Management.
The Hon. Steven Joyce endorsed the AgResearch Board the next day without viewing the counter presentations of Kel Sanderson - BERL, Dr. George Davis and Dr. Jock Allison.
Refer to website: www.saveinvermay.co.nz.
AgResearch was particularly invited to Gore to confirm the Contracts and Agreements progressed to date concerning the Lincoln HUB, but they failed to disclose any.
Newspaper articles subsequently confirm the framework that AgResearch are working to was in place already and recently project managers were engaged to oversee building design and functionality.
Why AgResearch is commencing consultation now with stakeholders is intriguing and fully 12 months too late.
It is (presumably) prompted only by the resolution at the Beef and Lamb Annual Meeting in Feilding. Chairman Sam Robinson has asserted they have contacted 150 organisations on the AgResearch restructure, yet failed to engage with Southern Stud and Sheep Breeders until invited to Gore.
This prompts a 'please explain' for him to front and name those organisations.
Those present at Gore would not have missed how the AgResearch Team sat throughout the meeting with their backs to the audience except when one of them was presenting which spoke volumes of the manner they wanted to engage with their audience.
Comments:
From Dr. George Davis DSc. Prominent International Scientist - Sheep Reproduction and others:
- Invermay campus does not require modernisation -buildings at Invermay have been built since 1983 and are of an excellent design, and there is ample scope for future growth at Invermay, without urban encroachment. .
- A large number of skilled staff will be lost if asked to transfer to Lincoln. Cf: Wallaceville, only 2 scientists remain. Unofficial staff surveys suggest that an even smaller percentage of staff will transfer from Invermay to Lincoln.
- Invermay staff have a long history of collaboration with Otago University.
- The scaling down of Invermay is a complete reversal of AgResearch's policy of only 10 years ago when then CEO stated, "AgResearch plans to consolidate research at its sites at Ruakura, Grasslands, Lincoln and Invermay , which will also share closer links with Auckland, Lincoln and Otago Universities.
- Science quality has never been about buildings. The amount of money spent by AgResearch on buildings together with its relentless degree of restructuring is a national disgrace.
- The Sheep/Deer/Ruminant Genomics Research at Invermay and links to the agricultural community is not duplicated anywhere else in NZ.
- It is time that the AgResearch fixation with new buildings as a vehicle for enhancing science quality needs to be questioned and contrasted with what we know from world-ranking Universities.
- The purpose of having scientists talking together misses the point that scientist should talk with Farmers. It is Agricultural Research after all.
- The BERL review on the Economics of AgResearch Future Footprint Proposal stated the FFP benefits are within the margin of error and the job losses will have an adverse effect.
AgResearch have completely underscored the effect this Future Footprint Proposal will have on staff, the loss of high quality scientists and potentially them being engaged and eventually working in competition with AgResearch.
AgResearch have undervalued the current HUB working in Dunedin, including Otago University.
AgResearch have treated the farmers that engaged with Invermay with contempt.
Some farmers have been engaged with over 10 projects alongside Invermay scientists, virtually their lifetime in farming.
Texel Breeders executive have put the motion of no confidence in the AgResearch Board and executive.
The result is a response from over 90% of farmer attendees, of which over 90% voted for the motion, under 10% abstained and not one voted against the motion. 
This result mirrors the survey of Stud Breeders presented at Gore by Dr. Jock Allison, Past Research Director at Invermay and former member of the AgResearch Board.
Summary of responses to retaining scientists at Invermay
| | | |
| --- | --- | --- |
| Number of breeders | 394 |   |
| - Yes | 363 | 92.1% |
| - No | 5 | 1.3% |
| - Abstain | 11 | 2.8% |
| - No response | 15 | 3.8% |
Number of Breeders
Yes No Abstain No Response 394 363 (92.1%) 5 (1.3%) 11 (2.8%) 15 (3.8%)
The resolution that passed unanimously at the Gore meeting was:
That AgResearch retains Sheep Genomics and Genetics at Invermay and should reconsider the FPP proposal that requires significant capital investment, but invest instead in existing staff and growing Invermay.
Hugh Gardyne, Chairman, Southern Texel Breeders Assn