Fonterra explains why it thinks international demand for milk powders and cheese will remain relatively strong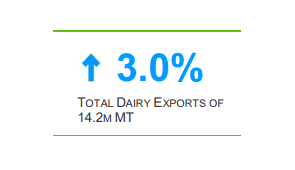 Content supplied by Fonterra
A shift in supply and demand over the past few months is indicating that volatility continued to exert influence over the global outlook for dairy.
Prices have come off the peak reached in February this year.
There is currently more milk available for the international market to absorb, although demand from China and Russia still appears strong as global supply and demand rebalances.
Fonterra's assessment of published industry statistics indicates that total dairy exports have reached 14.2 million MT, up 3% for the 12 months through to February 2014. Most of this growth appears to be from the European Union (EU), New Zealand (NZ) and the United States (US).
Growth in Supply
Milk production growth in the top four major Southern Hemisphere exporting countries of Argentina, Australia, New Zealand and Uruguay is reported to have increased by 7.2% in the first quarter of 2014.
This was primarily driven on the back of growth in New Zealand production.
Uruguay production growth slowed due to challenging climatic conditions and remained flat in Argentina. Argentina faces a range of challenges including a weakening currency, higher manufacturing costs and a lower milk price. Uruguay has overtaken Argentina as the main supplier of milk to Brazil, supplying more than 50% of Brazil's current milk imports.
Strong growth in production continued in the top three EU exporting countries of France, Germany and the Netherlands. In aggregate the EU countries were up 5.8% for the first three months of 2014.
US production growth continued at around 1% year-on-year for the first three months of 2014, which is below USDA forecasts.
Russia and China
China and Russia are key drivers of the global dairy market and demand still appears strong with around 20% growth in dairy imports annually in total from these two countries, and imports increasing from 6% of total global imports in 2008 to 27% at present.
This has been primarily driven by demand for milk powders in China and cheese in Russia.
Dairy imports into China have surged in the past six months, with imports reaching almost 2 million tonnes or around 16% of global imports.
Growth in imports of dairy products into China were up 39% for the 12 months through to February 2014.
New Zealand is an important contributor to China's imports, with volume exported to China reaching 37% of New Zealand's total dairy exports in the past 12 months.
The demand from China is mainly in Whole Milk Powder (WMP), with China now accounting for 32% of global WMP imports and 15% of Skim Milk Powder (SMP) imports.
Assessment of industry statistics shows China's milk production has shown signs of recovery in the first three months of 2014 compared to the same period last year.
Underlying demand in China continues to grow and while domestic production is growing in response, it is clear the supply gap is widening, which could open the door for more imports. Recent Rabobank analysis estimates the supply gap at 10 billion litres plus and widening.
Global exports to Russia have grown 9%, reaching around 1.5 million tonnes for the 12 months through February 2014.
Despite competitive feed costs and warm winter conditions in Russia, production appears flat in the first three months of 2014.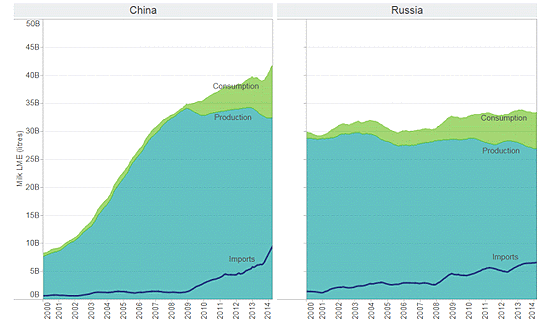 --------------------------------------------------------
This article is an extract from Fonterra's Global Dairy Update edition 21