The Sheep Deer and Cattle Report: Most stock have wintered well as the birthing month nears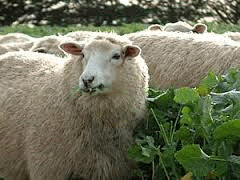 LAMB
Lamb schedules are steady as volumes ease and slaughtermen switch to bobby calf processing.
Marketers report the UK and parts of Europe are purchasing more lamb as Chinese demand cools, but optimism amongst exporters remains for new season's product later in the year especially if the currency continues to ease.
Winter sheep seminars are reinforcing the belief that body condition scores are more important that total weight in ewe performance, and managers are being encouraged to focus feed on those animals behind the target.
Sheep farmers are benefiting from new technology that has been partly funded by meat retailer Sainsbury's who with Techion have developed an advanced micro digital eye that allows farmers to test dung samples and have results back in 90 minutes.
And as a sign that optimism is returning to the sector trained working dogs have been selling for thousands in recent sales, as farmers put high values on their working canine companions.
The Meat Industry Excellence group has reinforced the importance of industry reform as concerns arise that the impetus may be lost with improving sheep and beef prospects.
WOOL
Big lifts in prices at the SI auction due to urgent shipping requirements and export contracts, coupled with supply shortages should underpin the market for a while yet.
The next sale is 38% down on rostered amounts and illustrates why demand has been stimulated by the reducing sheep numbers.
BEEF
Prime export schedules and saleyard prime steers have risen to yearly highs as US beef prices continue to climb.
June NZ export data showed big sales as the autumn cow slaughter headed mainly to the US and China.
Sanctions on Russia associated with the Ukraine situation could affect wheat prices and global beef profits as the balance between supply and demand for grain could get out of kilter.
Balance Agri-Nutrients have announced another good financial result returning $65/tonne as a rebate on record sales volumes, and with the recent sale of Lochinvar Station and another large Gisborne property, overseas ownership will be a heavily debated election topic.
DEER
More venison schedule movements as the spring chilled lift gains momentum, although prices are still 34c/kg behind last years weak prices, peak prospects look sound.
Strong chilled sales into Europe this month will be needed to maintain this price lift as processors still report too many in calf hinds being processed.
The industry drive to increase per head production and profits needs to fire or this sector could suffer from critical mass.