The Weekly Dairy Report: Auction prices lift but so does the currency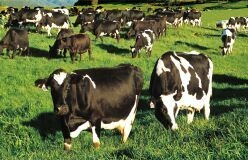 The North Island is experiencing good moisture levels and improving sunshine that has stimulated grass growth rates into the late 20kg's /ha, but in the south, eastern areas are drying out and cooler temperatures have kept growth a little slow.
NIWA's El Nino predictions have been pushed back to not start to the end of the year, but likely to occur in a weaker form over the summer months. 
Fonterra reports milk flows are 4.5% ahead of last year as the favourable spring and new dairy conversions fill the nation's vats, but advisers caution farmers that are focusing on supplement boosted October milk peaks at the expense of utilizing grass, could come back to bite them in lower profits and future supply of quality grass.
Most countries are reporting increasing global milk flows as volumes of product continue to build in a market where well supplied stocks have severely dampened demand.
Oceania prices have confirmed the weak auction values and even a falling currency and reduced volumes of whole milk powder offered at auction, are not buffering the dairy dollar decline.
However at todays auction a reduced offering of product seemed to stem the tide of falls with an overall lift of 1.4% and most importantly for NZ, a lift for volume product prices, (Whole Milk Powder) by 3.1%.
The ASB bank adjusted it's forecast downward to $5.10 and warned that powder prices need to get up to at least $2500 a tonne to achieve this level.
Present prices for commodities return farmer milk returns closer to $4 and would be disastrous for the sector and NZ as a whole, so a continuation of these lifts will be needed in further auctions.
The other negative buffer working against a robust upturn is the currency which lifted significantly once the positive auction prices were evident and nullified much of the gains achieved.
The Sri Lankans banned milk powder from Fonterra  following concerns of sickness from some batches but tests by the dairy giant show little fault from the product concerned and it was lifted for most Anchor products.
The growing use of sexed semen is lowering to cost of mating and allowing the use of beef genetics over the balance of the herd to increase potential profits.
Recent sales of dairy and dairy support properties have ignored the present milk price decline and returned values that show investors see a bright future for this sector ahead.