Is the 10 acre block 'the worst environmental crime being committed in NZ?' Hamish Hutton explains the issue and offers a solution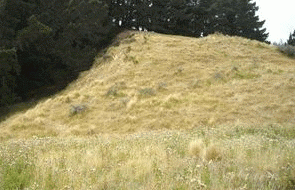 By Hamish Hutton*

Every few days this summer Canterbury's fire fighters have put their lives on the line to protect us from what often seems like an unstoppable menace, grass fires.
Every time I hear how hard these brave people are being pushed I get angry with the planners in our local councils who's decisions are making this situation graver every year.
Do not believe that the hot, dry, windy weather is the sole cause of the Canterbury plains' increasingly common grass fires.
Canterbury has always had hot dry summers but these fires appear to get more common.
Listening to the fire reports it is clear that a significant factor is the proliferation of large clusters of, to varying degrees, un-grazed 10 acre lifestyle blocks that, by this time of year, are a vast store of highly combustible fuel, peppered with a few nice houses.
Typically 10 acre (4 ha) blocks are purchased by urban people who often know relatively little about farming and don't have a lot of time to invest in it.
Their dream of running a small farm quickly turns into an uneconomic nightmare of trying to manage stock without the proper facilities.
It is common for them to simply shut the gates and do nothing with some of their paddocks for several years. I can testify to the accuracy of this description because my father and I rent many of these blocks back from their owners for very disjointed and marginally economic extensions of our own farming operation.
When we take these sections on we always discover the same thing. The grass has not been managed, renewed or grazed in several years, the stock water system is non-functioning. The Fences and gates are broken. The house and garden sit often in a forest of long tinder dry grass, broom and weeds. There are no functioning sheep or cattle yards, loading ramps etc ... The land simply cannot be intensively grazed because there is no infrastructure to handle stock. Cropping is out of the question due to the paddock sizes and lack of machinery.
Aside from the permanent removal of once productive farmland from our economy, this is a bad scenario for fire fighters.
Yet our council, the Hurunui, have studiously enforced this on the countryside for years. Their rationale appears to be, if the section sizes were lowered, even more people would buy rural residential sections and too much farm land would be consumed.
The problem with their logic is that, as this is the only option for rural residential living, a lot of these 10 acre (4 ha) sections sell every year. They don't cost a lot, relative to town sections.
In the past, the well managed farmland of Canterbury would simply not have these acres of standing straw in the late summer. That grass would all have been grazed or taken for hay in the spring. Grass kept short does not go to seed, become dormant and turn to straw, it remains low to the ground, green and productive throughout even quite dry seasons.
There will always be a market comprised of non-farming folk who wish to live in a rural environment. In fact that market will continue to grow with our national population.
I have long argued with the council that this demand would be more rationally met with smaller sections.
Maybe 1 hectare (still 10 times larger than a quarter hectare town section). So the same number of sales would consume ¼ the area of land, and on average be much better managed as large gardens with a couple of small paddocks.
There will always be farmers retiring, in debt or facing succession issues who will want to meet the growing demand for rural residential sections.
There is nothing morally wrong with them taking this step, although the council staff seem to feel differently. In most parts of the world this scenario results in idyllic hamlets of houses on small sections, with rural views, at the margins of productive farmland.
But not in Canterbury.
Here, by council design, any rural residential development results in sprawling 10 acre blocks consuming increasingly large tracts of land - typically the best land, close to our towns and infrastructure. The great majority of those incoming rural residents would be more than happy with a one hectare section, or even a two hectare section. That would be large enough for some horses or sheep but small enough for them to mow and maintain between the kids sporting engagements.
However, in their wisdom, several councils view the development of smaller sections by farmers to meet that demand as something very negative to be resisted at all costs.
They rigidly apply plans that stipulate 4 hectare sections as the only option.
Thus, whole farms are being slowly consumed.
This does not, in fact, slow the sale of rural sections all that much. As you can see from the Canterbury Plains and other parts of the country, there are hundreds of new sections sold each year. My own father has found it necessary for various requirements to sell three ten acre sections on which no economic activity now takes place, no future jobs created.
It is hard to come by accurate figures on the development of 4 hectare blocks nationally, but it is certainly in the hundreds. If it were just 100 new blocks per annum New Zealand would be losing 400 hectares of farm land every year -  4,000 hectares every decade.
All this policy is achieving is the retirement, by the consistent demand for rural lifestyle sections, of the maximum area of previously well managed NZ farmland into economically dormant lifestyle grasslands.
If you listen carefully to the reports on the recent fires you will hear the same two words repeated "lifestyle blocks". The access for fire trucks is apparently a nightmare.
One South Island mayor told me that it was his opinion that "the 10 acre block is the worst environmental crime being committed in New Zealand".
So why haven't the various Mayors acted?
They try to raise the issue, but the planning staff in the councils have been very quick to block any steps outside of the sacred RMA and "district plan".  I have witnessed this first hand in several meetings. Not only are these people squandering our nation's farm land by hundreds of hectares annually, but I would argue they are also putting lives at risk in future grass fires.
So what can be done about this?
It's pretty simple lower the section sizes for rural subdivision across Canterbury, at least, to 1 hectare.
This would both meet the demand and instantly stop the march of development across the plains. All of those existing 4 hectare blocks could be subdivided into new sections - meeting the need for new housing land for at least a few years.
It is a very simple equation: the smaller the average lifestyle section, the greater the proportion of that rural residential land that will be in a well mown, maintained state, plated in trees, irrigated garden, or well grazed pony paddocks. The larger the average lifestyle section the greater the proportion of rural residential land that will be in unmanaged, over grown, tinder-dry grass.
When you consider farm land as the finite source of our economic wealth in NZ, the march of the 10 acre block cannot go on indefinitely.
--------------------------------------
Hamish Hutton co-owns a farming operation with his father at Amberley, in Hurunui district.