The Sheep Deer and Cattle Report: Some rain for some areas gives hope, but markets are still weak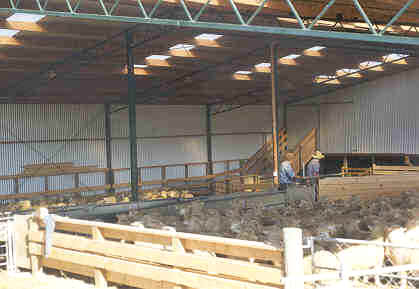 LAMB
Another week of lamb schedule falls, as prices are driven lower by soft demand out of China and the Middle East and weak European economies.
The Silver Fern Farms AGM painted a picture of a turnaround year, with a large parcel of debt repaid, and stocks held to low levels.
They suggested that the balance of the season would see lamb prices in the $4.70-$5.25 region, and mutton in $2.50-$3.00 area, so with this weeks prices 10c/kg below these benchmarks, the market must be at the bottom.
Easter chilled sales into the UK are reported to be strong and volumes good, with the early kill, but the skin market is still weak and recovery predicted to be slow.
A combined sale offering at Sheffield Canterbury, of 12,000 breeding ewes last week, saw strong prices achieved, with two tooths topping the sale at $182/hd.
Store lamb values seem to have bottomed, as managers have found better value in sending lighter lambs to the works, and supply has eased.
And with an earlier kill, rain in some areas, and cropping farmers harvesting promptly, allowing resowing into lamb finishing crops, values should build again for unfinished lambs.
Advisers have been urging farmers in dry areas to do their winter feed planning now, as brassica crops sown are well behind normal yields, and demand for supplements will skyrocket if it does not rain.
For most, mating is now only a month to six weeks away, so condition scoring ewes to target quality feed to animals which will respond the best, will give higher returns in a difficult year.
This week has seen a renewed interest in milking sheep, as parties got together to discuss possibilities at Massey,  and a proposed venture looking at making icecream was publicized.
WOOL
Another double island wool auction of 14,200 bales came under currency pressure, and prices eased, as the Chinese New Year celebrations slowed enquiry, and lambs wool prices came off their peak.
The shearing legend David Fagan announced this year would be his swansong, and many are hoping he can leave with one more major title, after his significant contribution to the sector.
BEEF
The port strike is causing major congestion at US distribution centers and causing shipping delays.
Prices continue to fall on the back of these delays and with China demand soft, North Asia quiet, and a processing backlog, this easing  sentiment is understandable.
Prime saleyard steers are now between 50-70c/kg lwt off their spring peak, and are easing with export and local trade schedules, but quality animals seem still to attract a premium over processed prices.
AgResearch announced that a bio-control beetle that attacks Californian thistle NZ's worst weed, has shown significant promise, and look to expand it's release nationally.
A Ravensdown report highlights the benefit of whole farm soil testing, to improve the efficiency of fertiliser placement through use of GPS technology and precision spreading, that may see better returns at less or similar cost of the raw material.

DEER
Frozen venison contracts have been finalized with European importers at levels ahead of last year, but NZ returns have been dampened by the weak Euro.
Many deer herds in the dry areas are now being supplemented with grain, as managers strive to maintain body weight and condition of their hinds  and educate young deer to this feed before weaning.
To achieve good spring carcass weights, weaners need good quality feed in the autumn so growth rates can be maximised, before the winter period switches off the growth trigger.