The Sheep Deer and Cattle Report: Southern snow and northern floods make winter difficult for some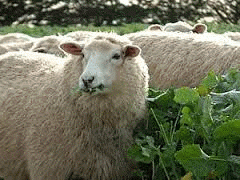 LAMB
Another lift this week for southern lamb schedules, driven by the chilled market which has held up much better than frozen product, where a big fall in sales to China has put forequarters under pressure.
This downturn in demand for sheep meats has seen processors act fast in implementing seasonal shutdowns, as they have become nervous of accumulating too much stock in this difficult market, and some killing delays are evident in northern works.
The demand for chilled product for the European trade has seen contract pricing running ahead of the spot market, with one SI processor offering up to $5.80/kgCWT  for qualifying animals.
Blue Sky Meats has announced a drop in profit as the chairman bemoaned an under utilized plant, and shareholders of both Silver Fern Farms and Alliance are claiming support for special general meetings to enforce an independent review on merger prospects.
Works are reported to be at full capacity in the north with the stagnant pricing keeping bookings strong as farmers  lose faith in a spring price surge and wet conditions encourages them to quit numbers early.
Some hope for drought stricken farmers in North Canterbury, as another irrigation proposal gets closer to approval, to make more of the area less vulnerable to crippling droughts.
WOOL
No wool auction this week, but in the past years review all micron levels except merino made pleasing price progress, with lambs wool leading the way achieving a 130c/kg clean  lift on the year before.
With Chinese importers buying such as big percentage of NZ's production, some nervousness is occuring with instability of the worlds financial market, but exporters believe low stocks in the pipeline and an easing currency will be helpful in maintaining recent strong pricing as the new season starts.
Merino NZ says in the past two years it's contracts have earned $23million ahead of the spot fine wool market, and encourage farmers to sell through their system to achieve the full potential of the product.
They have also secured a $3 million contract with carpet maker Godfrey Hirst to supply a luxury floor cover from a blend of merino and crossbred wool.
BEEF
More good lifts in beef schedules this week as shortages caused by the earlier kill has exporters chasing fewer numbers.
Some nervousness about high US retail prices for beef relative to other proteins is putting some caution in the market, and approval for beef from Brazil to re-enter this important market will increase the competition for NZ exporters.
Reports from the saleyards show purchasers with feed are paying premiums for store animals able to be finished by Christmas.
 
DEER
Venison schedules lifted again as the chilled season gets underway, and new seasons contracts of up to $8/kg are firm on last year helped by the easing currency.
The industry goal to flatten the venison price curve as a result of an increasing production of chilled product over a longer period, with the development of Cervena into Europe by targeting the spring  and summer barbeque market,  looks an achievable goal.
Silver Fern Farms Dean Hamilton has been appointed to the DINZ board replacing Andy West, as the sector looks on better venison returns to stimulate herd growth.