The Sheep, Deer and Cattle Report: Wool at yearly highs but China's domination could make prices volatile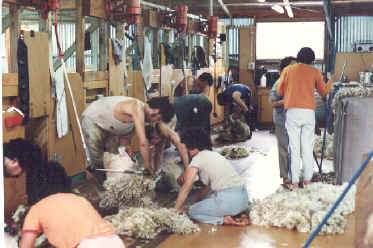 WOOL
Another small South Island auction saw prices again firm to yearly highs, as optimism returns to the wool market and June exports earned the highest return for a decade.
Indicator prices for all micron levels reached yearly highs, with the falling currency helping, but with China dominating wool growers need only to look at lamb and dairy to be slightly concerned about the market being influenced by one main market.
The Commerce Commissions approval for the merger of the souring business of Cavalier and NZ Wool Services International has been delayed, as opposition to this action argued potential overseas ownership could happen if competition was reduced.
LAMB
More small lifts in lamb schedules as they at last breach the $5/kg barrier with help from the currency, but with the Chinese domestic kill up around 20% on last season and the UK domestic volumes also higher, selling into these important NZ markets is difficult.
South Island prices are unusually leading returns from the North as the early drought kill and dairy and irrigation conversions altered the stock flows to the processors.
Lamb byproducts of pelts and casings are also struggling, with only slipe wools helping to balance weakness in the lamb meat market, although the lower lamb numbers should help Christmas demand reports one processor.
Shortages in the local trade market has seen prices for prime lambs lift in the saleyards and with dairy's demise and big prices for beef, sheep farmers may decide to stick with improving production with their animals.
AFFCO workers in the North Island agreed to strike but withdrew this action after iwi intervention as the Talleys owners continue their hard nosed attitude in employment disputes.
The referendum on levys for industry good is being run by Beef and Lamb NZ and all farmers are being urged to vote to ensure the work by this organisation continues.
BEEF
Beef schedules continue their upward trend as in the US domestic stocks run low, and demand for lean imported beef improved.
Prime saleyard steers are in short supply and attracting strong demand driven by exporters chilled interest and local trade support.
Dairy farmers are cashing in on the beef boom being able to cull poorer producing milking cows for manufacturing beef for prices above their milking value.
Reports from the field suggest dairy farmers are rearing anything with part beef genes, and shortages have seen store stock sell for unprecedented prices.
The Central Plains irrigation canal has filled with water in readiness for trials and testing ahead of the new season, and overseas scientists report they have found an additive to reduce livestock greenhouse emissions.
DEER
Venison schedules again lift, as they build on strong chilled export demand in the US and Europe, and prices are now $30 a head of last year, as the sector rebuilds confidence at these reduced capital stock numbers.
Processors report their spring contracts are well subscibed at prices ahead of last year and managers will be looking for a favourable early spring to meet carcass weight targets on time for this chilled meat market.
The velvet industrys new partnership with the Korean Ginseng Corporation will see many new products using velvet as an important ingredient of the healthy food market for sale in Korea and China.