The Sheep, Deer and Cattle Report: Sheep and beef farmers look how to fill the gap from dairy support downturn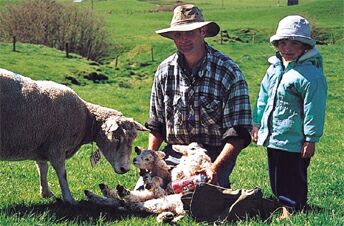 LAMB
The small lifts in lamb schedules continue but pessimism remains for this season's frozen prospects as our global competitors' production remains high in our important export markets.
Shoulder season chilled production is still strong and underpinning present price levels, and prime lambs sold at saleyards have begun the traditional spring price rise, albeit much later than normal.
Early spring weather has been reasonable for lambing with no cold storms, but many areas are complaining of wet conditions and colder than normal temperatures slowing pasture growth.
The dairy downturn will have an impact on sheep and beef farmers with reduced income from dairy support, and with store beef prices at record highs and cereal grain demand and prices easing, some may find some options in more sheep.
Co-ops are keen to force these companies to look at amalgamation and have joined forces, but the success of this action is delayed, waiting first to see what comes of the Silver Fern Farms capital raising operation.
There is a concern that overseas ownership could return to the processing industry as a result of this capital raising exercise, and processing giant JBS's interest in Scott Technology who are a world leader in technology for livestock processing, shows the strength of global interest in our red meat sector.
Changes at the top of the reform group Meat Industry Excellence, with John McCarthy being replaced by Southland farmer Peter McDonald.
McCarthy plans to focus on selling the NewCo proposal to both Co-Op shareholders, and they will be looking for funding to put this proposal to farmers.
WOOL
Last weeks South Island wool auction saw a bigger supply and slight easing of prices on the back of subdued demand for crossbred wool types although half bred and merino wools attracted good support.
A big lift in volumes of wool passed indicated the market maybe under price pressure and news that the Chinese economy is faltering is a worry for our biggest market.
BEEF
A surprise drop in bull and manufacturing cow schedules this week has created some uncertainty that the big volumes of this type of beef may have over supplied the US market, already under quota pressure.
Saleyard prime steers at the local saleyards continue to sell well, as supply shortages affect volumes and local trade prices reach record levels.
The TB-free strategy in New Zealand is now becoming reality as this successful campaign beats its targets for the elimination of this costly disease from cattle and deer herds.
Ravensdown has capped the price of superphosphate fertiliser to $320/tonne until 30 November, to encourage farmers to put this basic fertiliser on early, and reap the rewards of clover growth in the late spring early summer period.
DEER
More big lifts in venison schedules this week and returns at the farm gate are now $40/animal ahead of last year.
The Deer Industry funded Deer Progeny Test is now showing, after three years of measurements, that there is big potential for genetic gain in growth rates, size of eye muscle, and bigger tails, to improve producers return from venison production.
With buttons dropping on stags, the velvet sector looks forward to another stable season, where New Zealand volumes are expected to rise on the back of demand from the healthy food market, and reduced global supplies of our competitors.