The Sheep, Deer and Cattle Report: Heavy rains take toll of newborn lambs and cold temperatures look likely to restrict numbers for the Christmas chilled market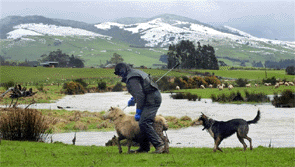 LAMB
More schedule price lifts, as October heralds the start of the predicted undersupplied chilled Christmas trade, but processors do warn once this period passes, prices will reduce.
One company has revealed season volume premiums that reward loyalty, as the predicted lower lamb numbers born will increase competition and reduce poor pricing transparency of the past.
The heavy rains that hit Gisborne, the foothills of Hawkes Bay and Marlborough will have done some damage to lamb survival but has alleviated any short term soil moisture problems, and those areas should now be able to build some feed momentumn into the still forecast El Nino summer.
The issue nationally seems to be below average temperatures, with most of the South island and higher parts of the North held back by the cold, and this will surely slow this seasons lamb growth which is a barrier to achieving numbers for the Christmas chilled market.
Roadshows are revealing the detail of the Silver Fern Farms / Mayling deal which most are viewing positively, after assurances the Chinese partners are not wanting to dominate, and that they seek to implement a growth strategy of value added products processed in New Zealand, with the plan.
Alliance announces the start of the $25 million PGP programme for lamb with similar goals more products from lamb, and both big Co-Operatives reveal they have installed robotic meat cutting technology to improve the efficiency in some of their plants.
WOOL
This weeks South Island auction saw values remain steady on an easing currency, although crossbred wools lifted slightly but merino and mid micron fibre prices eased.
Crossbred hogget wools are much sought after, and at the finer micron end have reached unprecedented highs and encourage wool farmers to take extra care in wool preparation and presentation.
BEEF
Manufacturing, Prime cow and Bull beef values have shown the affects of individual beef quota management, with some companies reducing schedules and some lifting, and large differences reflect the circumstances.
The US market is easing for manufacturing beef but fortunately for farmers some of this drop is being masked by a weaker NZD against the US, and in a u turn driven by shortages, Indonesia relaxed its restrictions on imports of beef from New Zealand.
Prime schedules remain steady, kept in place by a shortage of supply and demand for chilled product and a growing market in China.
Volumes of beef slaughtered are estimated to fall this year as the dairy sector improves, and farmers choose to re-populate their herds in response to improving profits in the sector.
Chief Executive of Beef and Lamb NZ  Scott Champion, has announced he will step down from that position after seven years leading that organisation, and he will be remembered for recreating a more farmer focused group.
DEER
Some more lifts in venison schedules this week but signs prices maybe peaking as levels are now $50 per animal ahead of last year, and reaching values sure to encourage reinvestment in females.
There is about six more weeks of chilled production to come, and the skills of autumn and winter feeding management will be returned with numbers of yearling deer at target weights available for slaughter this spring.
Weather issues in some of the major velvet growing areas has seen some animals slower to cast buttons than the norm, but warmer spring weather to come will soon see the spectacular annual growth of this healthy food product.