The Weekly Dairy Report: Tatua leads again in payout and forecast stakes as spring conditions slow to arrive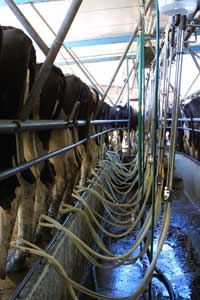 A week of rainy conditions and cooler temperatures has slowed growth rates, delayed the spring pasture surge and made many of the nations farms tight for feed.
The moisture was welcome on the east coast areas of the North Island and the top of the South, as forecasters still predict El Nino conditions for the summer, and these rains will allow the spring flush to be pushed forward in advance of a dry summer.
Forage crops are being prepared and sown as managers plan for the summer dry with species that store and survive in lower moisture levels.
The rise in milk auction prices also seen in WMP prices in Europe, Fonterra's improved payout, a $506 million profit, and share values risen to $5.52, will have lifted dairy farmers spirits but all recognize that this is just the start in what may be a long slow recovery.
Tatua has once again led the pack on last years results releasing a $7.10 payout, proving once again size is no impediment with it's success being driven by it's choice of value added products, although the predicted 2016 forecast is also well back at $6/kg ms.
Final past year results were confirmed by both Synlait and Fonterra at predicted levels, and the seriousness of the downturn was shown by the 70% takeup of the dairy giants interest free loan, and that company increasing the number of staff redundancies.
Fonterra have withdrawn their Guaranteed Minimum Payment scheme reporting it did not have enough widespread support to continue, but some would argue why would you sign up at these unsustainable levels when the market seems to be lifting.
Oceania Dairy has supported it's suppliers guaranteeing that this years payout at a minimum of $4.50, and also announced plans to spend another $400 million on it's Glenavy plant to allow more milk to be processed into value added products.
What has taken many by surprise is Fonterra's announcement on concerns about palm kernel use, with calls to restrict levels to 3kg per cow per day, and the need to plan for future restrictions.
This will encourage a return to more pasture based systems, but vets warn of the consequences on animal welfare, as instant quality feeds like pke, are not always easy to source.
Danone whose suppliers come from South Otago, are restricted from using any palm kernel and are adapting their systems to only pasture and supplements grown in New Zealand.