The Sheep, Deer and Cattle Report: Spring arrives in many northern areas but slow in the west and south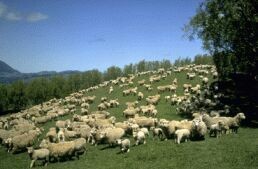 LAMB
Lamb schedule prices now move ahead of the similar stage last year and while processors report some stocks are still too high, there have been some signs the market is starting to understand next year's volumes will be lower, and  Alliance is reporting in it's road show, prices may lift.
South Canterbury farmers report good survival rates as they work through tailing mobs, as the lack of cold storms during the birth period has helped, but the continuing lack of rain in North Otago worries managers on how they will finish these lambs.
Prices have now reached spring contract levels, and with Christmas chilled demand strong and many areas suffering from a slow spring, spot prices could rise even further, although at the saleyards good prime lambs in both islands are failing to move much out of the $120/hd range .
North Island local trade lamb schedules lead the charge as the earlier kill is now 10% ahead of last year and has created a short supply situation, and predicted to tighten further unless the weather warms up rapidly.
There has been little improvement in the weak lamb and sheep skin market, but strong wool values has helped balance these poor prices earned for this important by product.
Alliance has started it's road shows for the new season with a strong message of co-operative ownership, attractive loyalty payments, better communication on market price signals, and a big investment in robotic processing technology.
Further comments from Silver Fern Farms illustrates how vulnerable they were to financial pressure pre this Chinese deal, as some of the bankers were keen to exit funding this company, and could have put real pressure on it's future.
The Meat Industry Excellence team are still hopeful a New Zealand "white knight offer" may emerge that will allow retention of full co-operative status, but industry commentators suggest it is unlikely to offer the financial opportunities of the May Ling deal.
WOOL
This weeks North Island auction saw values ease on the finer end of the crossbred clip, but rise to yearly highs for coarser wools, and nearly all of the sale met the market to keep stocks on hand low, which will be helpful moving into the main shear period.
Prices have now reached levels only last seen in 2011,  but with the US currency significantly weaker against the kiwi at present, these prices should be more sustainable this time around.
BEEF
Processors report that New Zealand's beef quota into the US for 2015 has now been filled, and product for that market will either be stored or sold to markets with lower prices, and some adjustment for cow and bull product has already been seen.
Against that Indonesia has done a u turn on baning beef imports from NZ, with this important market re-opening early next year, and just announced without detail at this stage, the TPP agreement will offer significant tariff reductions for beef from the partnering countries.
Strong prime values at both island saleyards for finished stock has given clear margins for replacements that at this stage is only held back by lack of surplus grass from the slow spring.
Some South Island cattle are appearing in saleyards in the Manawatu but cooler conditions along the west coast of the North Island has hampered their appeal, but further north good rains and warmer temperatures have activated a bouyant grass market for store cattle.
DEER
Venison schedules appear to have peaked with this weeks prices stable as the chilled season moves into full production, and managers will be monitoring weights regularly so they can achieve targets for this lucrative trade.
Positive vibes are coming out of the Cervena marketing trial into Europe during the summer period, as the industry tries to reduce it's reliance on the game season and promote venison as an all seasons meal.
Velvet growth responds rapidly to warm spring weather as early heads will soon be ready to harvest and early indications suggest it will be another strong priced season.
The first signs of tarrif reductions for velvet out of the Korean free trade deal should be evident for the early harvest, with more easing of taxes early next year that should encourage buyers from that country to deal direct from NZ.