The Sheep Deer and Cattle Report: December a busy month preparing for the dry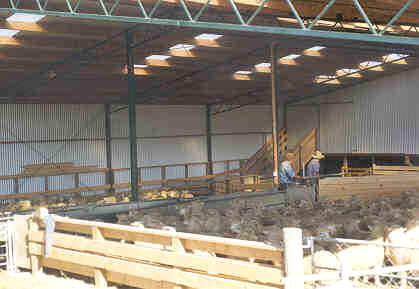 Thunder showers last week gave some areas moisture in eastern areas of the south but the hail that accompanied also caused damage to crops, but no matter how it comes every little bit of rain was welcome.
Whilst it is slow coming in some areas, the Met Service has predicted drier than normal for the north and east of both islands for December. Early planning should be done, as the holiday break can interupt selling options and avaliable feed can change quickly over this period.
Further restrictions are set to be imposed on the Opuha irrigation flows as the drought tightens it's grip in many areas of Canterbury to North Otago. However the news that the Hurunui water project won its appeal and can restart with storage in the Waitohi river, has given hope to farmers in that area.
LAMB
Further falls in lamb schedules as the drought forces more animals into being processed early, or quit to a rapidly falling saleyard market.
Lamb skins and casings demand is also low and unhelpful in schedule pricing, but slipe wool values and chilled product interest are the positives for a post Christmas upturn.
British farmers are leading a protest against the amount of NZ lamb being sold through Tescos, and this is another negative issue preventing any upturn in this difficult marketing climate.
Small store lambs are now difficult to sell as dryland farmers wean and hurriedly destock before the break and the predicted January dry.
Average values of store lambs sold at saleyards have plummeted in both islands and are now $30-$40/hd behind last years levels.
Big numbers of cull ewes are also being offered as the mutton schedule hits a yearly low in both islands, and sheep farmer concerns return about this sectors profitability at these prices.
Ardent MIE supporters are keeping the reform group going and at these prices many more efficencies need to be found if the falling sheep numbers, (now estimated by Statistic NZ to be below 30 million and dropping), are to be reversed.
In the director election for Silver Fern Farms, Wairapa farmer Tony Boyle has replaced retiring Angus Mabin to represent North Island shareholders at board level.
WOOL
The North Island wool auction was influenced by a higher currency, but 91% of the offering sold even with these easing price levels.
A small volume of lamb's wool sold well above previously publicized contract values, as demand for this product exceeded where it started last year.
Two iconic Canterbury high country stations, Mt White and Mt Cook, have been offered for sale and are sure to attract significant interest due to their production of quality merino wool.
The Government has invested $8.4 million into a research project that looks for new uses for wool, utilizing the combined expertise of AgResearch, the Universities and NZ Wool Services, to return extra revenue streams from this product.
BEEF
Beef schedules weakened this week and prime prices are now behind last year as the US market eased further, and Asian interest appears sparse in the January February period.
Saleyard prime steer prices are holding well in spite of increased volumes as processing numbers run well ahead of last year.
Weaner dairy animals are now being marketed at levels ahead of last year and the beef sector will be pleased more have been reared this year to meet increased demand for this product.
Landcorp Farming has been quick off the mark after the global climate agreement to announce it has plans to soon be carbon neutral with its livestock operations balanced with a large planting of trees.
DEER
Further summer frozen venison schedule falls this week but levels are still ahead of last year and are encouraging good interest for early sire stag sales.
Two year old and early regrowth velvet heads are now being harvested as this product looks for another stable price year that has seen the growth in the healthy food market in Asian economies.