Receivers put 1235ha dairy farm milking 2500 cows up for sale by international tender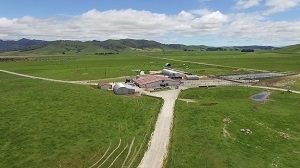 A 1235 hectare dairy farm south east of Taupo has been put on the market by its receivers.
Taharua Farm on Taharua Rd, at Rangitaiki about 38 kilometres south east of Taupo has been advertised for sale by international tender by Bayleys Real Estate.
The farm neighbours Lochinver Station which was to have been purchased by Chinese company Shanghai Pengxin until the sale was blocked by the government last year.
Had the sale of Lochinver proceeded, Shanghai Pengxin would also have purchased Taharua Farm.
The farm is owned by Fleming & Co (as trustee of the Country Spirit Trust) which was placed in receivership in October last year.
The first report by receivers BDO listed its main creditor as ASB Bank which was owed $17.84 million.
According to QV.co.nz the farm had been purchased for $15.55 million in 2006.
Fleming & Co is believed to have sold the farm's livestock to Shanghai Pengxin's Dakang NZ Farm Group for around $7.34 million, which also took a lease over the property ahead of its planned purchase.
However the lease is understood to expire in the middle of this year.
Dakang is believed to have agreed to pay $14.25 million for the land and remaining assets had the sale gone ahead.
Bayleys said the farm was milking about 2500 cows and in the 2014/15 season produced 519,477 kg of milk solids and was aiming to produce 700,000 kg in the 2015/16 season.
However the livestock grazing the property are not included in the sale.
The farm has four modern, 3-4 bedroom homes on it, two 80 bail rotary cowsheds, two calf sheds, a 100 tonne fertiliser bin, three bay barn and a range of machinery and storage sheds.
Water for irrigation and stock is drawn from the Taharua River and the farm has an effluent disposal system.
Tenders for the property close with Bayleys on March 10.