The Sheep Deer and Cattle Report: Dry, dry, dry in many eastern areas as some SFF shareholders refuse to accept the Chinese deal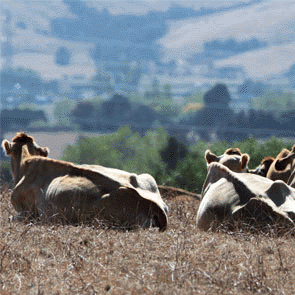 LAMB
While processors are hailing a significant recovery in the lamb market, no such signs have been seen in the weekly schedules and winter finishers will be looking for increased chilled prices to return their operations to profits.
Cautious optimism has replaced last week's Chinese chilled market break through announcement, with reports that it will take some time to develop China's chilled supply chain.
Weather at mating has been dry but NIWA is predicting increased temperatures, normal winter rain, and a return to near normal soil moisture levels over NZ in the next 3 months, and it can't come fast enough for those in the dry areas.
A plan for the rejuvination of the hill country could be based around the ideas of a few inovative farmers using plantain and different oversowing techniques to improve the quality of forages in the sward, to ensure they aren't  forced to sell store lambs in the summer lows of the market.
Silver Fern Farms have been challenged by a small minority of farmers who want to stop the Shanghai Mayling partnership deal, by questioning the validity of the number of shareholder votes needed for the agreement.
Governance rules enforces them to have a meeting, but directors say it will not change anything, and are confident they followed all the democratic channels in achieving the deals acceptance.
WOOL
The single North Island wool auction last week saw prices ease again, as buyers only targeted specific lines and demand eased.
Indicator values for fine crossbred (559) and lambs wools (611)  have fallen to yearly lows although  coarser offerings (551) are still slightly ahead of last years sale.
The settled dry weather over most of the country has ensured the shearing flow has been uninterupted and lack of rain has helped improve yields.
A survey on farm worker salaries revealed good wage growth as farm businesses understand the need for quality employees if profits are to be achieved.
BEEF
Supply shortages are starting to drive demand and one company lifted prime beef schedules this week to try and entice more animals into the market.
Shortages out of Australia are keeping the US beef market honest as kill volumes of NZ dairy cows starts to peak.
South Island calf sales last week sold strongly with values above vendors expectations, and going some way to compensate for the poor sheep returns many of the vendors recieved.
The boisecurity breach that allowed velvet leaf weed to contaminate fodder beet crops got worse this week as officials admitted they cannot contain the spread in one season, and with some plants now found in a maize crop chemicals will now be needed for future control.
This is very disapointing as this just increases the costs to grow this feed now being used to improve growth rates in cattle and lamb finishing.
Farmers have backed the Ruataniwha Dam proposal with capital commitments to allow it to progress, but all irrigation proposals face heavy environmental scrutiny as seen with the Greenpeace challenge for stage two of the Central Canterbury Plains water development.
DEER
Lower production of venison is creating problems for NZ exporters as the strive to fullfil orders for reliable customers, as less hinds are now being killed as farmers invest in growth once again.

Industry planners are hopeful the gap can be filled with improved per head production as a result of their investment in the Advanced parties and Passion2 Profit schemes.
Next weeks Deer Farmers Conference in Dunedin should be a positive affair as both of the sectors products are in a sweet spot in the market, and the industry has a well thought out plan for future managed growth.
The velvet season has wound up with another year of stable prices and most stock sold and moving in the market.
Future challenges, will be managing the increase in production by growing consumption, especially using velvet as a key ingredient in the healthy food market.