The Sheep Deer and Cattle Report: Currency concerns affects product pricing but sire bull sales reflect strong optimism for beef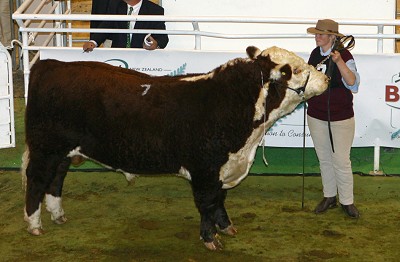 LAMB
This week's lamb schedules were easier as some processors reacted negatively to the sudden currency lifts, and reflected that customers are proving sensitive to higher pricing when cheaper alternative proteins are readily available.
They also report this last season has been difficult in terms of profitability, as increased competition for falling stock numbers in a flat overseas market has trimmed margins.
The local trade schedules are steady at present, but at the saleyards prices are lifting, probably only because more quality animals are being offered.
Scanned in lamb ewes are now being seen in numbers at North Island saleyards with top sheep reaching around $130 a head, and plainer older animals around a $100.
Store lamb prices have remained steady with southern prices in the low $70's and northern values about $5 more, but it is interesting to note these values are well ahead of where they were last year.
A deafening silence from the OIO for a decision on the Chinese meat partnership deal, and executives from Silver Fern Farms will be getting nervous as the 30 June dealine nears.
WOOL
The single North Island wool auction last week was hit by the rapidly strengthening currency with the US dollar 4.4% higher than last week, and prices and passings reflected that.
Next weeks South Island sale is small due to the delay caused by the recent wet weather, and new season's mid micron wools were over $1/kg clean behind on where they were last year.
Cavalier Wool Holdings has received court approval to merge it's wool scouring business with NZ Wool Services International with consolidation planed at Cavalier sites in Napier and Timaru.
BEEF
Stable beef schedules this week as processors report good grilling season demand out of the US and restricted supply out of Australia, where recent heavy rains are expected to encourage some restocking.
Sire bulls sales have been strong as breeders look to invest in more profitable genes for better beef returns and saleyard store animals are in demand especially in  North Island regions with feed .
Local trade schedules moved upwards again in the North Island but stayed steady in the south, as numbers of quality prime animals are proving hard to source.
Beef and Lamb NZ report that prices for sheep and beef farm inputs have fallen by 2% over the last March year, lead by big drops from interest and fuel.
Fielday exhibitors will be hoping beef farmers will open their cheque books after such a good year, as other sectors like dairy and sheepmeats will be much more cautious on spending.
DEER
Venison schedules eased unexpectedly this week as processors factor in the currency, and negotiations with European customers are proving challenging because of lack of supply.
Prices are expected to be better than last year, but sustainable long term returns should be the goal if the recent reinvestment into females is to have a good result.
Deer skin prices are at historically low levels, as this soft leather product falls from favour in the fashion stakes.