The Sheep Deer and Cattle Report: Dry conditions in the east have some farmers nervous whether there will be enough feed in the spring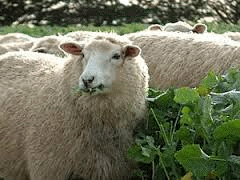 LAMB
Another small drop in this week's schedules as export prices fall $6/head behind the similar stage last year.
This year's lamb crop is predicted to be at an all time low, with drought, facial eczema and disappointing returns decimating the nations flock numbers.
The east coast of both islands are still very dry and concern is building whether future winter rains will create enough feed for early lambing mobs.
This week's Brexit vote will be watched by all lamb producers as analysts suggest negative trade outcomes for NZ, if Britain leaves Europe.
Silver Fern Farms announced plans to upgrade their cool store facilities at Pareora after closing it's leasing arrangements in Christchurch.
Scanned in lamb breeding ewes have been making $100-$130/head at the saleyards up north, while store lambs in Canterbury lifted into the $80's last week.
WOOL
The South Island wool auction saw only 62% sell even with a limited offering, as poor demand and a strong currency saw market run out of puff at the end of the season.
Mid micron, coarse crossbred, and lambs wools, are all at yearly lows and well behind values at a similar stage last year.
Good news however, with the announcement of a $21 million 7 year project to develop further uses for crossbred wool, starting with using the product as a source of keratin, and developing new technical textiles.
BEEF
 
Stable beef schedules again this week, as Oceania kills have declined and reducing volumes into the US has enabled demand to be maintained.
Some warning signs in overseas markets for beef producers, as in the US good grass growth and the fastest herd expansion since the 70's has analysts predicting beef production to be up 4% this year, and in Ireland beef prices are predicted to crash in their autumn.
Saleyard store prices have remained firm with late calves and forward stores still attracting plenty of interest and prime steers and heifer pricing benefiting from the lack of supply.
Fielday attendance and sales was stronger than most had anticipated, with dairys financial plight filled with optimism and investment from other sectors.
Sire bull sales report above average prices and nearly 100% clearances as many are lifting their cattle to sheep ratios in response to below average sheep returns.
MPI targets to double our primary sector export reciepts by 2025 look too ambitious after only a small rise from meat and wool and a 6% drop from dairy this year.
DEER
Venison schedules were stable this week on low volumes, and deer skins which are at historically low prices, are at last starting to move again.

Fertiliser prices are still falling, with Super down $18/tonne and Urea $20, as the Co-Ops have promised to release the rebate earlier to help cashflow, and encourage reinvestment into the soils for the coming season.