The Weekly Dairy Report: Price rises make the busy spring period bearable as the milk flows start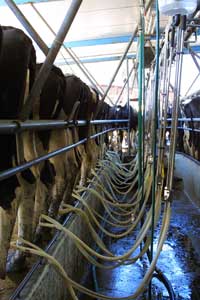 DAIRY
Another mild dry week that has been great for calving, but heightens the need for more rain in Canterbury to boost aquifers, springs and streams severely depleted from low rainfall.
Most of the rest of NZ has had adequate moisture and some in the wetter areas have to grapple with the conflict of causing pugging verse rotation length.
DairyNZ advisers suggest a small amount of pugging is acceptable  compared to the cost of running out of feed by rotating faster than the grass growth.
Top ups with supplementary feed, or dare we mention it, pke, will fill the weather induced gaps until strong spring pasture growth arrives, although many farmers have factored these deficits in by significant reductions in stocking rates.
Managers will be actively using their spring rotation planners to drive them to BCS targets for mating  and feeding cows to maximize early milk flows.
While weather predictions continue to frighten, the market has taken a huge turn for the better, as another strong auction last week lifted the basket of milk commodities by nearly 13%.
The rises were lead by a 19% lift from whole milk powder prices and with values now nearly US $2700/tonne, the sustainable target figure of US$3000/t seems within reach.
The only negative is the stubbornly high currency which will erode some part of these increases, but most exporters are learning to adapt with the exchange rate challenge.
The US milk production increases are dropping as they are in Oceania, but in the European Union, butter and skim milk powder stocks have lifted to a 7 year high.
Fonterra have made another early dividend payout to help with cashflow, and the Commerce Commission have given the seal of approval to how that Company sets it's milk price payout level.
Tru Test blames the dairy downturn for the big loss they made last year, and see little improvements this year, as farmers put their cheque books away and all spending costed to immediate returns.
Another reminder of the bobby calf welfare rules as the industry is being watched on this issue. Animals must be fully fed and at least 4 days old before transport, have firm hooves, dry navel, no scours, ears up, walking and tagged correctly to be compliant.