The Sheep, Deer and Cattle Report: At last the Silver Fern Shanghai Maling deal goes unconditional to give the red meat sector hope for a bright future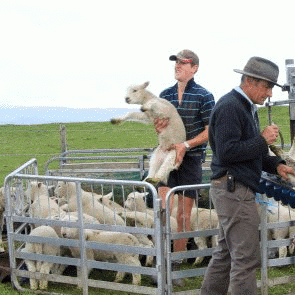 LAMB
Stable lamb schedules this week, as chilled meat negotiations in the UK strike some resistance to the currency driven prices.
Lack of volumes are helping drive demand in the US and Middle Eastern markets, and exporters report they are selling more chilled product than frozen for this time of year.
Shortages are driving the local trade market and prices from saleyards have hit yearly highs with most lambs selling in the mid $120's for heavyweight lambs.
In the north docking will be in full swing and many early lambers will be rueing the early storms that decimated new born lambs, but southern regions are experincing great lambing weather and survival rates are high.
Farmers are grumpy about the continuing poor returns from lamb, and many say they will be reducing sheep numbers in an effort to remain profitable, and will be even grumpier when they read, B/L x merino ewes have been selling for $292 per head in Aussie.
The OIO has handed it's recommendation for the Silver Fern Farms Shanghai Maling deal back to the Government ministers for their final decision, and an outcome should be achieved in time for the 30th September deadline.
And today an announcement the final approval has been given, and the deal becomes unconditional, with the new company to start its tenure on the 4th January next year.
Shareholders will see a huge increase in the value of their shares from 0.35c to $2.84, and be rewarded with a special dividend at 0.30c/share paid before 31 March 2017 from the soon to be, debt free company.
The new partnership gets access to 800 supermarkets and retail stores in China, including 56 specialist retail meat stores in Shanghai, to sell it's products, and this alone will be a huge boost to the red meat sector.
As docking arrives, it has been reported that no Scabine is available for the second year running for the control of scabby mouth, as problems persist with the reliability of this live vaccine.
WOOL

This week's North Island wool auction fell again in spite of a 2.2% softer currency, with the lack of interest from China dampening demand, and crossbred indicators dropped to new yearly lows.
Shorter shears, which were the bulk of the offering were least affected by the drop, but only 70% of the sale was sold.
Values that earlier looked so promising for crossbred wool, have now dropped to levels last seen in 2013 and this will double the pressure on the sheep sector to improve profitability and stop the migration from sheep that has been in decline for years.
BEEF
 
More beef schedule falls this week, mainly in the manufacturing and cow grades, as the US market turns to it's domestic production.
Cattle futures in that country are also falling, indicating these lower prices could be around for a while yet.
The prime markets are faring better, helped by Asian demand and low Australian supply, but prime saleyard steers seem to have hit a peak at $3/kg live. 
Demand continues for any store stock marketed, and with a mild winter and early spring grass, good animals are being sold for a premium.
DEER
Another small lift for venison schedules this week as they close in on $9/kg for chilled product, reported to be 25% back in volumes this season.

These shortages and high prices are making everyone nervous that long term relationships could be damaged if regular customer requirements are not met.
A mild winter and early start to spring should see a big percentage of young animals ready for this chilled trade and the high prices are a good reward for those that stuck with the sector when returns were low.

Button drop and early growth for velveting stags is now evident, as the mild weather has brought velvet growth on slightly earlier than normal.
The long term partnerships with Asian partners into the healthy food sector should reduce volatility of returns that used to plague this product and allow farmers to invest medium term in quality genes for even better returns.