The Sheep Deer and Cattle Report: Managers ponder how to utilise surplus spring feed in a falling livestock market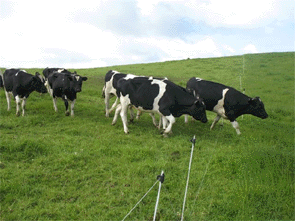 LAMB
More schedule falls this week as the UK chilled Christmas production ends soon, and with a weak Pound this important market destination for NZ lamb will continue to be difficult.
Lambs appear to be doing well nationally, but with contracts at $5.60/kg for November and $5.40 for December, returns are very disappointing.
Optimism amongst sheep farmers is low,  with still little industry direction of how the sector can improve it's profitability, although some point to the new Silver Fern partnership leading sheep farmers out of the mire.
Beef and Lamb NZ are forecasting average sheep and beef farmer's incomes will be back 13% on last year with wool, lamb and beef returns all falling.
As the volumes of last year's prime lambs disappear from the saleyards, new seasons stock are being sold in the low $100's and are easing with schedules.
Few store lambs have been traded as yet, but buyers listening to the pessimistic export prospects have taken a cautious approach, and sellers will be hoping for more spring/summer rain so they can minimise the numbers they must offer into the saleyard market.
WOOL
No auction this week, but one meat processors reports that Chinese currency devaluations have been unhelpful, and recent sales are more than $1/kg down on last year.
Beef and Lamb NZ are pessimistic about strong wools prospects this year, citing weak demand out of China and less interest for woollen carpets from the construction sector as negatives restricting price rises, and their economists suggest values will drop 16% to 373c/kg greasy.
There have been rumblings from shareholders at NZMerino about management control, where it is perceived costs and bonuses to staff have been at the expense of growers returns.
BEEF
 
Beef schedules continue their easing trend even as an unexpected flurry of orders comes out of the US, but marketers expect this to be short lived and expect cautious trading well into the autumn of 2017.
Bulls and cows are under the most price pressure, but at present the grass market rules as the moist mild spring has kept animals on farm as managers endeavour to put on more weight while they have surplus feed.
The weaner dairy beef sales have started up north and while they are stronger than last year at around 420c/kg lwt for a 100kg bull calf, some of the optimism has waned, on the back of softer prospects from the US for this type of beef.
The strong grass supply has kept the saleyard market strong for store stock, but margins could be lean based on the falling schedules for prime stock.
Local trade prices are also falling and now sit at 540c/kg cwt in both islands, and are about 20c/kg behind where they were in the same month last year.
Much interest is being held by farmers into the outcome of the US elections with trade envoys pessimistic about NZ's future if Trump wins the presidential race, and beef trends could be one of the first indicators to illustrate prospects with that country.
DEER
More sharp reductions in venison schedules as the harvest changes to frozen supply.
Chilled venison production nationally has grown by 7% last year in a total supply that reduced by 11%, and shows farmers have adapted well to the market demands for this quality product.
The US and Germany continue to be the dominant chilled market, although sales into Belgium and the Netherlands were also strong. The industry, supported by five venison exporters, are funding a marketing pilot into China, that seeks to identify niche markets within this large country to sell venison at a premium.
Deer Industry NZ reports velvet production increased by 10 tonne last year and is estimated to increase by 15 tonne next, but are confident this pace of growth can be adsorbed by the new market initiatives.