The Sheep Deer and Cattle Report: Feed everywhere now but profitable trading options are few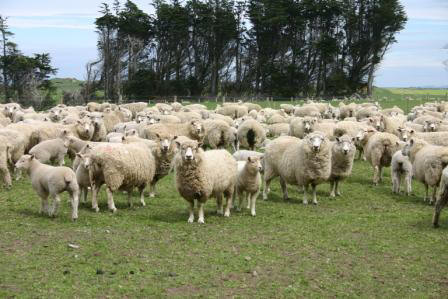 LAMB
Lamb schedules are still easing as the market adjusts to a bigger percentage of product exported frozen, but only at levels unsustainable to many.
Lack of sunshine in northen early lamb areas has slowed supply to the works and some analysts suggest this is why the schedule isn't falling faster.
More farms are now growing specialist lamb finishing crops and these herb and clover forages have enabled heavier weights to be achieved in shorter times.
Neil and Lyn Campbell of Fairlie have won the SI Farmer of the year title with a mixed livestock and cropping venture returning strong profits in a challenging environment.
Alliance Group report they are keeping about a third of the pool payments from shareholders as they insist that farmers increase their shares to be fully" shared up" in the  meat processing Co-Operative.
They also stated that Southlands Blue Sky Meats was not being pursued by the Co-Op and it looks like being purchased by other Chinese interests.
The saleyard prime lamb market is now filling with spring lambs as the numbers and prices ease for hoggets, but few store have yet been seen due to plentiful feed.
Export mutton values are at a similar value to the same stage last year and with plentiful feed, expensive store cattle and few store lambs avaliable, there has been firm interest in the saleyards for animals that can be finished.
WOOL
This week's South Island auction saw prices again fall with only 75% of the offering meeting vendors' expectations, and the fine crossbred indicator dropped below its coarse counterpart.
With the bulk of the summer shear about to start, this lack of interest in crossbred wools by Chinese buyers is a serious concern for all those with woolly sheep.
The easing currency failed to stimulate the market, and it was only the merino offering that achieved respectable prices at this sale.
BEEF
Some more small easing of beef schedules this week as supply starts to increase and the number of finished animals starts to build.
More downside in prime prices is expected, but with many areas of abundant feed and few other profitable livestock alternatives, procurement pressure could ensure values hold for a few weeks yet.
Young store cattle continue to be in strong demand especially those dairy beef weaners, while the few older cattle traded are matching  the easing prime trends
The Crown has announced a grant of $1.87m to fight the wildling pine threat in the Craigieburn and Porters Pass area as this weed threatens to invade large areas of high country often lightly stocked by breeding cows.
Staff cuts have been announced at Lincoln University and Telford as these small agricultural institutions struggle with financial security.
DEER
More summer schedule falls for venison as the European chilled season finishes, but with strong product demand, prices are expected to be above average over the frozen production period.
The velvet selling season has got off to a very slow start with early buyers quiet and some reports overseas stocks are slower to move through the market.
The whole of industry audit by Chinese regulators and the currency have been influential in this cautious start, but industry officials are confident about the sector and initiatives to stimulate consumption via the healthy food sector.