The Sheep Deer and Cattle Report: Good rains up north but central South Island sizzles as unsold wool stocks grow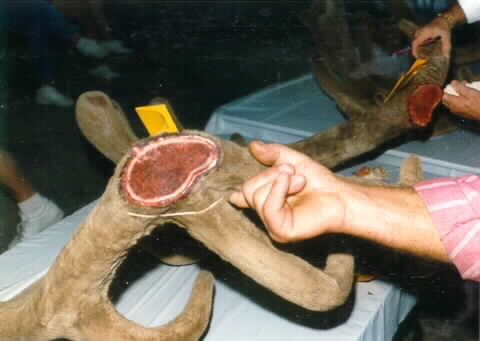 LAMB
Lamb schedules eased again this week but analysts report prices are still ahead of the last two years for February, which is traditionally a low price month for the year.
A short supply situation in filling Easter chilled lamb orders has kept prices stronger than normal and Chinese demand has continued to drive the yearly high mutton schedules.
Saleyard demand reached highs for store stock in Southland, with two-tooth's peaking at $210 and replacement ewe lambs at $139 a head.
Good summer growing conditions in the Mid Canterbury high country saw a large sale of Merino/Poll Dorset lambs sell in excess of $100/head, which is well above last year's levels.
Beef and Lamb NZ are holding workshops on how to identify low body condition score sheep to allow managers to preferentially feed lighter ewes in the lead up to tupping.
Some farmers are disapointed with the lack of promotion of "Eat NZ Lamb day" by Beef and Lamb NZ, especially as this method of advertising is very successful across the Tasman.
 Dry conditions in the south and good recent rains in the north  have brought store lamb prices to similar levels for both islands, but with the kill 13% behind in January some uncertainty remains on where the prime market will go after the Easter chilled season ends.
WOOL
This week's double island auction saw volumes again withdrawn prior to the sale as brokers look to manage a very weak crossbred wool market with a reduced supply. This tactic seems to be working as price indicators did lift on an unchanged currency although passings were still 24% of the sale.
However, with stocks of wool not sold growing this will continue to overhang the market for months yet, as the disappointing year for wool shows no signs of changing soon.
Premiums for South Island crossbred wool over the North have disappeared, and lines contaminated by colour are proving the hardest types to sell.
The small amount of merino wool sold very well at this sale, as it is in Australia where 18 micron and finer offerings are attracting prices at record levels.
BEEF
Another week of steady schedules for beef, although a shortage of bull beef did spark a price lift for entire animals.
Processors report that there is now a plentiful supply of prime animals coming forward. But with tight margins it is only procurement pressure holding schedules flat.
South Island local trade prices for beef are ahead of the north as are prices for prime steers at the saleyards, where butchers are paying nearly 40c/kg lwt more for similar weight animals.
Silver Fern Farms has held its AGM last week and reinforced its goal to get more value out of existing product with the new partnership.
DEER
Venison schedules lifted this week as some spring contracts are concluded, and demand pushes prices to the top end of the historical ranges.
Nervousness at these high values is creating caution about price resistance, as breeders start to reinvest in more females to expand the herd and remove killable venison animals.
Weaner sales start next month and very careful budgeting will be needed to ensure profits from finishing yearling animals.
Industry reports show that velvet has been traded at levels similar or ahead of previous years after a slow start, and while prices are back to around a $100/kg for Korean grade, good demand is evident.
The import permit issues has been overcome into China, but whether the later recievers of this documentation will push demand for product not sold, is yet to be seen.