The Sheep, Deer and Cattle Report: Sheep numbers continue to drop but if weather permits more lambs should be born this year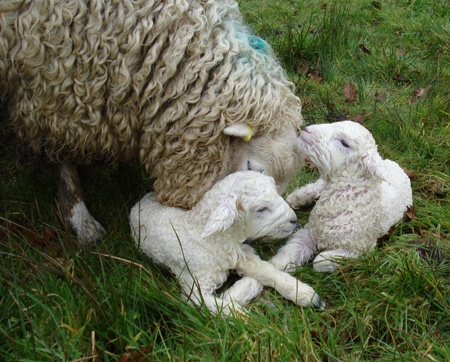 LAMB
Export schedules continue to rise as processors compete hard for stock to fill chilled orders, but they report prices are peaking in Europe and the UK.
As the main lambing season looms and these heavy rain periods continue, interest in lamb survival research reveals lambs with thicker skins cope the best in adverse weather conditions.
Early lambing areas in the North Island are complaining that newborns are being dropped onto muddy pastures and nationally all are looking for sun and wind to dry saturated soils.
Alliance distributes its loyalty payments to its suppliers that equates to around $1.80 per lamb, as this big processor uses its cooperative principles to create a point of difference.
They also report sheep and lamb skin prices are steady but are held back by the high currency, and the plants are receiving more longer wooled animals as suppliers decide it is uneconomic to shear.
Local trade schedules lifted to a new high at 680c/kg cwt in the south and 700c in the north, and some exceptional prime lambs are closing in on $200/hd at the saleyards.
Wallace Corporation have purchased Nichols tannery in Christchurch as they look to expand their influence into the South Island for lamb slink skins and casualty calves.
In the annual stock survey Beef and Lamb NZ report sheep numbers have dropped further to now sit at 27.34million. The rate of fall has eased however, and with hogget numbers lifting by 1.7%, and most areas recording positive scanning results, 300,000 more lambs are expected to survive this spring.
Store lambs sold via saleyards have hit a seasons high in both islands but volumes offered have fallen significantly.
WOOL
A double island auction sale last week and still the market has only room for 80% of the offering.
South Island wools eased in price, while the northern sale lifted from the previous sale, although buyers are still paying a 20c/kg premium for southern wools.
A wider range of styles attracted more bids but still the coarse crossbred indicator languished at 273c/kg clean, and the large supply of unsold stock is a concern for prospects with new seasons wool.
BEEF
More easing of beef schedules this week as manufacturing product in the US drops sharply, and the strong currency and Japanese tariff issues, reinforces that trend.
Local trade beef prices seem to have peaked, and the saleyards are dominated by prime heifers, with few finished steers being traded at present.
Ravensdown has announced a $45/tonne rebate after the third strong year in a row, and report their environmental consultancy is the fastest growing service for the cooperative.
Labours water tax proposal has had Canterbury irrigators attention as they could face extra compliance costs on the significant debt already undertaken, for this long term investment.
Other heavy agricultural and horticultural water users in all parts of the country are "up in arms" about the inequity of this tax, that most see as just another cost faced by the rural sector eating away at already small margins of profit.
DEER
Venison schedules lifted again as the chilled European production season starts.
The Pasture to Plate wall planner indicates red type animals should be well into the 80kgs mark, to meet harvesting targets of 95kg starting the first week in September.
Processors report good progress has been made in diversifying product away from the traditional EU markets, and this has helped create strong returns.
The new seasons velvet market starts soon with some asking whether NZ's growing production volumes are affecting prices, after the big drop in returns of last year.
Getting more of our product into the healthy functional food market will help spread velvet away from the traditional markets and it's price sensitivity to volume increases.