The Sheep Deer and Cattle Report: Grass about to explode as temperatures lift and wet areas start to dry up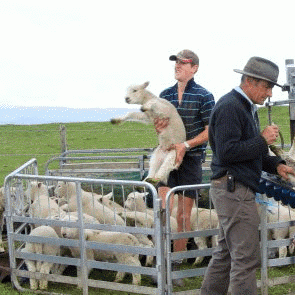 LAMB
More small lifts for export lamb schedules as the seasonal peak nears. With analysts predicting well over $7/kg cwt, this could be the second highest level since 2011.
The negotiations for the Christmas chilled programmes are nearly all concluded, and reports suggest positive pricing in all market destinations.
Processing to fill these orders will soon start, but with wet conditions everywhere the early spring lamb flow could be subdued. 
Early October is the date where teeth eruption is checked for last seasons lambs and a big discount can be applied when these animals fall into the hogget grade.
Beef and Lamb NZ predicted an average price, at 0.69cUS, of 555c/kg/cwt for the year, in a more cautious approach to the oncoming season.
Lamb numbers are estimated to grow by 1.1% this year, and early field tallys from the tailing pens suggests this maybe conservative.
Alliance reports demand for the merino Silere hogget brand has been strong and they are working actively to get more farmers to supply this product.
Strong demand from our mutton markets continues, and this has been reflected in the pricing for the small numbers of ewes and lambs in the saleyards.
Prime lambs are selling in the pens for $150-$160/hd average to give winter finishers strong margins, and only back in 2011 have prices been bettered for this type of stock.
WOOL
The South Island auction saw prices fall, over all categories, with even the merino and mid micron wools back by 4-8%, and poorer styled crossbred wools struggling to find a level.
As predicted the Chinese were cautious on bidding for early hogget wools, and prices for these eased by up to 10%.
Surprisingly, Beef and Lamb NZ suggested that wool production in the new season will lift by 16%, and prices also by 4%, albeit from a very low base.
With again only 75% of the sale sold, the stockpile of unsold wool continues to hinder any fast recovery of prices.
BEEF
More cautious predictions for beef this year and this week's schedules reflected that, with falls in all main categories.
The recent strong run has pushed global volumes and a correction must come, especially as pork and chicken prices remain especially competitive and the dry in parts of Australia will bring more animals to the plants.
Supply tends to pick up after Labour weekend and a better indication of the market should show itself when more animals are being processed.
Processors have been working hard to grow the Chinese market, and NZ's biggest beef exporter Silver Fern Farms is happy with New Year orders and pricing into that market.
Demand is strong for prime saleyard animals and prices reached a peak well over $3/kg at venues in both islands last week.
In some areas the wet conditions have dampened store cattle demand, but soon warmer days will ignite the grass market and the clamour for extra mouths to eat surplus feed will start.
DEER
One company lifted spot venison schedules to $9.85/kg/cwt this week and concerns remain that these record prices could weaken demand.
Another revealed their October strike contract pricing had hit $10.20/kg, as limited supply drove prices to unprecedented levels.
The warmer weather has stimulated velvet growth and the harvest will be building with older stags' heads dominating removal at this time.