The Sheep Deer and Cattle Report: Concerns at the proposed meat access deal between the UK and Europe but early prospects for velvet look sound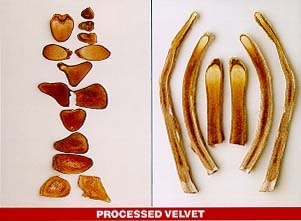 LAMB
More small lifts for export lamb schedules this week, as the Christmas chilled production starts for the UK market.
There has been however, some worrying news about a proposed deal between the EU and the UK, which may affect future NZ meat access into the British market.
Beef and Lamb NZ officials are concerned that NZ's present market rights have been eroded, and trade negotiators are scrambling to redress the balance in NZ's favour.
Prime lamb numbers lifted at the saleyards and prices eased, as finishers looked to clean out last season's animals, before hogget teeth erupt, and penalties apply.
Demand for mutton carcasses continues, and schedules are at levels only last seen 6 years ago, and have allowed profitable disposal of dry and wet/dry ewes.
In the saleyards ewes and lambs all counted continue to sell well, as prospects from both classes of stock sold are strong.  Some traders are more confident to invest here, rather than in beef where the market is easing.
Alliance in its roadshow presentations are heralding their now low debt structure, and progress they have made expanding their business into the food sector.
Their best guess forecast for this seasons lamb prices is up to $7/kg for Christmas chilled lamb, back to $5.90 over the summer frozen product period, and prices lifting again for the Easter chilled trade.
WOOL
This week's North Island auction saw most types ease in price, in spite of a weaker currency.
 Crossbred hogget wools 34 microns and finer, suffered the worst in the markets fall, with exporters reporting there were no Chinese buyers for this category of wool.
Wet weather has delayed shearing in many parts of the country, but with lots more hoggets to shear, growers will rue the lack of demand for what often has been their highest valued fleece.
BEEF
More easing of beef schedules, as supplies of animals lifts both domestically and out of Aussie, where some states have gone dry again.
Prime export and local trade prices are similar to where they were a year ago, but bull and  manufacturing cow values, are still 10-20c/kg cwt ahead.
Exporters are commenting that the present beef prices have a large procurement component in them, and will need to ease to match present market prices.
Silver Fern Farms has reported the final settlement of $260m with their Chinese partners is at the bottom end of the predicted range, and enforces the importance to achieve greater value out of that Asian market, if the goals of the partnership are to be realized.
Alliance has announced they are to spend $54 million in capital expenditure this year in their goal to improve profitability, and plan a bonus share issue for loyal shareholders.
DEER
Another lift in venison schedules by one company saw prices now close to $10/kg cwt, driven by demand from many markets.
These record prices are at levels last seen 9 years ago, and it is hoped the now more diversified market place, will shield the sector from any downward price readjustment that occurred back then.
The very early feel from velvet exporters is much more positive than last year, when prices fell by 20-25%. They say there has been good levels of pre season interest from China, and with low stocks held in Korea many buyers could want to buy early.
The Chinese are now  buying product in the heavy stick market,  and at this stage don't seem to be wary of the increased volumes NZ producers are expected to grow.
There seems to be a good response by farmers to the new rules and regulations associated with removal and storage of velvet, imposed by the Chinese after an audit last year.