The Sheep Deer and Cattle Report: The sale of the Icebreaker brand should ensure demand for merino wool continues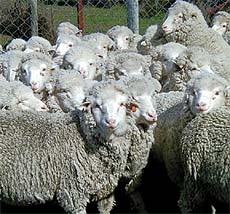 LAMB
Export schedules were stable this week as more spring lambs came on stream, and discounts of between 5-20c/kg cwt are now starting to appear for last seasons animals.
At the saleyards heavy spring prime lambs are selling well but prime hoggets are starting their annual fall as more young animals become avaliable.
Silver Fern Farms are suggesting lambs will peak around $7/kg before Christmas, and dip to $5.60-$6.20 mid season.
More lifts in mutton schedules this week, and heavy cull animals are averaging well over $100/head in a market desperate for more stock.
And at the saleyards heavy cull ewes are selling around $130 average not far behind the price of quality prime lambs.
The retiring directors were elected unopposed at Alliance, and the Co-Op have attracted more shareholders from the North Island to now attribute 10% of the total membership.
Disappointingly the Glammies competition has had its funding cut by Beef and Lamb NZ, as they look to reprioritize their marketing emphasis, to improving the promotion of farmers environmental story.
The interest in sheep milk continues to grow, as some see this specialist option better than milking cows and easier on the environment.
WOOL

No auction last week as wool exporters get a breather from the lack of interest in crossbred fibre, and insatiable demand for finer micron wools.
It has been noted more animals with wool sheding genes are being bred by lifestyle block holders, and breeders are showing interest in animals with short bare tails in a bid to reduce costs of the shearing operation.
The Icebreaker brand has been sold to an international company that owns the North Face and Timberland logos, and this should ensure demand for fine wool continues well into the future.
BEEF

Prime schedules were steady this week, but strong domestic kills in the USA and Australia will dampen demand for imported beef from New Zealand.
The weaner dairy bull sales have started up north to strong demand, with prices $50-$100 per head above last year, and reports suggest more bobby calves have been reared this season.
Saleyard prime steers  continue to sell well at most venues ( especially in Canterbury for the prime steer competition), despite increasing numbers, as a stable local trade schedule reflects demand for domestic beef.
Beef and Lamb NZ have reduced funding for the very successful Steak of Origin competition and farmers will be disappointed their skills in producing tasty tender beef has less emphasis.
 DEER

Alliance lifted spot prices for export venison again this week as shipping deadlines move close to meet the European chilled deadlines.

Deer farmers optimism has lifted significantly with both main products attracting strong pricing and demand for breeding females remains strong.
An industry lead quality focus, driven by the passion to profit programme, is starting to pay dividends for participants that were prepared to invest time and capital to improve their herds.

Main crop velvet harvesting will now be well through, and industry predictions of a crop in excess of 675 tonnes green appears to meet market approval.
Contract prices are being offered ranging from $101-$139/kg for SAH to B grade velvet and up to $180/kg for quality spiker.