The Sheep Deer and Cattle Report: Velvet competition shows excellence but wool auction again fails to ignite a very weak crossbred market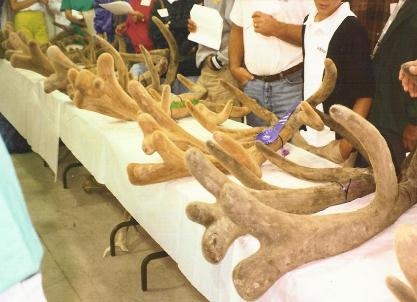 DEER
Venison prices lifted again to now sit at record levels of $10.80/kg/cwt, but reports suggest some price resistance is starting and this could be made worse by the firming currency.
The first stag sale for the province occurred at Peel Forest Estate for maternal breed sires with venison genes, and prices peaked at $18000, and averaged just over $7500/head.
The National velvet competition was again held in Invercargill, and a red deer head showed outstanding conformation along with 12.14 kgs of weight to win its class and also take the overall trophy.
LAMB
More falls in export lamb schedules this week, as the dry has created strong demand for killing space for freshly weaned lambs.
Store lamb numbers have lifted in Canterbury saleyards, as impending feed shortages have managers destocking lighter animals unable to be finished before summer proper starts.
Prime lamb prices are however around $30/head better than they were this time last year, which makes the situation more frustrating, not being able to cash in, because of the lack of feed.
The first mixed aged ewe fair was held at Stortford Lodge and prices averaged $136/head which was disapointing considering how strong the lamb market is.
Present price levels for both lamb and mutton are now close to the minimum price contracts offered by one large processor for the Jan-March period, and this will underpin the market for those with feed over the summer.
WOOL
Last week's North Island wool auction saw most prices ease again, but early fine lambs wool was traded over $6/kg, and the total passings at this sale remained reasonably low.
The currency has firmed on the back of positive sentiments for the appointment of the new Reserve Bank Governor, and the demand for finer hogget types seemed to have dried up, and they have fallen back in line with coarser wools.
BEEF
More easing of beef schedules right across the board this week, some caused by tight killing space, some by a weakening in the US market.
The Chinese and domestic markets have remained strong to underpin prime animal prices, but prospects look softer post Chinese New Year, and after the Christmas holiday period.
Prime steers at local saleyards in the South Island dipped under $3/kg/lwt for the first time in 12 weeks, as numbers increased, and more lower yielding dairy cross animals were offered into the market.
Weaner bulls continue to be traded, but prices are easing and buyers are discounting off types, more severely.