Keith Woodford analyses the meaning of the numbers that lie deep within Fonterra's accounts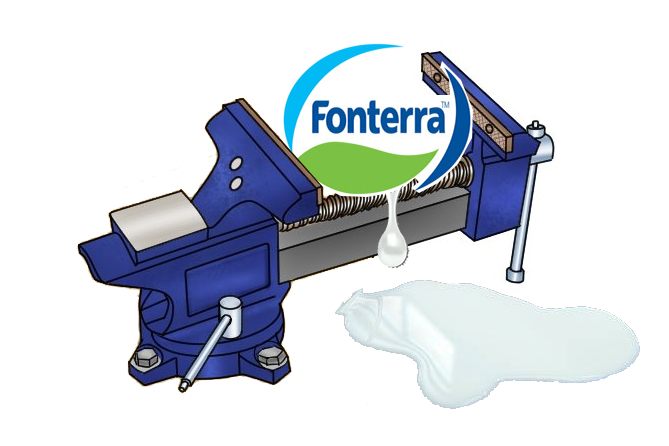 By Keith Woodford*
Fonterra's loss of $196 million for the year ended 31 July 2018 has left nowhere for the Fonterra Board to hide. Wisely, it has chosen to take the loss on the chin. In line with this, it has completed the jettisoning of CEO Theo Spierings. Two of its most experienced directors (Wilson and Shadbolt) are also departing.
Fonterra plans to now take stock of the situation before charting a path to the future. However, the latest Fonterra communications at farmer meetings are emphasising debt reduction.
A black and white sort of a guy
New Chairman John Monaghan has been described to me as a black and white sort of a guy. That might be exactly what Fonterra needs; someone who calls a spade a spade and cuts through the public relations massaging that bedevils Fonterra.
One of the biggest problems with public relations massaging is that directors themselves become prisoners of the company line. Directors need external networks to tell them what is really going on in the company and its markets. For those who have such networks, there are no surprises in the situation as it has evolved over the last few years.
The starting point
The starting point for moving forward is to understand something of the current situation. Fonterra's accounts are always opaque but some progress is being made. This year's improvement has been to separate out some but not all of the consumer-product measures from food service. I have been calling for this for many years.
Food Service
In recent years. Fonterra has been making excellent progress with some food service products. These are branded ingredients which are often sold directly to food manufacturers. Mozzarella cheese is one such example. 
The problem with food service is that although branded, the products are essentially sold on technical formulation and price. Accordingly, it is much harder to defend a leading position in food service than it is in consumer goods.
This year has seen markedly reduced margins in food service related to increased competition from other suppliers, but also influenced by high commodity prices for milk. Sales gross margins declined from 21.7 percent to 15.7 percent.  
There is some prospect these margins can be increased, but probably only at the expense of commodities. Let there be no doubt, it is commodities that still drive overall profitability of the New Zealand dairy industry through farmgate prices, so we don't want those going south.
Consumer Goods
Fonterra is struggling with its consumer goods and in all likelihood this will continue. This is the area where Fonterra's public relations massaging has done the most damage. We all hear about the successes, but the mis-steps get hidden away.
Fonterra now claims to be the biggest marketer of imported UHT milk in China. That is indeed an impressive feat. Alas, it does not compensate for all the other consumer products that are struggling. One important product that is missing in action is infant formula in China.  In most Chinese infant formula surveys, Fonterra does not even register.
Fonterra relies on Australian and Chilean sales for much of its consumer products income. Both are proving challenging markets and could become more so. In Australia there is lots of competition for farmgate milk, and in Chile it would seem that Fonterra is losing market share.
Fonterra reports its overall gross margin from consumer goods as 27.9 percent, down from 29.2 percent the previous year. As students of accounting will know, there are two big steps from there to a final profit. The first is to add the marketing and administration costs to get an EBIT figure. Then there is interest to be paid on the loans that financed the business development.  These figures are not provided.
Combining the value-add components
Although separate net profits of food service and consumer products are not provided, Fonterra does provide an EBIT (earnings before interest and tax) figure of $525 for the combination. This is on a normalised basis with so-called abnormals such as the Beingmate fiasco scrubbed out.
The overall message from this normalised EBIT for food service and consumer products is that it is almost certainly insufficient to allow for a fair share of un-allocated company costs of $493 million plus net finance costs of 416 million, and still provide a significant net contribution depreciation and any return on capital. Accordingly, even on this normalised basis, it is evident that it is commodities and some other ingredients that are propping up the overall business.
China farms
Fonterra's China farms have made a stated loss this year of $9 million EBIT. However, this is not the real loss. First it is necessary to add in another $30 million that the ingredients business lost by buying the milk well above market prices and then selling it at a loss. This brings it up to $39 million loss before any depreciation and interest are charged. Production has also declined this year, apparently linked to effluent management issues.
What happened to cost control?
Shareholders will recall that Theo Spierings' $8 million payout in 2017 was because of the big cost savings he had made over the previous two years, which led to him getting big bonuses. Well, as can so often be the case with cost-cutting, short term gains lead to longer term losses.
It would seem this is exactly what has happened, with normalised costs going up seven percent this year.
What else is buried in the accounts?
The headline figure of $183 million that Fonterra had to pay Danone was not the final figure. Fonterra had to pay Danone an additional $49 million to cover interest and Danone's legal costs. These details are in the small print on p102 of the Annual Report.
Fonterra also advises in the small print that the Danone saga may not yet be complete. Fonterra states (p102) that "It is unclear whether Danone will continue to pursue the New Zealand High Court proceedings that were stayed pending the decision in the Singapore arbitration. Due to the uncertainty regarding whether Danone will seek to re-initiate these proceedings, and the nature and scope of these potential proceedings in light of the arbitration findings and award, no amount has been recognised in relation to these proceedings".
Another unknown going forward is the amount that can be recovered from the Beingmate fiasco.   The shares are currently valued in the books at $204 million. No-one really knows whether or not these shares have any value.
What are the good points?
Amongst all of the problems, surely there have to be some successes apart from UHT milk to China and mozzarella?  Well, I am still looking!
The most obvious strength at Fonterra is that it is a very efficient processor and marketer of commodities. And that is just as well given all the other issues.
 Who bears the cost?
This year's losses are borne by the balance sheet. It is not only the losses that have to be carried, but also the $160 million of dividends paid out back in April.
Interest-bearing debt is rising, and is now $6.9 billion. Fonterra's total liabilities, including money owed to trade and farmer suppliers are over $11.7 billion. This leaves only $6.3 billion of equity. 
That means the squeeze is now on, with further borrowing options now restricted. That is why Fonterra faces a constrained future.
---
Updates: This article has been updated in the two paragraphs marked above.
---
*Keith Woodford was Professor of Farm Management and Agribusiness at Lincoln University for 15 years through to 2015. He is now Principal Consultant at AgriFood Systems Ltd. He can be contacted at kbwoodford@gmail.com