BNZ's parent National Australia Bank gives early demonstration of credit loss expectations in a COVID-19 world as its profit tumbles, dividend's cut and A$3.5b equity raise is detailed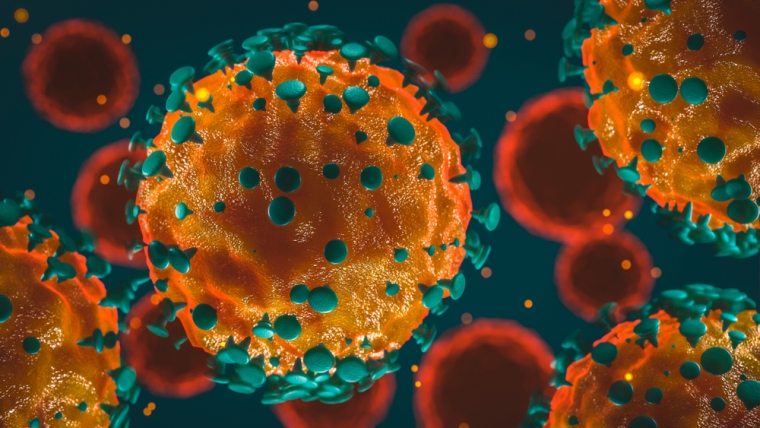 By Gareth Vaughan
BNZ's parent National Australia Bank (NAB) has provided an earlier than expected taste of what the COVID-19 induced economic downturn means for banks, their shareholders and their bad and doubtful debts.
In a surprise move on Monday NAB issued its interim results, which hadn't been due until Thursday May 7. 
NAB, under CEO Ross McEwan who took the reins in December, posted a 51% fall in March half-year cash profit to A$1.436 billion as its credit impairment charge ballooned to A$1.161 billion from A$449 million in the March half last year. NAB also unveiled plans for a A$3.5 billion capital raise, and slashed its interim dividend by A53 cents to A30c per share, equivalent to just 35% of cash profit.
At its New Zealand banking unit NAB said cash earnings rose $30 million, or 6%, to $562 million. The rise came as net operating income gained 3% to $1.291 billion, and operating expenses fell $8 million, or 2%, to $467 million. The credit impairment charge dropped $2 million to $42 million although this excludes collective provision charges for forward looking economic adjustments due to the potential deterioration in broader macro-economic factors as a result of the COVID-19 pandemic. These were lumped in with the rest of the NAB group which recorded an A$807 million "economic adjustment" increase taking total collective provisioning to A$4.401 billion.
BNZ specific detail should be available Tuesday morning when NAB's Kiwi subsidiary issues its interim results after NZ's ANZAC Day public holiday.
Subsequently ANZ NZ, the country's biggest bank, is due to report interim results on Thursday (April 30), followed by Westpac NZ on Monday May 4. In the weakening economic environment banks' non-performing loans and provisions for doubtful debts have been expected to rise off a low base. 
As previously reported by interest.co.nz, as of December 31 the three big NZ banks all had low levels of non-performing loans and loan provisions by historic standards. ANZ's non-performing loans ratio was just 0.5%. Westpac's was 0.3% and BNZ's 0.9%. This ratio covers loans recognised as impaired or where payment is at least 90 days past due. The non-performing loans ratio is total non-performing loans as a proportion of total loans.
Meanwhile ANZ's provisions, including individual plus collective provisions, stood at $505 million, Westpac's at $331 million, and BNZ's at $668 million. That's against total loans of $135 billion at ANZ, $89 billion at BNZ, and $86 billion at Westpac.
New financial reporting standard to make its impact felt
Since 2018 banks have had to use what's known as IFRS-9, or International Financial Reporting Standard 9. It replaced another standard known as NZ IAS (International Accounting Standard) 39.
This, as Michele Embling who chairs the External Reporting Board explains, means a significant shift. The old standard, Embling says, was based on events that had exactly happened at 31 March. Whereas the new standard looks at what had happened at March 31 but also looks forward, and needs to include future expectations.
"What we have with IFRS-9 is called an expected loss model where you take into account expectations of future loss and economic conditions. What might happen with unemployment rates for example, which is one of the biggest determinants of wealth," says Embling. She spoke to interest.co.nz on Friday, before the NAB results were released.
This means IFRS-9 is more forward looking than the old standard. "Which ideally means that losses are recognised sooner rather than later," Embling says.
The banks are expected to develop estimates based on the best available information about past events, current conditions and forecasts of economic conditions. When assessing forecast conditions, they should consider both the effects of COVID-19 and the government support measures in place. Payment deferrals for borrowers doesn't mean those loans should automatically be considered to have suffered a significant increase in credit risk.
The External Reporting Board is an independent Crown entity tasked with preparing and issuing accounting standards and audit assurance standards. Embling, who also chairs PwC NZ, says international guidance is relevant in NZ too.
This includes:
"It is likely to be difficult at this time to incorporate the specific effects of COVID-19 and government support measures on a reasonable and supportable basis. However, changes in economic conditions should be reflected in macroeconomic scenarios applied by entities and in their weightings. If the effects of COVID-19 cannot be reflected in models, post-model overlays or adjustments will need to be considered. The environment is subject to rapid change and updated facts and circumstances should continue to be monitored as new information becomes available."
And:
"Although current circumstances are difficult and create high levels of uncertainty, if expected credit loss estimates are based on reasonable and supportable information and IFRS-9 is not applied mechanistically, useful information can be provided about expected credit losses. Indeed, in the current stressed environment, IFRS-9 and the associated disclosures can provide much needed transparency to users of financial statements."
'A lot of subjectivity because things are uncertain'
So what is this likely to mean in practice?  Embling suggests volatility.
"The challenge is this is the first time the standard has been tested because we've had this benign credit environment for 10 years. Banks' losses have been quite miniscule, compared to the size of their books," she says.
"And now we've got this significant volatility coming through, or potentially significant volatility, in economic factors over the next wee while...you should expect more volatility going forward."
"The key areas to look at will be the results as they're reported and what's coming through, but also the disclosures around the key assumptions that have gone into anticipating those losses because it's somewhat of an art as opposed to a science," says Embling.
"The disclosure piece from companies in this reporting season is going to be really important because there's going to be a lot of subjectivity because things are uncertain."
IFRS-9 is a response to the Global Financial Crisis (GFC) and criticism that banks were too slow to recognise the deterioration in their loan books and therefore record losses, Embling says.
"The losses eventually came but they were delayed. And so as part of the review post the GFC, the standard setters globally looked at the relevant standard of how you provide for impairment losses on loans and receivables including mortgages." 
In the wake of the GFC the big five banks - ANZ, ASB, BNZ, Kiwibank and Westpac - had combined 90-day past due assets of $1.4 billion in the first-half of 2009, compared to pre-GFC norms of between $300 million and $400 million. Interest.co.nz first wrote about the potential move to an expected loss model in 2011. 
BNZ was an early adopter of IFRS-9 in 2014, with ANZ and Westpac adopting it in 2018. Instead of the September year balance ANZ, BNZ and Westpac have, ASB and Kiwibank have a June financial year. That means they reported interim results, for the December half-year, in February and won't report June year results until August.
Pay cuts for BNZ's top brass
BNZ says its executive management team, including CEO Angela Mentis, will forgo the short-term at risk components of their pay packages, which could have accounted for up to 50% of their annual take home salary for the 2020 financial year. Chairman Doug McKay says BNZ's board will donate 20% of their directors' fees for the next six months to charities.
Meanwhile, in a letter to NAB shareholders McEwan and chairman Philip Chronican say, across the 70 years of experience in banking they share, they've never seen such an immediate and deep impact on the economy and health of the global community. 
"Given the uncertain outlook, we are taking proactive steps to further strengthen our balance sheet. These actions are intended to provide us with sufficient capacity to continue supporting our customers through the challenging times ahead, as well as assist to manage through a range of possible scenarios, including a prolonged and severe economic downturn," NAB says.
"We have increased collective provisions for forward looking economic and targeted sector adjustments by A$828 million to A$2.135 billion. We are also bolstering our capital base, today announcing a fully underwritten institutional [share] placement of A$3 billion and non-underwritten share purchase plan targeted to raise approximately A$500 million, increasing our proforma common equity tier 1 capital ratio to 11.20%."
"The difficult decision to reduce our interim dividend by 64% to A30 cents per share is equivalent to a further A$1.6 billion, or 37 basis points of common equity tier 1 capital," says NAB.
NAB expects Australian Gross Domestic Product to fall 8.4% by September from where it was at last December, and not recover to pre-COVID-19 levels until early 2022. It expects Australian unemployment to peak at 11.7% mid-year, before recovering somewhat to 7.3% by December 2021.
The chart below comes from NAB's results presentation.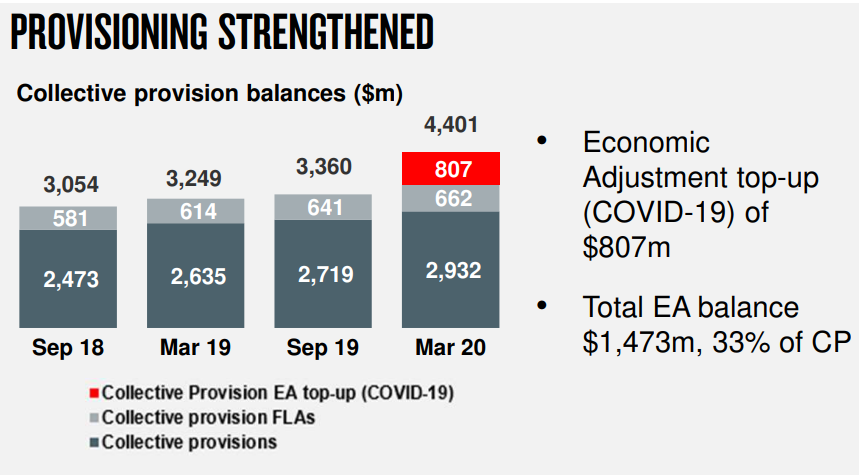 The table below, from NAB, shows its NZ market shares.

NAB's results release is here, and its investor presentation is here.
The chart below comes from the Reserve Bank of New Zealand and covers NZ banks.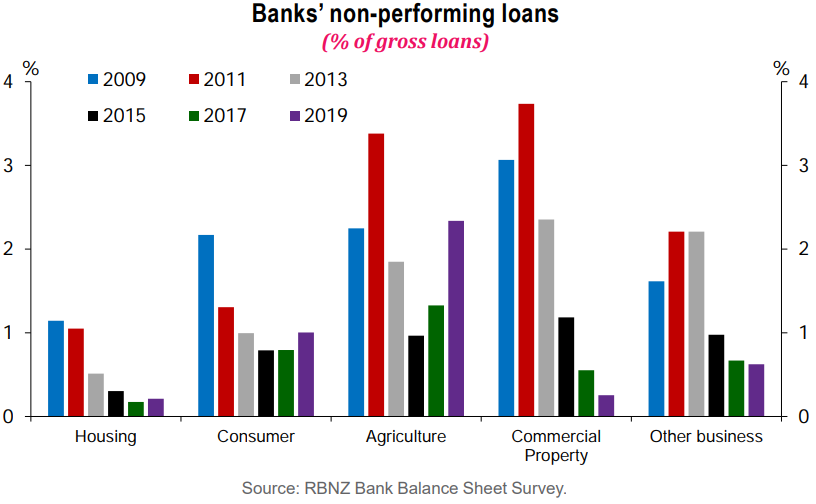 *This article was first published in our email for paying subscribers. See here for more details and how to subscribe.