ANZ NZ CEO Antonia Watson sees potential for quicker economic recovery than many other countries as bank posts fall in interim profit with loan impairments & expenses rising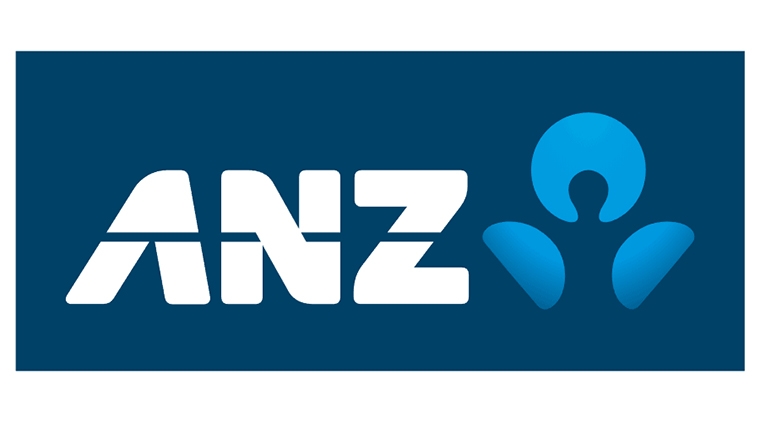 ANZ New Zealand, the country's biggest bank, has posted a 15% fall in half-year profit with credit impairments and expenses up, and revenue down.
The bank says net profit after tax for the six months to March 31 fell $140 million, or 15%, to $789 million from $929 million in the equivalent period of its previous financial year.
ANZ NZ says to date it has provided financial help to about 30,000 personal, home and business loan customers through repayment deferrals or adjustments covering lending of around $12 billion. (See more detail below).
"New Zealand's response to COVID-19 has resulted in extraordinary changes to the economy, the fortunes of businesses and the lives of customers," ANZ CEO Antonia Watson says.
"New Zealand has made much better progress in fighting the virus than nearly all countries, and that potentially paves the way to a quicker economic recovery. While that's encouraging there will be many challenges as the country emerges from the high level of response and starts to rebuild."
Watson says ANZ NZ has substantially increased its collective loan provision to recognise the possible impacts on economic activity through the bank's September financial year and beyond. ANZ NZ's credit impairment charge rose to $232 million for the March half-year, up from $32 million a year earlier. The extent to which the impact of the COVID-19 crisis on economic activity continues through the second-half of ANZ NZ's financial year, to September 30, will depend on how and when NZ fully emerges from lockdown, Watson says.
"We're optimistic many businesses will survive, but we know the next few months will be difficult and we're preparing for a higher-than-usual number of loan defaults," Watson says.
Operating income fell $288 million, or 13%, to $1.992 billion even though net interest income was 1% higher at $1.648 billion. Operating expenses increased $93 million, or 13%, to $828 million. The bank said its sale of OnePath Life and its 25% stake in Paymark partly contributed to the revenue decline, with the expense increase mostly due to regulatory compliance. Combined gains of $98 million on the OnePath sale to Cigna, and Paymark sale to Ingenico Group, were booked in the March half last year.
ANZ NZ says its total capital ratio, as a percentage of risk weighted exposures, stood at 13.9% at March 31, versus the Reserve Bank mandated minimum of 10.5%. The bank says customer deposits increased 5% and gross lending rose 3% in the March half.
ANZ Group defers dividend decision until August, sees 13% GDP contraction
The ANZ Banking Group, Australian parent of ANZ NZ, has deferred its interim dividend as it posts a 60% fall in cash profit from continuing operations and takes an A$1.67 billion credit impairment charge.
ANZ says it has deferred the decision on paying a 2020 interim dividend until the economic outlook is clearer. The bank's board will continue deliberating, and provide an update in August. In the first half of its previous financial year ANZ paid an A80 cents per share fully franked dividend.
The group's cash profit from continuing operations fell 60% to A$1.413 billion, with its credit impairment charge up to A$1.674 billion from A$392 million in the first half last year. There were also A$815 million of impairments on investments in Asian banks. Return on equity fell to 5.1% from 10.8%, and the group net interest margin fell 10 basis points year-on-year to 1.69%.
ANZ group chief risk officer Kevin Corbally says the bank is assuming Australian Gross Domestic Product will reduce by 13% in the June quarter, the largest contraction since the Great Depression.
"We then forecast some rebound in the September quarter, but it's actually not until 2022 that we get back to the levels that we saw pre-COVID-19," Corbally says.
Meanwhile, ANZ NZ says among other things to help offset the economic impact of the COVID-19 pandemic so far it has:
Deferred 19,600 home loan repayments and moved 20,900 home loans to interest only.
Granted 1,345 temporary overdraft facilities to businesses needing more working capital, worth around $25 million.
Waived the fee for contactless debit transactions for around 14,000 small business customers until the end of June, with collective savings of around 500,000.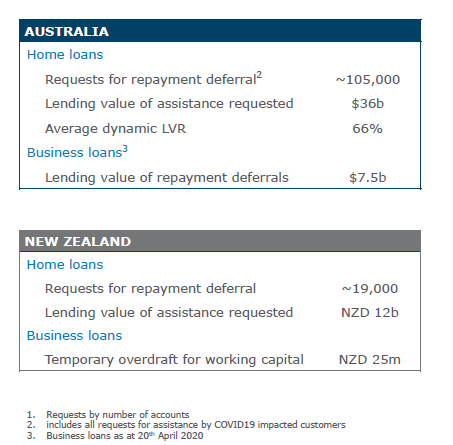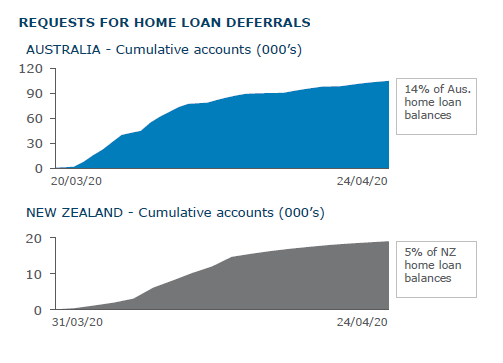 ANZ NZ's announcement is here.
The ANZ group release is here, and ANZ's presentation is here. ANZ has also released an internal interview with group CEO Shayne Elliott here, one with group chief financial officer Michelle Jablko here, and one with group chief risk officer Kevin Corbally here.