ANZ New Zealand posts lower annual profit as its credit impairment charge surges, income falls, expenses rise and it loses money on the sale of UDC. ANZ Group says 2% of NZ mortgage book on a deferral plan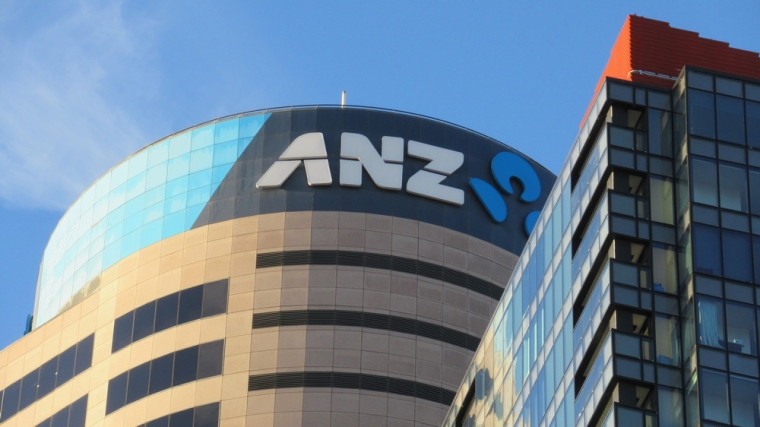 ANZ New Zealand, the country's biggest bank, posted a 27% fall in annual profit as credit impairment charges surged, operating income fell and operating expenses rose.
The bank's September year net profit after tax fell $489 million, or 27%, to $1.336 billion from $1.825 billion last year.
The drop came as ANZ NZ's annual charge for expected credit losses surged to $401 million from $99 million, its operating income fell 6% to $4.049 billion, and operating expenses rose 10% to $1.736 billion.
ANZ NZ also recorded a $32 million loss on the sale of UDC Finance after the recent $794 million sale to Japan's Shinsei Bank, plus a $23 million after tax loss stemming from unwinding the economic hedges from UDC loans.
ANZ NZ's net interest income fell just $3 million to $3.229 billion.
"COVID-19 brought unprecedented challenges to our country and consequently for many businesses, including ANZ NZ, and this is reflected in our full-year result," CEO Antonia Watson said.
Australian parent the ANZ Banking Group said of the group's 529,000 home loan accounts in NZ, about 24,000 have received a deferral on loan repayments. As of October 15 about 10,000 accounts were on a deferral plan, equivalent to 2% of the total NZ mortgage book. Some 21,000 customers were moved to interest-only.
ANZ NZ says all up it has provided financial help to about 43,000 personal, home and business loan customers through repayment deferrals, moving them to interest-only, or loan adjustments covering lending worth about $27 billion.
Ending Bonus Bonds costs $27 mln
Watson said remediation and increased regulatory requirements contributed to the rise in expenses, with "significant investment in a number of technology systems" designed to meet Reserve Bank stand-alone bank requirements. ANZ NZ also booked a $27 million after tax goodwill write-off stemming from the decision to wind-down its Bonus Bonds scheme.
"While the record low interest rate environment and fee reductions have impacted underlying revenue, customer deposits were up 11% and underlying gross lending increased by 3%," said Watson.
ANZ NZ says fee reductions have passed on about $50 million in savings to customers.
Meanwhile, Watson said the NZ economy has a lot going for it.
"As well as our management of COVID-19, our commodity prices are holding up as countries shore up their food supply chains. Business confidence and other indicators of economic activity have bounced back quickly. Businesses have some certainty about the future that simply doesn't exist in other countries," she said.
Nonetheless Watson said the next few months would be difficult.
"While the efforts of people in New Zealand to contain the spread of COVID-19 have reduced its impact, we must remember that there has been a considerable cost to many in the community."
The country's largest KiwiSaver provider, ANZ NZ now has $16.4 billion under management, an increase of 11% year-on-year. 
The ANZ Banking Group posted a 42% fall in annual cash profit from continuing operations to A$3.76 billion. This comes with a credit impairment charge of A$2.74 billion and an A$815 impairment of "Asian associates." Return on equity dropped to 6.2% from 10.9%, and the group's paying annual dividends of A60 cents per share down from A$1.60. The ANZ Group said its Common Equity Tier 1 capital ratio was 11.3% at September 30 as a percentage of risk weighted exposures. That compares to a pro-forma ratio of 11.4% a year earlier.
The group net interest margin fell 12 basis points year-on-year to 1.63%. Meanwhile, the ANZ Group said its NZ net interest margin was down seven basis points year-on-year to 2.26%.
ANZ Group CEO Shayne Elliott said the events of the past year make it difficult to predict the course of the next year.
"While we are not managing the business expecting things to return to the way they were before the pandemic, nor are we sitting idle waiting for the next event to happen to us. ANZ is well placed to respond to the opportunities that are emerging as a result of accelerated structural shifts in the economy," Elliott said.
The chart below, on its NZ mortgage deferrals, comes from the ANZ Group.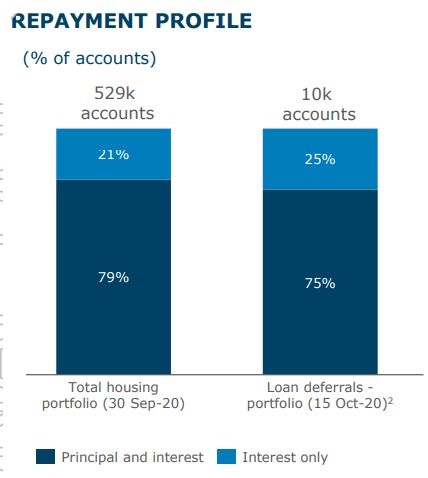 Here's ANZ NZ's press release.
Here's the full results release from the ANZ Banking Group.