The cheap, commoditised, homogenous home loan market with few distinctions works just the way the major banks like it, and the RBNZ's new funding option may help them consolidate their grip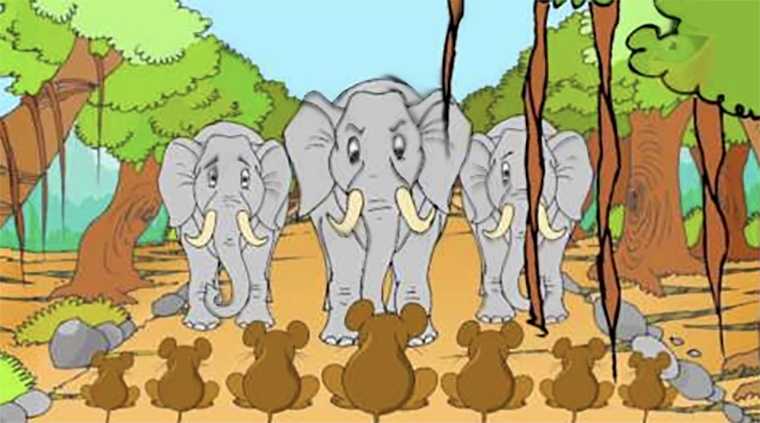 As interest.co.nz has noted in analysis published for subscribers to our Banking & Finance Daily Newsletter, banks have been filling their boots with mortgages.
Almost +$6.3 bln was added to their mortgage books in the September quarter alone, taking the total home loan book at banks to $287 bln. And that was the largest quarterly dollar rise ever recorded, and the largest relative growth since the 2016 boom.
Readers with good memories will recall that between March and April this year at the start of the nationwide pandemic lockdown, bank mortgage books actually shrank for the first time ever. But that bump has long since passed and we are back to boom times in the home loan market.
The RBNZ releases monthly data on the overall shifts in this market, and quarterly we get visibility via their Dashboard release on the data for individual banks. Our Key Bank Metrics tool is a convenient way to inspect that data yourself and compare banks.
Such comparison allows us to see the market share shifts.
And the news is - there isn't any!
That's right, even as the market booms, most banks are holding their market share. No one bank is really winning, and none are losing share.
This is somewhat surprising.
It is even tighter than that. The big banks are also holding their share against the upstart challenger banks.
The grip the big banks have is impressive.
Three years ago they held just under 95.0% of the bank mortgage market, and as at September 2020, they hold just under 95.1%. It is a trivial shift.
And it shows just how hard it is for the challenger banks to gain on the majors. It is not as though they aren't trying; they are, and hard.
And that is because the home loan market is the only sector of the overall loan market that is growing.
Lending to consumers by banks is shrinking, mainly because BuyNow/PayLater firms are eating their lunch in the credit card market.
Demand for lending from businesses is evaporating - partly because the Government has undermined the SME market with its own zero interest, "pay me back if you like" model. And large corporates are shifting to the bond market where direct investors are tolerating very low interest rates.
And lending to agriculture isn't flash either, with bank appetites for risk here - especially for dairy lending - on the wane and under the watchful eye of regulators.
The only section of the loan market with any growth is for housing. And the RBNZ gives this sector some special boosts - it says banks can hold far less capital to support housing loans, and it is about to release its Funding for Lending program that will allow banks to borrow liberally at the OCR rate. With a cost of funds of only 0.25%, banks can maintain their Net Interest Margins (which are running at about 1.85%) and still potentially chop their fixed interest rates to about 2.1% from the current average 2.6% without any pain or cost. All as as result of RBNZ policy settings and programs.
And lower interest rates improve serviceability of loans, and allow buyers to bid up asset prices. (Just a pity about first home buyers and their inability to save up the necessary deposit. But even so, the level of FHB demand is actually higher than you might otherwise conclude.)
Yes, banks have been filling their boots, and are about to boost that even further, it seems.
But the odd thing is, everyone is only just "getting their share" - there is are no winners or losers among the banks competing for this share.
Home loans are now a commodity, and the key feature for most borrowers is the "price", the interest rate. It seems when we see a low rate, we ask our existing bank to match it, and generally they do. When 'price' is taken off the table, it is just convienent to roll over the existing relationship unchanged. That is happening across the whole market. It does make you wonder why you would actually need a third party (a broker) to help with the rollover negotiation. Ask for the lowest price from any major bank, get it, re-sign.
Home loan competition is really non-existant in this cheap, commoditised, homogenous market with few distinctions.
It is such a large market, it has turned our so-called "trading banks" into "mortgage banks". All of them have a majority of their loan books in home loans.
As at September 2020

Total loans
$ mln
Housing loans
$ mln
Home loan 
proportion %

ANZ

133,710.8

87,488.4

65.4%

ASB

92,675.0

62,236.1

67.2%

BNZ

88,369.4

45,849.6

51.9%

Kiwibank

22,990.2

20,151.6

87.7%

Westpac

88,254.5

54,889.5

62.2%

 
 
 
 
Big Five
$426,000
$270,615
63.5%
 
 
 
 

Bank of Baroda

104.1

65.5

62.9%

Bank of China

2,101.8

1,093.5

52.0%

Bank of India

78.5

45.0

57.3%

China Construction Bank

1,631.1

777.8

47.7%

Cooperative Bank

2,588.4

2,424.9

93.7%

Heartland

3,693.8

586.1

15.9%

ICBC

1,628.4

451.5

27.7%

Rabobank

11,529.4

25.5

0.2%

SBS Bank

4,117.2

3,228.0

78.4%

TSB

6,175.9

5,269.2

85.3%

 
 
 
 
Challengers
$33,649
$13,967
41.5%
 
 
 
 
All these Banks
$459,649
$284,582
61.9%
And among the main banks, there has been virtually no market share shift in the past three years.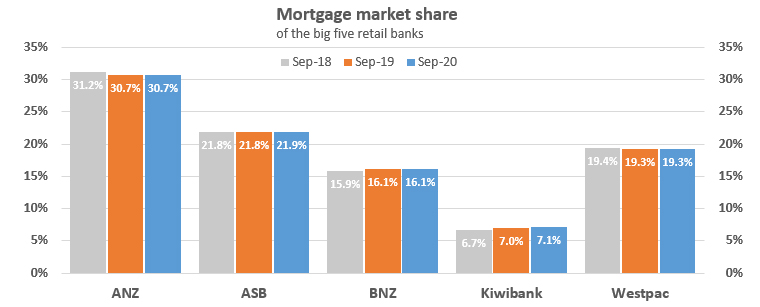 Among the challenger banks, who are left the about 5% of this market as crumbs, it is very tough indeed.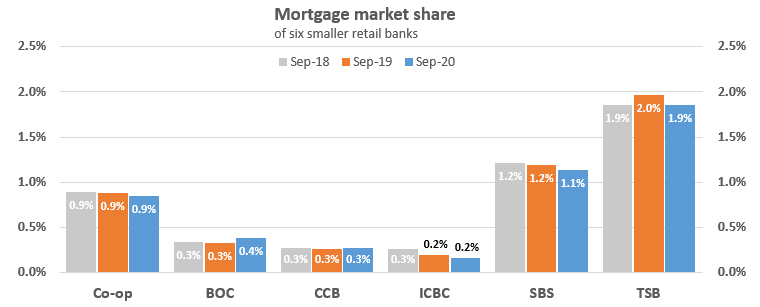 Perhaps the Funding for Lending program which is due to roll our early in December, will allow these minnows to offer a price incentive that will separate away some significant share from the majors. But don't count on the majors allowing that. Their whole existance depends on holding on to their home loan book.