ASB posts 4% rise in half-year profit to $625 million as income rises and expenses fall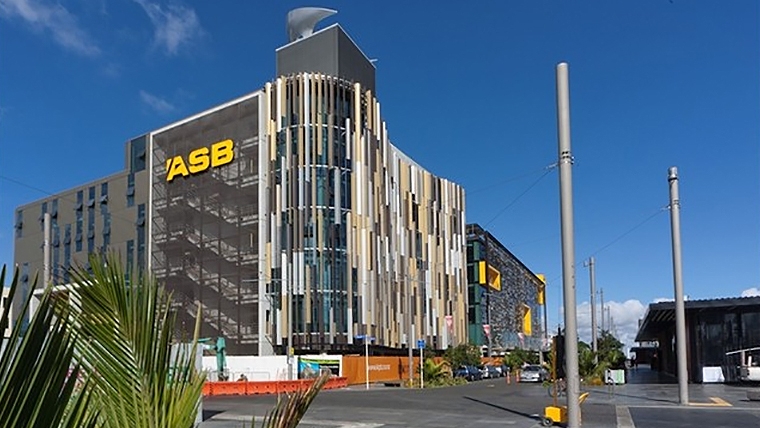 As it posts a 4% rise in half-year profit, ASB is promising not to force the sale of any ASB customers' owner-occupied homes this year.
ASB's net profit after tax for the six months to December 31, 2020 rose $26 million, or 4%, to $625 million from $599 million in the same period of the previous year. That's just $5 million shy of the bank's record interim profit, achieved in the six months to December 31, 2018.
Against the backdrop of COVID-19 ASB says it's "making a commitment to keep Kiwi families in their homes."
"There will be no forced sales of owner-occupied family homes in 2021 for ASB customers we are working with to resolve the challenges they are facing. Mortgagee sales are uncommon, and they are always the last resort, however, we are taking this step to give customers added peace of mind during what is a very worrying time for some," ASB CEO Vittoria Shortt says.
The ASB move follows a similar no forced sale initiative from its parent Commonwealth Bank of Australia (CBA) last year.
ASB posted an $18 million, or 1%, rise in half-year total operating income to $1.416 billion, with net interest income up $40 million, or 4%, to $1.110 billion. Total operating expenses were cut $16 million, or 3%, to $518 million. Loan impairment losses rose $8 million to $30 million.
Strong home loan growth in red hot market
ASB's total loan provisions were $604 million at December 31. That's against gross loans of $95.5 billion, of which $65.8 billion, or 69%, are home loans. Figures from CBA show ASB grew home lending faster than the overall red hot housing market during the six months to December 31, and increased market share to 21.8% from 21.5%.
"We remain confident about New Zealand's ability to remain resilient to the challenges of COVID-19, but the past 12 months have taught us all to expect the unexpected. That is why we have made a conscious decision to continue to provision for the uncertainties surrounding the pandemic and its possible long-term effects," Shortt says.
The tables and chart below come from CBA and cover ASB.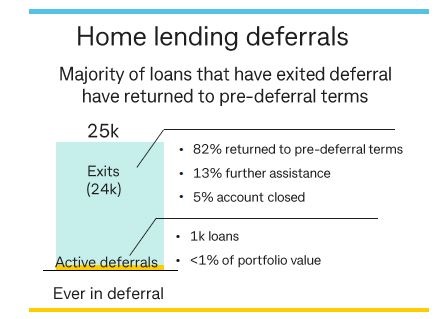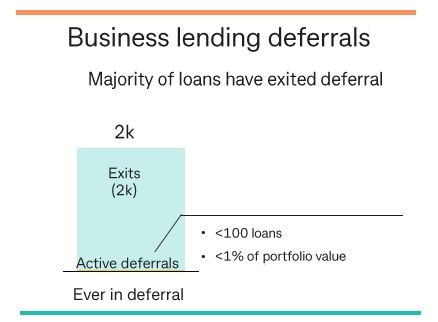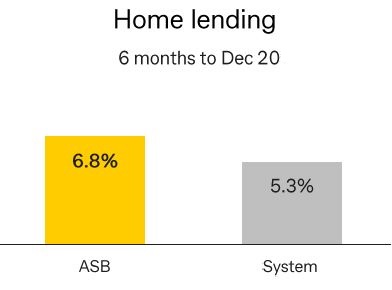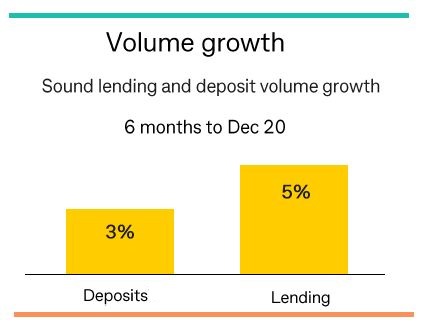 ASB market share percentage                             Dec 2020                   June 2020               Dec 2019

AUM is assets under management.
In terms of key financial performance measures, ASB's return on equity fell 70 basis points to 14.9% from 15.6%, its net interest margin fell six basis points to 2.09%, and its cost to income ratio rose 60 basis points to 37.1% from 36.5%. ASB's common equity tier one capital ratio, as a percentage of risk weighted exposures, rose 50 basis points to 12.2%.
Meanwhile, the CBA group posted an 11% fall in interim cash profit after tax from continuing operations to A$3.886 billion. CBA's net interest margin fell 10 basis points to 2.01%, and its fully franked interim dividend dropped 25% to 150 cents per share, a payout ratio equivalent to 67% of cash profit. CBA's common equity tier one capital ratio rose 90 basis points to 12.6%. The group's loan impairment expense was 36% higher at A$882 million.