Andrew Haldane, the Bank of England's departing chief economist, argues central bank digital currencies could have both financial stability and monetary policy benefits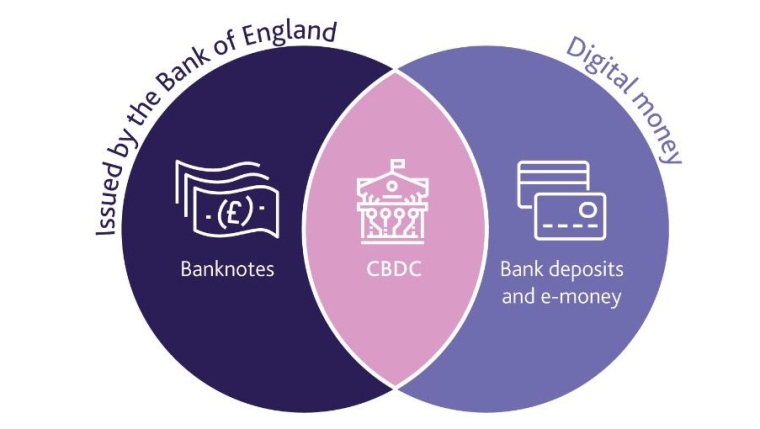 Deciding whether to adopt a central bank digital currency (CBDC) or not is a pivotal moment for central banks akin to Britain's Bank Charter Act of 1844, which conferred monopoly rights over paper money on the Bank of England.
That is the view of Andrew Haldane, the Bank of England's departing chief economist who has also been a member of its monetary policy committee.
Media coverage of Haldane's wide ranging speech marking his departure from the Bank of England after 32 years focused on his concerns about inflation. However, he also aired strong views on CBDCs arguing there should be a greater focus on the longer-term monetary and financial stability benefits of new monetary technologies.
A CBDC would allow households and businesses to directly make electronic payments using money issued by the central bank such as the Bank of England in Britain, or the Reserve Bank in New Zealand. It could see an electronic record or digital token used as the virtual form of a country's fiat currency, which in NZ's case is the NZ dollar. This is against the backdrop of a world awash with cryptocurrencies such as bitcoin, and the development of stablecoins, which are a type of cryptocurrency backed by a reserve asset, such as fiat currency or gold.
"Within the next year or so, the UK will reach a decision on CBDC. It will be pivotal. An earlier pivotal moment was the Bank Charter Act of 1844, conferring on the Bank monopoly rights over paper money. At that point, central banking came of age in the setting monetary and financial stability policy. Tomorrow's decisions on CBDC rival the 1844 Act in their significance for central banks over the medium term. And that is why a deeper consideration of monetary and financial stability implications is paramount today," Haldane said.
The Reserve Bank is preparing to consult publicly on the pros and cons of a CBDC, and there's more on CBDCs from the Bank of England here. The US Federal Reserve is also mulling a CBDC, and you can see more on CBDCs here.
The winds of technological change are blowing a gale through finance, led by payments, Haldane said, with new technological barbarians appearing at the gates, transferring money cheaper, faster and easier than ever. Against this backdrop with CBDCs under consideration, Haldane says from a financial stability context, a widely-used digital currency could change the banking landscape fundamentally.
"It could result in something akin to narrow banking, with safe, payments-based activities segregated from banks' riskier credit-provision activities. In other words, the traditional model of banking familiar for over 800 years could be disrupted. While the focus of debate so far has been on the costs of this disruption, largely in the form of disintermediation of existing agents, there are significant potential benefits to be had too."
"Specifically, this could lead to a closer alignment of risk for those institutions, new and old, offering these services - narrow banking for payments, money backed by safe assets, and limited purpose banking for lending, risky assets backed by risky liabilities. This radically different topology, while not costless, would reduce at source the fragilities in the banking model that have been causing financial crises for over 800 years. Given the costs of those crises – large and rising – this is a benefit that needs to be weighed," Haldane said.
In terms of monetary policy, Haldane said the most important constraint facing policymakers today is having interest rates close to the zero lower bound (ZLB).
"At root, the ZLB arises from a technological constraint – the inability to pay or receive interest on physical cash. This is a technological constraint that every form of money, other than cash, has long since side-stepped. Even if you accept cash has other benefits that mean it is the preferred payment method for some, the inability to pay interest on public money is a relic of a bygone era."
"In principle, a widely-used digital currency could mitigate, perhaps even eliminate, this technological constraint. Specifically, CBDC would enable interest to be levied on central bank issued monetary assets or digital cash. The extent to which this relaxed the ZLB constraint depends, in addition, on the elasticity with which physical cash is provided to the public alongside CBDC. Access to physical cash is an issue well above the pay grade of central bank technicians; it is a political-cum-social issue. Nonetheless, the potential macro-economic benefits of easing the ZLB constraint are large and have grown over time," said Haldane.
He went on to say that studies suggest the ZLB constraint can result in significant shortfalls in output relative to potential, of about 2%, and inflation relative to target, of as much as 2 percentage points.
"These are potentially enormous gains in macro-economic terms. To those benefits needs to be added the gains to digital cash users of holding a remunerated instrument, helping protect their purchasing power. These financial stability and monetary-macro benefits should be at the centre of the debate about the desirability and design of digital currencies. To give an example, the design of the remuneration schedule for CBDC will in my view be one of the most significant decisions made by central banks in the next half-century."
"Yet, to date, central banks have scarcely touched the surface of the complexities this issue raises. This needs to change if the potentially transformative benefits of CBDC are to be unlocked," Haldane said.
*This article was first published in our email for paying subscribers early on Tuesday morning. See here for more details and how to subscribe.