RBNZ admits first-home buyers are the target of its proposal to tighten LVR restrictions, as it's worried high house prices are seeing them bite off more than they can chew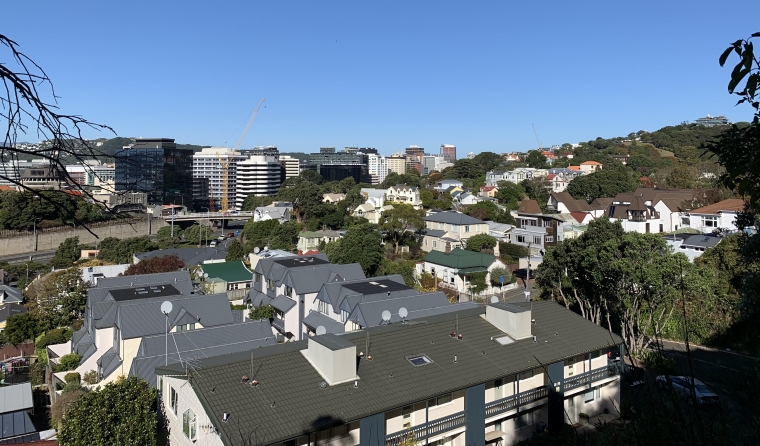 The Reserve Bank (RBNZ) acknowledges its proposal to tighten bank lending restrictions from October 1 will hit first-home buyers the hardest.
The RBNZ last month proposed allowing banks to let a smaller portion (10%) of their mortgage lending to owner-occupiers go to borrowers with relatively small deposits of less than 20%. Currently, 20% of mortgage lending to owner-occupiers can go to this riskier cohort of borrowers.
The banking regulator on Friday released a consultation paper seeking feedback on its proposal.
It made the case, intervention is needed to prevent first-home buyers in particular from stretching themselves too much to buy increasingly costly houses, ultimately putting themselves and the financial system as a whole at risk.
It estimated that if house prices fell by 20%, around 5% of new mortgage lending issued in the year to June 2021 would be in negative equity.
Whereas around 22% of new mortgage lending to people who bought their first home in this time would be in negative equity. That is, they would owe the bank more than what their property is worth.
The graph below shows the portion of new lending in the year to June 2021 that would be in negative equity at different levels of house price falls.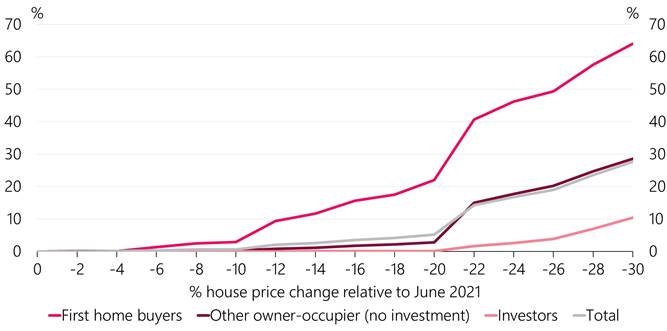 The RBNZ explained: "Growth rates of house prices in the last year mean that households that already owned homes built up balance sheet resilience through large gains in the value of their equity.
"Recent movers and investors have benefited from the equity gains on their previous properties, whereas recent first-home buyers have come into the housing market with less purchasing power and have generally needed to borrow at higher LVRs, and hence are more vulnerable to price falls."
FHBs effectively the target of tighter restrictions
While the RBNZ isn't explicitly proposing to create new LVR rules for "first-home buyers" as such, it recognised this group would effectively be targeted by it tightening existing rules for all owner-occupiers.
It said banks tend to use up their high-risk, or high-LVR, lending allocations on first-home buyers.
For example, around 35% of new bank lending to first-home buyers is to those with deposits of less than 20%. Meanwhile, less than 5% of new lending to other owner-occupiers is at this level (at LVRs of above 80%).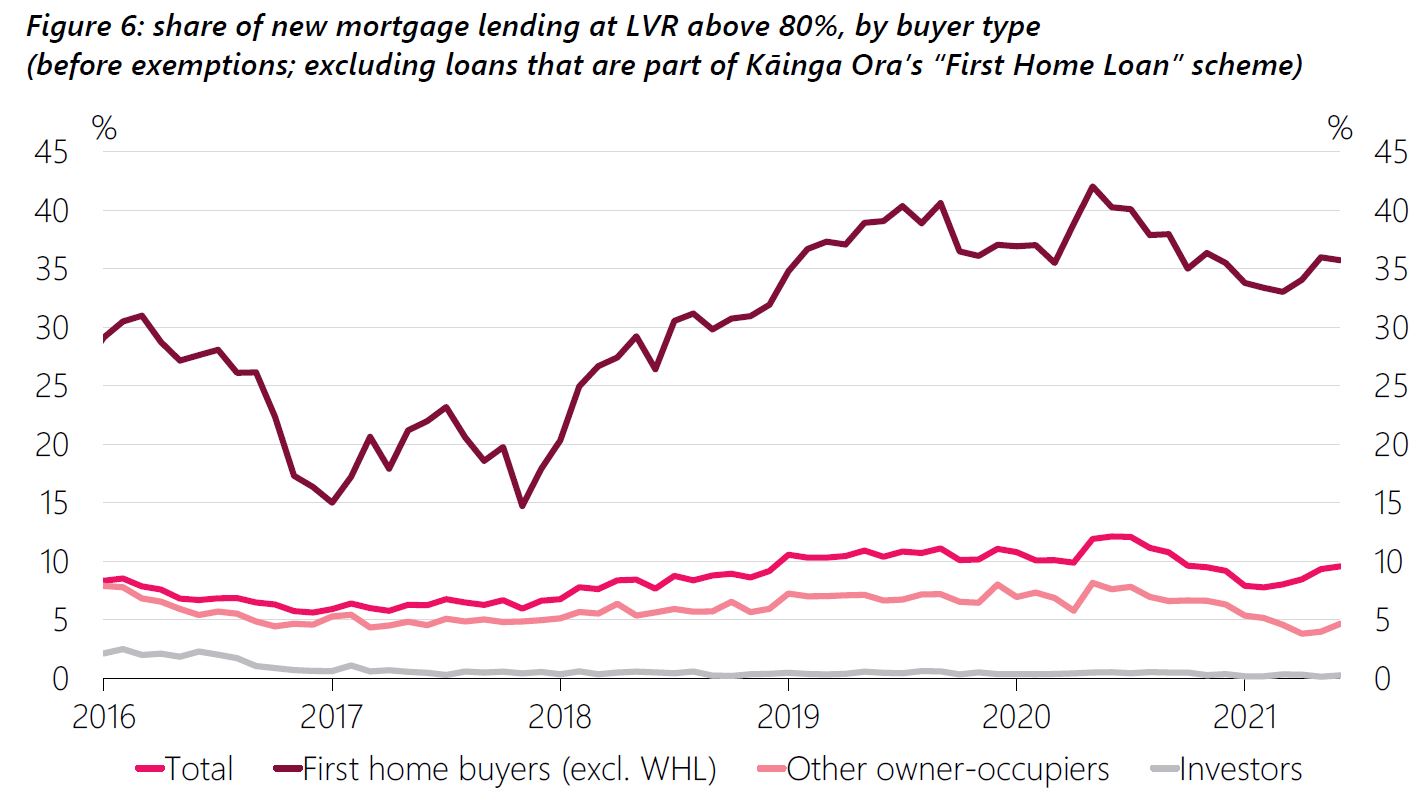 Economy-wide risks
The RBNZ stressed its job is to consider the strength of the financial system as a whole, not control house prices.
"Financial system resilience is starting from a strong base, but without action the outlook is expected to deteriorate over time," it said.
Commenting further on the risks associated with negative equity, it said: "A high proportion of lending in negative equity does not on its own imply that banks would face credit losses, but their portfolios would be significantly more vulnerable to a servicability shock - for example, a rise in unemployment - whereby customers with negative equity who cannot service their debt default on their loans."
Because so much of New Zealand households' wealth is tied up in housing, the RBNZ also noted a fall in house prices would cool the economy more broadly. It said a 20% decline in house prices would reduce New Zealand households' total wealth by more than 10%.
The RBNZ also said its research suggested New Zealand homeowners are more sensitive to house price falls than rises. Households cut their consumption if house prices fall by more than they increase consumption if house prices rise (3 cent consumption increase for every dollar rise in house prices).
Serviceability to be addressed via new restrictions
The RBNZ said New Zealand is even more sensitive to the impacts of a housing correction because households have taken out so much debt.
Mortgage rates are currently low, but the RBNZ recognised, "A large share of New Zealand mortgages are on a short-term fixed interest rate, putting a large share of borrowers at risk of sharp increases in mortgage costs, if interest rates rise before they next reset their fixed term…
"Recent first-home buyers would be the primary group to experience serviceability stress, as they typically have lower incomes than other borrowers, and therefore need a greater share of their income for living expenses.
"Investors are the second most likely to experience serviceability stress overall.
"Existing owner-occupiers are less likely to experience serviceability stress but it should be noted that these borrowers represent the largest share of the market."
The RBNZ said it would start consulting in October on introducing bank debt serviceability restrictions.
Finance Minister Grant Robertson last month gave it the power to use such restrictions, which could require borrowers to have a certain amount of income relative to the debt they're seeking, or require banks to ensure borrowers can meet repayments at set interest rates above existing rates. 
"The LVR tool is better suited to mitigating the risk of negative equity in borrowers, while a serviceability tool should be better at building borrowers' buffer against serviceability shocks, such as an interest rate rise," the RBNZ said.
Lending to investors doesn't need to be reined in more
While the RBNZ proposed tightening LVR restrictions by shrinking the portion of lending banks are allowed to do to borrowers with deposits of less than 20%, it also considered increasing the size of deposits most borrowers need to have to 25%.
However, it didn't favour this option, in-part because it would affect a lot of borrowers, who only just manage to meet that 20% deposit threshold.
The RBNZ also deemed it unnecessary to further target investors. As of May, 95% of banks' mortgage lending to investors has had to go to borrowers with deposits of more than 40%.
The RBNZ noted the Government is now also taxing investors more by removing their ability to deduct interest as an expense and extending the bright-line test.
Following these changes, there has been a significant reduction in both the share of overall lending for investment purposes and the proportion of investor lending at high LVRs.
"Therefore, the current evidence does not show new lending to investors as contributing to financial stability risks," the RBNZ said.