Westpac New Zealand annual profit falls as expenses, loan impairments rise. Net interest margin increases
[updated]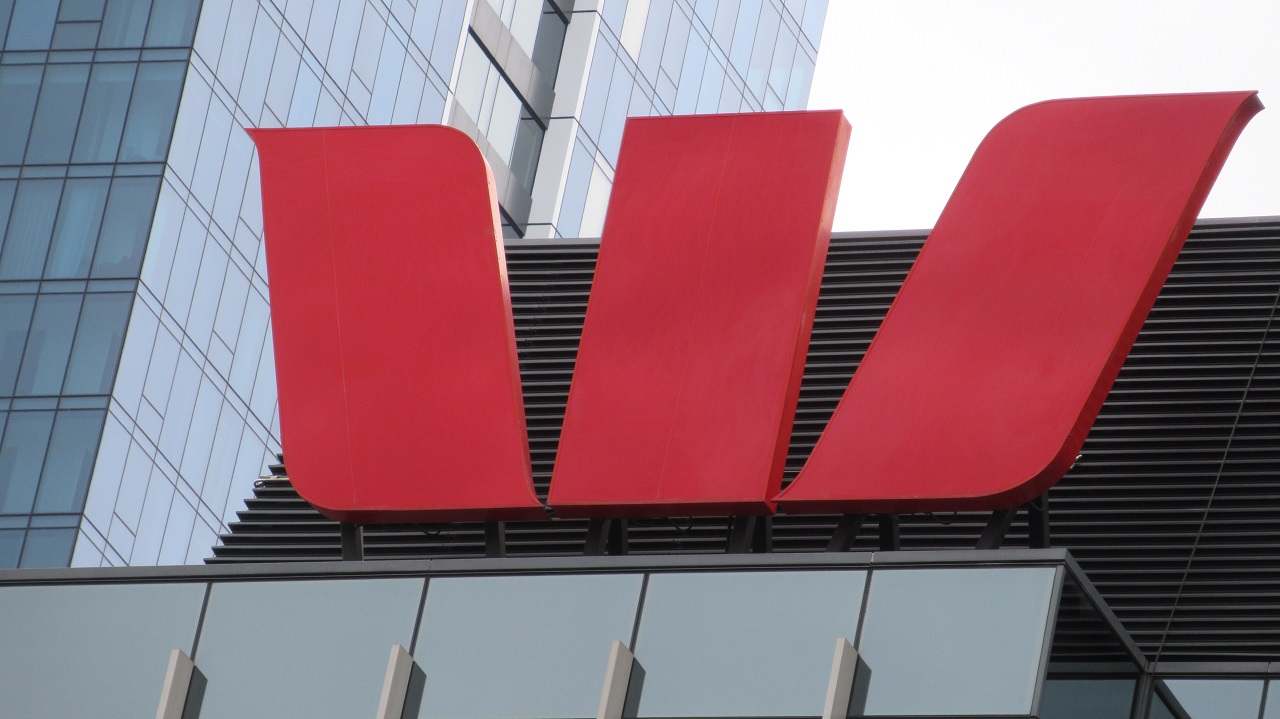 Westpac New Zealand's annual profit fell 18% as operating expenses rose significantly faster than income grew, and the bank swung to loan impairments from impairment benefits, or write-backs, the previous year.
Westpac NZ's net profit after tax for the year to September 30 fell $205 million, or 18%, to $963 million from $1.168 billion the previous year.
Net operating income rose $61 million, or 2%, to $2.774 billion, and total operating expenses climbed $137 million, or 12%, to $1.295 billion. Loan impairment charges weighed in at $135 million versus benefits of $27 million last year.
The bank's net interest margin rose 11 basis points to 2.11%. Net interest margin measures the amount of money a bank is earning in interest on loans compared to the amount it's paying in interest on deposits.
Annual deposit growth came in at 2%, with total deposits rising to $79.8 billion. Net lending grew 3% to $99.3 billion. Housing lending rose 3% to $65.8 billion, and now comprises 66% of total lending, up from 64% year-on-year. Business lending rose 2% to $32.8 billion.
Hardship levels remain low
Westpac NZ CEO Catherine McGrath says customer hardship levels remain low with the number of home loan borrowers behind on repayments reducing over the past six months.
"In the past six months, the bank has reached out to more than 88,000 customers who were due to roll on to significantly higher fixed home loan rates to help them understand their options."
"We've also followed up with phone calls to more than 9,000 customers who we've identified as most at risk of financial stress, and we've expanded our extra care team to provide more proactive support," McGrath says.
"During the low interest rate period of two to three years ago, many homeowners built up a savings buffer and most now remain well placed to manage interest rate rises."
Figures in a presentation from Aussie parent the Westpac Banking Corporation puts Westpac NZ's 90+ day mortgage delinquencies at 0.33% at September 30, up from 0.22% a year earlier. It has Westpac NZ's 30+ day mortgage delinquencies at 0.71% versus 0.45%, and stressed exposures to total committed exposures at 1.49% versus 0.97%.
Teams up with Biocatch to fight scams
Westpac NZ also says it recently became the first NZ bank to partner with Israeli behavioural biometrics company Biocatch as the bank battles fraud and scams targeting its customers.
"The bank is upgrading its analytics and rules-based fraud monitoring, and its integration of biometrics software through Biocatch will help it to detect unusual customer behaviour online that could indicate a customer had been scammed," says McGrath.
"For example, if a customer is tricked into divulging their account login details, the new technology will help us identify and block attempts by cyber criminals to take over their account."
"However, scammers adapt quickly to new customer safeguards, which is another reason why the increased collaboration between banks, telecommunications companies, police and other agencies is so important," McGrath says.
She says Westpac NZ turned on Biocatch in early September and it's collecting behavioural data to help learn how individual customers behave online.
"We hope to have it fully operational by the end of the month. The technology essentially provides a frictionless extra layer of security for customers. The data is fully anonymised, so Biocatch doesn't know the identity or details of the people it's helping protect."
In September the NZ banking industry bowed to pressure from critics of its slow response to rampant scams, announcing it would introduce name and account number checking and take action to freeze mule accounts used to siphon money scammed from customers.
The New Zealand Banking Association (NZBA), the lobby group for NZ banks, said it would "investigate" real-time information sharing on scams, more "consistent and timely" outcomes for scammed customers and said it supported a National Anti-Scam Centre, similar to those already in operation in Australia and Singapore. Banks would also remove all web links from texts to customers.
Westpac Group profit up 26%
The Westpac Banking Corporation posted a 26% rise in annual net profit after tax to A$7.195 billion. Its net interest margin rose two basis points to 1.95%, and annual dividends increased 14% to A142 cents per share. The group's common equity tier one capital ratio came in at 12.4%, a rise of 109 basis points, and its return on equity rose 199 basis points to 10.1%. The Westpac group also announced a A$1.5 billion share buyback.
*The charts below are for Westpac NZ.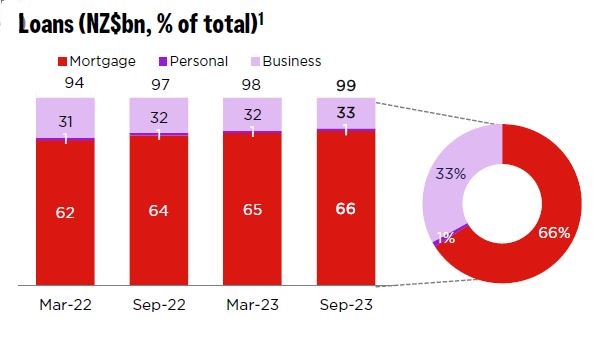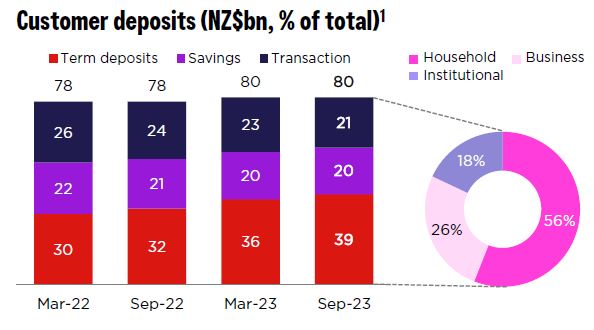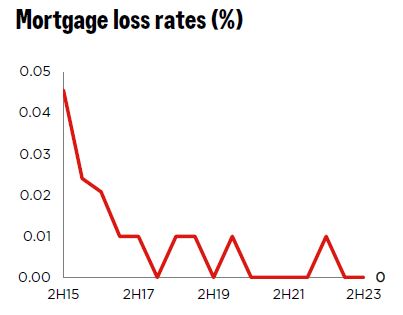 The Westpac NZ press release is here.
The Westpac Group press release is here.