ANZ NZ profit surges $206m to $1.986b, or about $809 per customer. Calls off UDC sale. Group cuts staff incentive payments by A$124m in wake of Royal Commission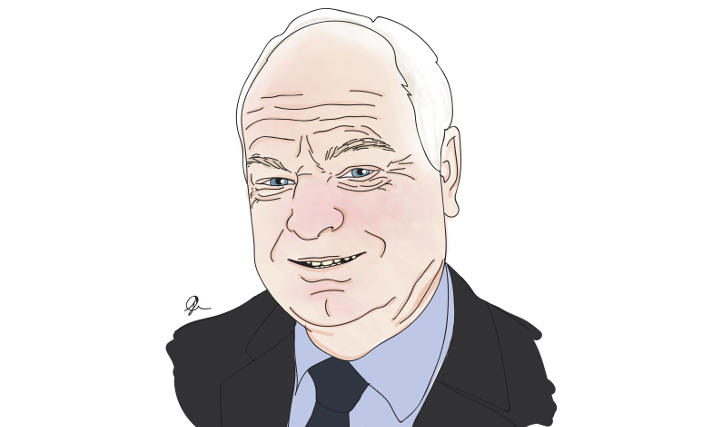 By Gareth Vaughan
ANZ New Zealand has posted a 12% rise in annual net profit after tax to a shade under $2 billion, a fresh record high for the country's biggest bank.
ANZ NZ says September year profit after tax rose thanks to the strong NZ economy, improved credit quality and the bank's focus on digital innovation and customer service.
Higher net interest margins, the difference between the interest income generated from the bank's loans and the amount of interest paid for funding such as deposits, also helped profit. The ANZ Group results show the NZ operations' first half-year net interest margin up eight basis points year-on-year to 2.38%, and its second half-year net interest margin up four basis points year-on-year to 2.37%.
Additionally ANZ NZ's bottom line benefited from a $117 million positive turnaround in its hedging used to manage interest rate and foreign exchange risk, plus a $40 million revaluation of insurance policies.
September year profit surged $206 million, or 12%, to $1.986 billion from $1.780 billion last year. ANZ NZ says it has a financial relationship with about one in two New Zealanders, being people who have or use at least one of its products. That's about 2.45 million people, meaning the bank made the equivalent of about $809 per customer.
 Both revenue, or operating income, and expenses rose 3%. Revenue was up $106 million to $4.183 billion, with net interest income also up 3, or $99 million, to $3.177 billion. ANZ NZ's operating expenses rose $48 million to $1.494 billion. The bank's credit impairment charge dropped $6 million, or 10%, to $53 million.
ANZ NZ's cost to income ratio fell 110 basis points to 36.1%.
Customer deposits increased 7.5% to $104.1 billion, and gross lending rose 3% to $128.7 billion. This left a funding gap of $24.6 billion, down from $28.1 billion the previous year.
UDC Finance off the block as CEO highlights benefits from economy
Meanwhile, ANZ says any sale of UDC Finance is off the table for now. (See more on this here). And ANZ NZ CEO David Hisco highlights benefits to the bank from a robust economy.
"The continued strength of the economy - strong exports and tourism sector aided by a lower dollar, continued demand for houses and growth in household incomes - has been good for our business," Hisco says.
"The Government's investment in major infrastructure across the country and trade achievements are providing jobs and fuelling consumer spending and saving. We also have had a significant reduction in provision charges - funds set aside for bad debts - due to credit quality improvements across our retail, commercial and agri businesses," Hisco says.
Against the backdrop of the Australian Royal Commission and Financial Markets Authority and Reserve Bank review of NZ banks' conduct and culture, Hisco says ANZ NZ is "committed to doing what is best for our customers and the community, being transparent and putting things right quickly. This will continue to be a strong focus for us in the future."
ANZ NZ's share of the home loan market was put at 31.0% at August, down 10 basis points year-on-year. As of September 30, ANZ NZ's home loan book stood at $81 billion, up $4 billion, or 4.9%, year-on-year. In KiwiSaver ANZ NZ now has 24.2% market share, down 40 basis points year-on-year. It has $12.9 billion under management, and 745,000 KiwiSaver customers. Over the September year the bank's household deposit market share fell 20 basis points to 33.8%, and its business lending market share dropped 130 basis points to 26.9%.
ANZ NZ's annual cash profit was up $49 million, or 3%, to $1.904 billion.
Dividends equivalent to 84% of annual cash profit
As previously reported by interest.co.nz ANZ NZ paid an $800 million ordinary dividend in September. This followed ordinary dividends of $3.8 billion for the nine months to June, which included April's issuing of $3 billion worth of shares to immediate shareholder ANZ Holdings (New Zealand) Limited, and the paying of $3 billion worth of dividends to the same entity. ANZ NZ said this was done to pass retained earnings to the bank's parent, without impacting total equity, with no tax benefits generated.
Thus effectively the bank paid $1.6 billion in annual dividends, a similar level to its September year last year when they weighed in at $1.635 billion. This year's dividends are equivalent to about 84% of annual cash profit, down slightly from 88% last year. 
Tough year for parent with pay cuts
Parent the ANZ Banking Group posted a 5% fall in annual cash profit to A$6.487 billion. Its return on equity was down 67 basis points to 11.0%, first half net interest margin was 1.93% and second half 1.82%. The bank is paying unchanged annual dividends of A$1.60 per share.
Group CEO Shayne Elliott says ANZ has taken action to "fast track fundamental changes" resulting from "our failures" highlighted by the Royal Commission.
"We expect the tough revenue growth environment in retail banking in Australia to continue for the foreseeable future, however we are well positioned to take advantage of growth opportunities in institutional [banking], Asia and New Zealand," Elliott says.
"While there was much to be pleased about this year, we accept the significant community concern as a result of our failures highlighted by the Royal Commission has impacted our standing in the community," Elliott adds.
"This was a factor in the decision to reduce variable remuneration [from the ANZ incentive plan] paid to staff this year across the bank by $124 million. We are also undertaking the urgent work required to fix the failures that have been highlighted by the Commission and further increased our focus on conduct issues."
The charts below come from the ANZ Group presentation.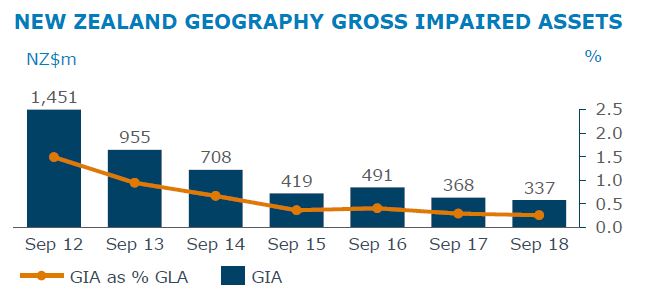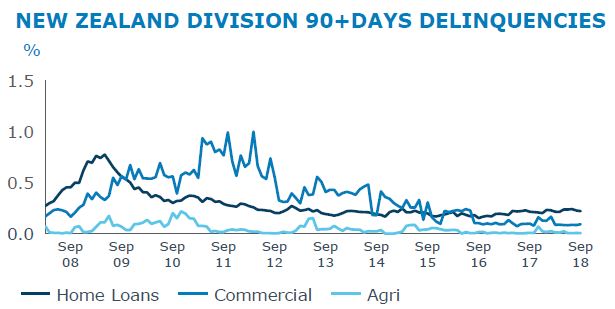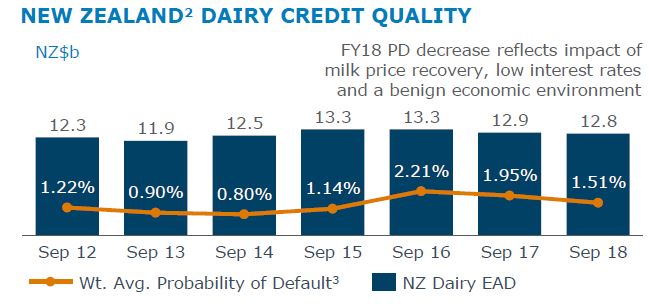 ANZ NZ's press release is here, the ANZ Group press release is here, and the ANZ Group presentation here.
There's also the transcript of an interview with ANZ Group CEO Shayne Elliott by ANZ's own BlueNotes website here.