FMA & RBNZ report highlights several ways government could address regulatory gaps to incentivise banks to develop & maintain appropriate management of conduct risk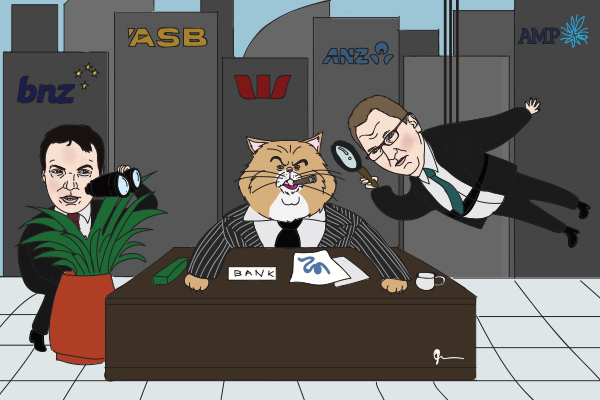 By Gareth Vaughan
The Financial Markets Authority (FMA) and Reserve Bank of New Zealand (RBNZ) say that whilst their probe of bank conduct and culture has identified problems, they're not the result of gaps in regulation. Rather, the regulators argue, the problem sits with the banks themselves.
"The issues identified in this review are not the result of gaps in regulation. The power to make changes rests with the banks, and their desire to change should come from a genuine focus on improving customer outcomes – not the need to comply with the law," the FMA and RBNZ say.
However the regulators also note that neither of them - New Zealand's two key financial markets regulators - has a direct legislative mandate for regulating the conduct of providers of core retail banking services such as lending, credit, and bank accounts.
The FMA and RBNZ say their review has not identified any notable gaps for the RBNZ as prudential regulator of banks. However, for the FMA as conduct regulator, it found gaps in conduct regulation across licensing requirements, rules, requirements and standards that the regulated population must adhere to, enforcement tools that enable regulators to bring about changes in behaviour or provide redress, and the capacity and approach of the regulator.
Specific examples of conduct regulation gaps cited include:

• A lack of accountability, and a lack of requirements for systems and controls in relation to the governance and management of conduct risk.
• A lack of requirements in capturing and reporting on misconduct as well as handling customer complaints and undertaking remediation activity.
The review also highlighted weaknesses in the legislative framework for products that are sold without advice, and a lack of a requirement to consider customer outcomes throughout a product lifecycle, the FMA and RBNZ say.
"These examples demonstrate the inherent vulnerability in a regulatory system that assigns regulatory coverage to activities and products rather than to entities. Although a consumer may consider that they have a relationship with a bank, New Zealand's regulatory regime, and those of many other countries, determines regulatory coverage based on whether, or how, certain products and services are offered to retail customers," the regulators say.
"While there are strengths in this approach, such as the ability to tailor rules to particular product and service risks, there is no coherent set of obligations and regulatory influence that applies to all dealings between an entity and its retail customers."
"The lack of conduct requirements in the delivery of banking products (particularly those distributed without financial advice) has hampered the FMA's regulatory oversight and the development of consistently strong governance and management of conduct risk across the industry," the FMA and RBNZ say.
"The limitations of the FMA's regulatory remit, in relation to general banking conduct, – and more broadly in terms of resourcing constraints at the RBNZ – has made it challenging for us to prioritise bank conduct and culture issues against our more clearly mandated responsibilities. These limitations have likely contributed to the industry's response to conduct risk being slower and less far reaching than we would like."
The regulators highlight a number of ways the government could address regulatory gaps, to incentivise banks to develop and maintain appropriate management of conduct risk. These include; 
• Establishing basic legal duties on banks to protect or enhance customer interests and outcomes.
• Requiring banks to have adequate systems and controls to govern, manage and remediate conduct risk.
• Providing regulators with sufficient supervision and enforcement powers and resources to ensure banks meet these obligations, including requiring better information on conduct issues or risks and the option of penalties to incentivise appropriate behaviour.
• Clarifying accountability and individual responsibility for management of conduct, including the potential for direct liability for senior managers.
"We appreciate that further policy work will be required to fully explore all options. In recommending that the Government consider the options noted above, we are also mindful of the number of reviews currently under way in relation to financial services regulation. These include the Financial Services Legislation Amendment Bill, the Reserve Bank Act review, the review of insurance contract law and conduct regulation, and the review of consumer credit legislation," the FMA and RBNZ say.
Here's a statement from Commerce and Consumer Affairs Minister Kris Faafoi & Finance Minister Grant Robertson in response to the FMA & RBNZ report.
Banks must lift their game to ensure the rights of customers are protected, Commerce and Consumer Affairs Minister Kris Faafoi says. 

A review of bank conduct, released today by the Financial Markets Authority (FMA) and Reserve Bank of New Zealand (RBNZ), identifies instances of poor conduct by bank staff and weaknesses in bank processes to manage them.

"We are not happy to hear that there are problems, but by identifying them we now have an opportunity to fix them. New Zealand customers should get fair treatment and their needs must be put first," said Kris Faafoi.

"It's important banks do much better at identifying problems and risks in their business and fixing them before they become a much bigger problem."

Minister of Finance Hon Grant Robertson said that dealing with the problems identified in the report was critical to ensure New Zealanders have confidence in their banking system.

"Any weaknesses in how banks manage the way they behave is a concern.

"This report highlights why we must remain vigilant to the risks that Australian customers are facing. Banks need to provide a service that's acceptable by New Zealanders and my hope is they will do this by placing customers at the heart of their decision making," said Grant Robertson.

"This is not an end, rather a beginning to ensure banks deliver on the privilege of being licenced to operate in this country."

The FMA and RBNZ will provide specific individual feedback to each bank later this month. The banks will then have until March 2019 to report back to the regulators and provide plans for addressing the feedback. 

The Government would also be looking closely at the findings from the Australian Royal Commission, anticipated in February 2019, and will be asking the RBNZ and FMA to study the final report to determine if further action is needed in New Zealand.

Kris Faafoi said the Government would be taking on board the report's recommendations on the regulatory environment for bank conduct and will determine if regulations need to change.

A programme of work is already underway to improve the regulation of New Zealand's financial system and to prioritise customer interests. This includes the Financial Services Legislation Amendment Bill to strengthen regulation of financial advice, changes to the Credit Contracts and Consumer Finance Act to target irresponsible lending, and a review of insurance contract law.

"Ultimately, New Zealand banks need to step up and take greater responsibility for their systems and processes, so that consumers can have confidence that their finances are in safe hands," said Kris Faafoi.