NAB CEO and ex-BNZ CEO Andrew Thorburn cancels leave, says he will 'personally and visibly' lead response to stinging Royal Commission criticism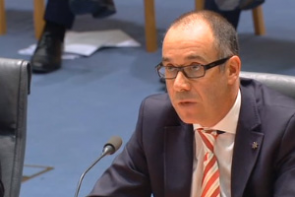 Under fire bank boss Andrew Thorburn says he will "personally and visibly" lead the response of BNZ's parent National Australia Bank (NAB) to Australia's banking Royal Commission.
In a statement Thorburn, BNZ's CEO between 2008 and 2014, says Commissioner Kenneth Hayne's criticism of NAB in his final report is "very hard to read."
"...the Commissioner has expressed his view that we at NAB may not be learning the lessons we need to from the past and, in particular, that we don't know what the right thing to do is," Thorburn says.
"As the CEO, this is very hard to read, and does not reflect who I am or how I am leading, nor the change that is occurring inside our bank. While we have made mistakes, I believe there is a lot of evidence that we are making sustainable and serious change to once again regain the trust of our customers."
"I am proud to be a banker; it has always been a profession of service. I am proud to be CEO of NAB, and am more determined than ever to lead NAB with even greater urgency and intensity and show through our ongoing actions that we do what we say," Thorburn says.
"I have cancelled my planned long-service leave, aside from a personal family commitment next week. I will lead this personally and visibly, and alongside NAB's 33,000 employees who share my determination to be better for customers."
NAB 'stands apart' from the other three major banks
In the final report Hayne said NAB "stands apart" from the other three major banks, saying; "Having heard from both the CEO, Mr Thorburn, and the Chair, Dr Henry, I am not as confident as I would wish to be that the lessons of the past have been learned." 
"More particularly, I was not persuaded that NAB is willing to accept the necessary responsibility for deciding, for itself, what is the right thing to do, and then having its staff act accordingly."
 I thought it telling that Mr Thorburn treated all issues of fees for no service as nothing more than carelessness combined with system deficiencies when the total amount to be repaid by NAB and NULIS on this account is likely to be more than $100 million," Hayne added. 
"I thought it telling that in the very week that NAB's CEO and Chair were to give evidence before the Commission, one of its staff should be emailing bankers urging them to sell at least five mortgages each before Christmas. Overall, my fear – that there may be a wide gap between the public face NAB seeks to show and what it does in practice – remains."
In its Tuesday statement NAB notes Hayne's final report references matters concerning the NAB Group that have been "referred to the relevant regulator." The bank says it will "engage constructively" on these matters.
Thorburn's time at BNZ's helm covered the Global Financial Crisis, plus the devastating Christchurch earthquakes, and subsequent earthquakes that damaged BNZ's Harbour Quays building in Wellington. He was popular among BNZ staff and appeared to be respected within the banking sector.
Here's Thorburn as BNZ CEO in 2012 speaking about  "fundamental anomalies" in the New Zealand tax system that favoured residential property, and arguing a lack of leadership was the main problem in the housing affordability "crisis." And here he is from earlier in 2012 discussing bank profitability in a video interview.