BNZ's Andrew Thorburn hits out at 'fundamental anomalies' of tax system that favour residential property and says lack of leadership is main problem in housing affordability 'crisis'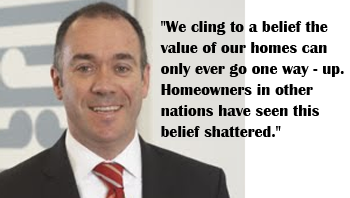 By Gareth Vaughan
Stopping just short of calling for the introduction of a capital gains tax, BNZ CEO Andrew Thorburn says Kiwis need to face up to the "fundamental anomalies" at the heart of their tax system in order to both encourage investment away from residential property and into job creating, productive businesses, and lift savings levels. Boosting savings would help tackle our "perennial" current account deficit and making KiwiSaver compulsory would be a step in the right direction.
In a speech to the Trans-Tasman Business Circle at a lunch in Auckland, Thorburn also noted New Zealanders "cling to a belief" the value of their homes can only ever go up, when homeowners in other countries have seen this belief  "shattered."
And answering questions after the speech Thorburn said the solving of the Auckland housing affordability "crisis" was being delayed by a lack of leadership. He also noted the only person he knew who believed the retirement age was sustainable at 65 was Prime Minister John Key, and urged the business leaders in the audience to "step up and be heard."
'Perverse tax signals'
Thorburn said more could and should be done to tackle the "perverse signals" current taxation settings send to New Zealanders on savings and investment choices.
"For example, New Zealand is one of the few developed countries in the world without a capital gains tax applying to investment in residential housing. We also support negative gearing and have no stamp duty on property purchases," said Thorburn.
"As a consequence, we have seen in this country a massive long‐term bias towards investment in residential property - a non‐productive asset in investment terms, albeit a critical life requirement for people and families."
He noted media reports on mortgage interest rate movements and house prices were almost as ubiquitous as weather reports, suggesting this says a lot about the position the country is in.
"As a result of this bias, New Zealanders have a lot at stake and at times we cling to a belief that the value of our homes can only ever go one way ‐ up. Homeowners in other nations have seen this belief shattered."
Thorburn referred to a recent New Zealand Herald column from fund manager and media commentator Brian Gaynor that suggested if house prices fell by 10% this would lead to greater wealth destruction than that inflicted by the 1987 sharemarket crash.
"Gaynor's estimate is that such a fall would wipe out some NZ$60 billion of our wealth, compared with NZ$15 billion in the aftermath of the biggest stockmarket crash since the Great Depression," said Thorburn. There are many reasons for this state of affairs, and the longstanding signal sent by our tax system is undoubtedly one of them."
'I'm concerned overall lending is weighted towards residential lending and away from the productive sector'
Thorburn acknowledged the imbalance in favour of investment in residential property over productive businesses was "writ large" in New Zealand banks' balance sheets.
"Almost 50% of BNZ's lending book, for example, is supported by residential housing, and it's pretty much a rock‐solid asset for us, as it is for our competitors."
The expression "safe as houses" had deep resonance for bankers, he added.
"I can't speak for the other banks, but it has long concerned me that overall lending is weighted towards residential lending and away from the productive sector, at a very time when New Zealand is slipping down the OECD ladder of GDP per capita, at a time when so many young New Zealanders are unemployed or think they can make a better living in Australia and other places, and during a period in which we've essentially maintained our standard of living as a nation by borrowing from the savings of people in other countries. Long‐term, this is unsustainable," Thorburn said.
The weighting towards residential property was a "neat inversion" of the situation prevailing in many other developed countries.
"Under current settings, dividends and savings are taxed at a much higher rate than the effective taxation rate on housing. If New Zealand and New Zealanders are to be good with money I do think we need to take a different path and face up to these fundamental anomalies at the heart of our current taxation system. Let's keep debating this, please."
He noted New Zealanders total borrowings amount to about NZ$300 billion and our total savings about NZ$210 billion.
"It's OK if these figures aren't balanced. After all we're a small economy, but in an unstable world a NZ$90 billion gap is too big - we need to reduce our dependency on external debt."
'We're risking a major economic disruption that's likely to leave practically all New Zealanders worse off'
Thorburn also said the Government's Savings Working Group had made an important contribution to the debate about tax settings and incentives, noting it had concluded both people in general and the government, weren't saving enough.
"Unless we make some rapid changes, we are risking a major economic disruption likely to leave practically all New Zealanders worse off. It's as if we are standing on top of a cliff that may collapse dramatically or crumble slowly. Either way, it would be a bad fall. We need to move back from the brink - and fast," said Thorburn.
"That's dramatic language, but as a summation of the situation facing New Zealand it is accurate. The Savings Working Group tackled the savings issue in both its quantitative and qualitative dimensions. Its broad recommendations are worth recapping here:
"First, as an overall goal, New Zealand needs to increase national saving by some 2% to 3% of GDP from its current gross level of 17% of GDP, by increasing government, household and business saving. We need to improve the quality of savings and investing – through better asset choices, higher returns and so on. This involves changes such as reducing serious tax distortions, much better disclosure on financial products and their fees and performance. We need to boost productivity, particularly in government services. And we should increase exports and production of goods and services that substitute for imports – so that New Zealanders buy less from overseas."
This, Thorburn said, would help tackle the country's perennial current account deficit issues. Some progress had been made over the last two years, Thorburn suggested, with domestic savings now rising after many years of negative savings.
"The KiwiSaver scheme demonstrates an honest, sustainable attempt to grasp the nettle of savings. At latest count there were some 2 million New Zealanders enrolled in the KiwiSaver scheme, and a total of nearly NZ$13 billion under management."
'I favour compulsory KiwiSaver'
He described then Prime Minister Rob Muldoon's decision to scrap Labour's compulsory superannuation scheme in 1975 as "a very fateful decision."
"I favour universal or, if you prefer, compulsory KiwiSaver for a number of reasons. It would help to boost household retirement savings, making New Zealanders more self‐sufficient. It would help to entrench a culture, mentality and track record of regular savings among New Zealanders, especially if our efforts at boosting financial literacy across a broad front were also stepped up."
Although BNZ doesn't currently have its own KiwiSaver scheme it is preparing to launch one.
Thorburn said over time universal, or compulsory, KiwiSaver would provide strong support to New Zealand's capital markets, through the accumulation of a big savings pool as has occurred in Australia over the last 20 years. Compulsory super was introduced in Australia in 1992 and there's now about A$1.3 trillion invested in Australian superannuation funds. A bigger pool of domestic capital in New Zealand could help New Zealand businesses both grow and raise capital.
"From this would flow jobs and incomes, and therefore the capacity for New Zealanders to save more in the first place, not to mention a tax base that will allow health, education and social security to be sustainably funded at the levels we want," said Thorburn.
Whilst not suggesting compulsory KiwiSaver was a panacea, Thorburn said he was convinced it would help.
A leadership vacuum
Thorburn also tackled the housing affordability "crisis." He said the breadth of what was in effect a coalition that agrees there's a major problem was enlightening.
"It encompasses economic and political commentators both left and right of centre, the minister of finance and his cabinet colleagues, social agencies in housing and other areas, the Productivity Commission, which delivered a weighty report on the subject earlier this year, and last but not least the thousands of ordinary New Zealanders who are fretting about how they can ever afford to clamber onto the first rung of the residential property ladder."
New Zealand wouldn't become a wealthier and more productive country if it couldn't affordably house its own people.
"The Productivity Commission, and the Government in its response to the Commission's report, have signalled out land supply as an important issue."
Although noting addressing housing affordability would take time, Thorburn said in a question and answer session after his speech that the analysis had been done and the issue was clear.
"Most of the problem, particularly in Auckland, is a land supply issue. There's not enough land being released in a balanced, concerted, sustainable way. The cost of housing is one of the issues, that's a scale issue but we know the problem."
"The problem's leadership," Thorburn said.
"Leadership is when there is no path, there is a risk, and you have to have courage to believe you can take people to the other side and that is by and large, to me, what we're lacking here in our broader leadership. We know the problem. We basically know accurately what the problem is. All we need is leaders who are prepared to stake their own personal reputation and be accountable for saying 'we are going to make changes and this is what we're going to do.' That's the main problem."
He also said the only person he knew who believed a retirement age of 65 was sustainable was Key, and endorsed outgoing Retirement Commissioner Diana Crossan's proposal to gradually raise the age of eligibility for retirement from 65 to 67 over a 20 year period.
'Stand up'
Meanwhile, Thorburn also encouraged business leaders to stand up and be heard in order to help create a vibrant, successful business sector.
"The jobs, activity and income we all rely on are not going to come from anywhere else but the business sector. This sector needs to be one of our leading drivers of change and prosperity into the future. We need more business leaders to step up. Your voices are important. We need more hunger and drive from business leaders."