The trade war between the US and China holds special risks for New Zealand and the year-long dive in bond yields can be traced back to investor fears of where this is all headed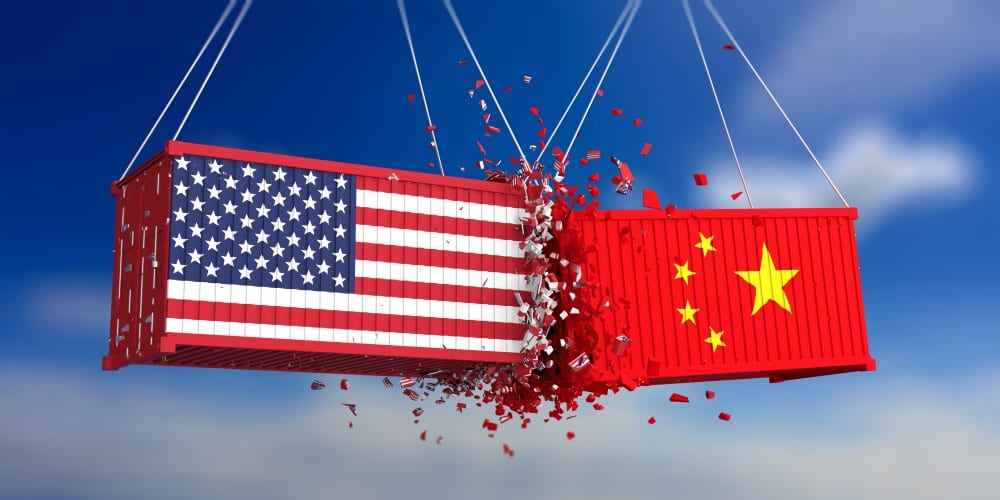 For the last nine months, bond markets have been showing increasing signs of concern about the global economy.
This has pretty much coincided with the aggressive stance by the US Administration as it deals with their trade imbalance with China.
The path they have taken has had bond investors worried and increasingly risk averse. Money has been flowing out of equities and into fixed income securities. Fearful investors now want the safety of Sovereign issuers (who have the power to tax to pay out) and it seems any yield is acceptable. Safety trumps yield for these large professional investors. In fact in some European markets, investors have foregone yield altogether, 'happy' to pay for the security rather than get a return. That means they will get back less at maturity that what they invested, even ignoring inflation, such is the fear.
This level of concern was heightened in the past few days. A small bond market reaction from the US Fed rate cut turned into full fright with the latest US tariff move. Markets are betting that the American pressure won't work on China in the way it is being applied, and the consequences on the US and global economy will be negative, and negative for a long while.
The yield drops have been across the board and across most countries, certainly the ones we benchmark against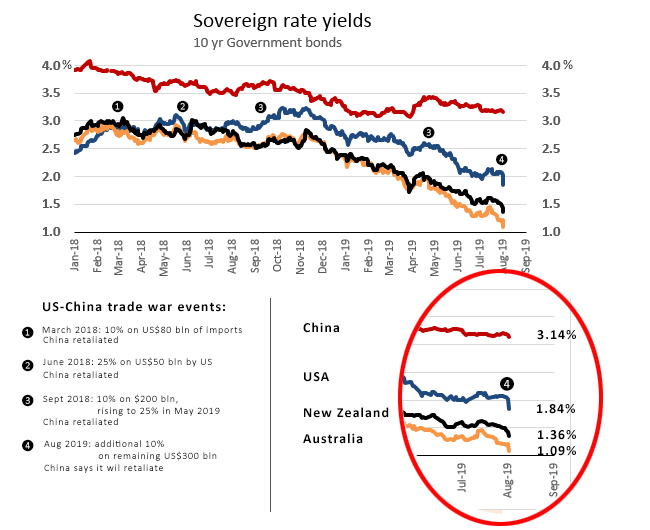 American rates have now tumbled back to levels last seen in late 2016. "Normalisation" is over.
But Australian and New Zealand yields have tumbled to all-time record lows in this same period. A good part of the recent drop is the flow-on effect from the American trade moves. They signal future trade flows will be weaker than they have been.
But they are exacerbated by impending official rate cuts by the central banks of Australia (possibly again on Tuesday but more likely in a month or two) and New Zealand (very likely again on Wednesday). Markets are now very uncertain that with current policy approached these expected -25 bps cuts will be the last.
Local wholesale swap rates have fallen between -40 and -60 bps (depending on the term) since the last RBNZ rate cut, and by between -70 and -113 bps since the beginning of 2019. Both are far more than the -25 bps official OCR cut we got in May. So markets are signaling much more is to come.
One reason we have been hit so hard is because we depend on trade. Here is how we stand in the trade exposure stakes:
2019
 
China
USA
Australia
NZ
 
 
NZ$
NZ$
NZ$
NZ$
GDP (bln)
 
21,587.2
32,722.0
2,230.0
298.0
 
 
 
 
 
 
Exports
[E]
1,757.4
2,552.6
560.7
59.4
Imports
[I]
1,492.2
3,914.5
489.2
64.4
E+I as % of GDP
15.1%
19.8%
47.1%
41.5%
Exports as a % of GDP
8.1%
7.8%
25.1%
19.9%
These are facts that those in Washington seem to ignore; China is as lightly exposed to export 'pressure' as the US. That is not to say they won't feel pressure, only that it will be similar to the pressure the US will feel. Neither has an advantage. But countries like New Zealand do have a big disadvantage, Australia even more so. (And because Australia is so much more firmly aligned with the US politically, and aligned to China on trade, China is likely to put much more pressure on them. But in the end, both New Zealand and Australia are acceptable collateral damage in both Beijing and Washington.)
This exposure helps explain why trade ructions have resulted in the sharp markdown of bond yields. The threats are so much greater for us, so the drive for safety over yield that much stronger.
What will it mean for savers and borrowers?
Of course, those impacts will come in the future so no-one knows for certain. That means that what follows can really only be classed as a 'guess', so you should treat it as such and make your own judgment.
But is is hard to see New Zealand interest rates flattening out at current levels, let alone rising. Much will depend on the tone of the Wednesday RBNZ commentary. More will depend on the trade war responses.
And banks may be facing subdued economic conditions in Spring as the real estate season kicks off, and to achieve lending targets they may feel the need to be extra competitive on 'special' home loan rates. Savers will pay until rates offered them reach close to zero. After that, bank margins will come under severe pressure, and that may limit what borrowers are offered.
All this will last until international bond investors feel less fearful in the long run. And given the cavalier attitude to rising sovereign debt in the US, Japan, China and Europe, it is possible to envisage a quick turn higher for yields. But that will only happen if those economies start growing again. And that may be wishful thinking.