Wholesale swap rates get new energy to push on sharply higher, even on top of the recent sharp increases. This fire is now well ablaze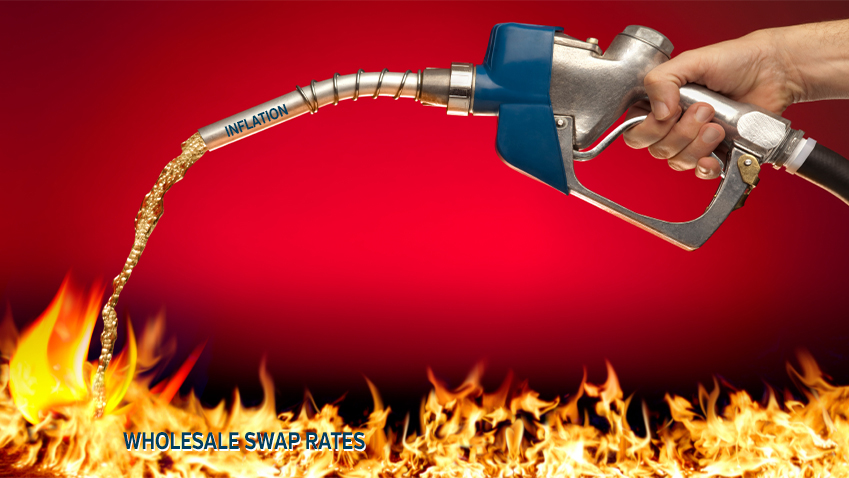 New Zealand swap rates surged higher again on Wednesday. The drive up is not relenting.
This will have strong implications for fixed home loan interest rates - even though they have just moved higher already over the past week.
But Wednesday's wholesale jumps clearly mean more rises are on their way.
To put the rises in perspective, wholesale swap rates already had the increase priced in at the Reserve Bank Official Cash Rate increase on October 6. After that until the surprising high New Zealand Consumers Price Index number, the one year swap rose +13 basis points on the indication the RBNZ was committed to more hikes. The two year swap rose +25 bps, and the three years by a similar amount over those 12 days.
Then the surprise CPI result generated a sharp jump, which until today (another 9 days) caused the 1 year swap to rise a further +25 bps, the two year by +10 bps and the three year by +15 bps.
Now, today alone, the one year swap is up yet another +10 bps, the two year by +12 bps and the three year by yet another +14 bps.
Local market demand is being fueled by self-fulfilling forces as borrowers rush to fix at current levels. But now, the Aussie third quarter CPI data came in higher than expected, especially the core CPI. Further, giant grocery retailer Woolworths flagged unrelenting cost pressure coming through their system which will be passed on.
Let's face it, if the supermarket buyers can't avoid cost increases, no-one will have the power to resist. And this is just adding fuel to the fire of CPI and interest rate rise expectations.
The bottom line: brace yourself for more chunky fixed rate home loan rate increases, and soon.
(And term deposits rates will also follow up, perhaps with a lag.)