In this 'lower for longer' interest rate environment, are 10-year bond offers the future for retail bond issues from corporates?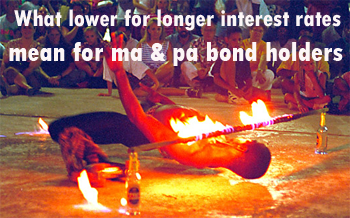 By Gareth Vaughan
The lower for longer interest rate environment is putting the kibosh on non-bank retail corporate bond issues with none hitting the domestic market since Contact Energy raised NZ$200 million just before Christmas.
Money borrowed through domestic bond issuance so far in 2012 totals NZ$3.8 billion. Of this NZ$1.85 billion has been raised by banks, NZ$1.05 billion by supra-nationals - the so-called kauri issues from overseas entities, NZ$873 million by councils led by the Local Government Funding Agency, and NZ$50 million from corporate issues through just one issue, - a 10-year issue to institutional investors from state owned enterprise Meridian Energy.
Compare this with 2011 when a total of NZ$10.2 billion was borrowed through domestic bond issues - the highest annual figure since 2008 - including NZ$2.4 billion through corporate bond issues with sales from the likes of Z Energy, Air New Zealand and Insurance Australia Group (IAG) marketed at retail punters.
Swap rates have been steadily dropping in recent weeks against a backdrop of a gloomy global economic picture highlighted by uncertainty over the heavily indebted Eurozone and weaker than expected jobs growth in the United States. On top of this worse than expected unemployment figures domestically and a slow rebuild of Christchurch have added to the mix. Financial markets are now pricing in 35 basis points worth of cuts in the Official Cash Rate (OCR) over the next year, this index shows, after the Reserve Bank hinted at a cut to the OCR, from its current level of 2.5%, in last month's review.
Since the start of the year the three year swap rate, for example, is down 25 basis points to 2.69%, the five-year is down 20 basis points to 3.17% and the seven-year rate is also down 20 basis points, to 3.58%. Over a longer timeframe swap rates have fallen even further. The one-year swap rate was at 2.41% yesterday and the 10-year at 3.96%, compared with 8.22% and 7.45%, respectively, in May 2007 when interest.co.nz started tracking swap rates.
The magic number
What all this means for retail bond issues is don't expect many, if any, anytime soon.
"I can't see anything happening in the retail space for quite a while," one senior debt market figure told interest.co.nz.
Or as a second senior debt market source puts it: "The (new issues) pipeline's quiet anyway, yields rallying doesn't help in a retail sense."
Debt market sources say an interest rate of 6% is still probably perceived as a "magic number" for retail bond issues. With swap rates so low, that means a chunky margin would have to be coughed up by a bond issuer  to reach 6%. For a seven-year issue, for example, the margin would have to be 242 basis points over the swap rate at yesterday's rates to reach a flat 6%. And for a five-year issue it'd need to be 283 basis points.
"For broad based retail buyers, a NZ$200 million plus deal, they're not interested in going below 6%," this source says, noting also that strong credit ratings are more desired by investors than ever.
Although bank bond issues this year, notably from Rabobank and ANZ, have been retailable, the last pure play retail bond issue was from Contact Energy, with the energy retailer and generator saying just before Christmas it would pay 8% annual interest on a NZ$200 million capital bond issue, NZ$50 million short of the company's target. Contact's issue closely followed one from IAG, which raised NZ$325 million through an issue of unsecured subordinated bonds paying 7.5%.
In March this year both ANZ and Rabobank each raised NZ$250 million in seven-year retailable bond issues paying 6.25% and 6.1%, respectively.  The bonds issued as "registered transferable deposits" are what is known as "retailable" as they can be bought in parcels as small as NZ$5,000. Registered banks have an exemption from the requirement to issue an investment statement or prospectus for this sort of issue. Normally buying bonds on the secondary market must be done in parcels of at least NZ$10,000.
Where the ma & pa's are putting their money
So with this dearth of retail bond issues, where are the yield chasing, retail bond loving, ma and pa retail investors sticking their savings now? They appear to be favouring the perceived safety of bank deposits. Based on Reserve Bank figures, New Zealand dollar denominated term deposits rose NZ$4.4 billion during the first quarter of 2012 to NZ$104.571 billion.  That total figure, as of March 31, is up a massive NZ$25.9 billion over five years, since March 31, 2007, when NZ$78.616 billion was held in New Zealand dollar denominated term deposits in a much higher interest rate environment prior to the onset of the global financial crisis.
Christian Hawkesby, head of fixed income at fund manager Harbour Asset Management, said it might be that with time retail investors are becoming more realistic about the rates they can expect their money to earn.
"I guess the other related theme is people becoming more interested in equity income as a complement to traditional fixed income investments," Hawkesby said.
Some shares listed on the NZX certainly offer attractive yields, albeit for an investment class that - in theory at least - carries a higher risk than bonds given shareholders rank behind debt holders in terms of getting their money back in a wind up situation. That said, listed companies such as Hallenstein Glassons, The Warehouse and Telecom, were all offering gross dividend yields north of 10% based on yesterday's figures.
Meanwhile, Hawkesby said in a lower for longer interest rate environment to get a bond offer away offering 6% interest meant moving further and further out, in terms of offer duration, to seven years and even beyond.
"I guess the paradox is on face value that can look attractive to a retail investor. But do they really understand the duration risk they're taking on from holding such long dated paper?" Hawkesby asks.
"Bonds with longer maturities are more price sensitive to interest rate changes. So if interest rates do head up from where they are now, it's the longer maturity bonds whose prices will be more affected by that. In managing our own portfolios we (fund managers) can take a credit view and then we can use interest rate swaps to adjust that overall duration."
Ma and pa investors don't have such tools readily available to them meaning if interest rates rise they're fully exposed to any movements.
How about 10-year retail bonds?
In terms of long-term bond offers, Hawkesby said he hadn't heard of any in the pipeline. But in the the current environment, and following Meridian's 10-year institutional deal, which raised NZ$50 million at 200 basis points over the swap rate, could one of such length aimed at ma and pa retail investors emerge?
"It's possible for the right name, the SOEs," the debt market source says. "Until you try a deal like that you don't know if it's going to work."
Separately, thousands of retail investors are facing the possibility of bank bonds, paying them interest rates north of 8% that were issued in the much higher interest rate environment of 2007, potentially being reset this year at much lower rates if the bank issuers decide not to call them on their call dates. See more on these resettable bonds from Harbour Asset Management here.
No chart with that title exists.
This article was first published in our email for paid subscribers this morning. See here for more details and to subscribe.