Analysts at UBS point to key challenges facing ANZ NZ, say it's 'very profitable' but question whether this is sustainable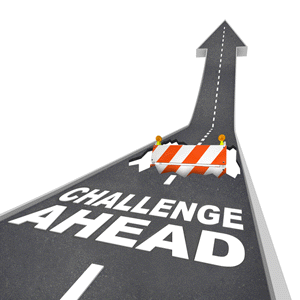 By Gareth Vaughan
The country's biggest bank, ANZ New Zealand, faces three key challenges as it phases out the National Bank brand, according to banking analysts at UBS.
These are; 1) Stabilising margin trends with fixed rate mortgages again popular with borrowers, 2) integrating the ANZ and National Bank brands and core IT platforms effectively and efficiently, and 3) maintaining profitable growth in a low growth marketplace.
"In the near term we struggle to sustain NZ profitability given an expectation that super-low bad debt charges may only last one-two half-year periods," Jonathan Mott, Chris Williams and Adam Lee of UBS say.
Their comments come after ANZ NZ last week posted record annual interim profit of NZ$655 million, which was a NZ$40 million, or 7%, rise year-on-year. In the results ANZ NZ reported a 10 basis points drop in its net interest margin to 2.49%, which it attributed to a 4.95% six-month and one-year fixed rate mortgage special in late 2012, and customers moving to fixed-rate mortgages from floating rate ones. As of February, just under half the bank's mortgage customers were on fixed mortgages, but during the half-year to March 31 the sales mix was 63% fixed and 37% floating.
According to Reserve Bank data, 51.6% of all home loans by value were floating at the end of March, and 48.4% worth was fixed, see chart below.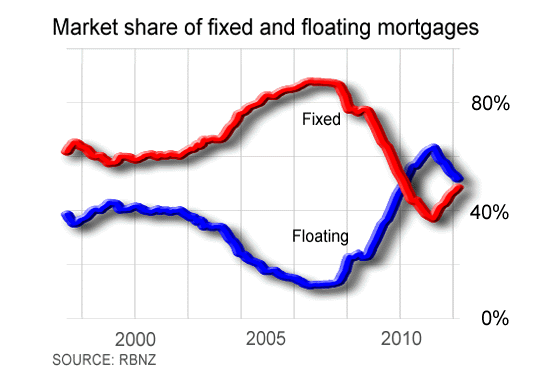 ANZ  confirmed last September that the popular National Bank brand would be phased out, some nine years after Australian parent the ANZ Banking Group bought National Bank from Britain's Lloyds TSB. And in October ANZ staff and customers were switched to the National Bank's core banking system.
CEO David Hisco says with the first few months of the "merger" under its belt, ANZ NZ is now focused on stepping up cross selling and extending its national branch footprint.
"It's a long game but we couldn't have been happier with the way our staff and our customers have responded to the brand change," Hisco told interest.co.nz.
Meanwhile the Australian-based UBS analysts note ANZ NZ's bad debt charges were "extremely low" at just 8 basis points, or NZ$36 million, compared with 20 basis points, or NZ$90 million in the second-half of its 2012 financial year. They noted this partly reflected a NZ$25 million collective provision "overlay release" in the second-half of 2012, plus materially reduced individual provision charges in the bank's commercial and agricultural unit.
They also note that revenue remains constrained, falling 2% despite ANZ NZ growing lending ahead of system, or overall market growth. Here, lending to small and medium sized enterprises (SMEs) was the standout, rising 6%.
Mott, Williams and Lee also pointed out strong returns on equity across ANZ's New Zealand operations.
"NZ is a very profitable business, surprisingly led more by commercial than retail although this is likely anomalous given the very low (half-year) credit loss charge in the commercial division."
The UBS chart below shows implied returns on equity. They compare with 39.7% for ANZ's Australian retail unit, 26.9% for ANZ's Australian commercial arm, and 32.8% for ANZ's Australian division.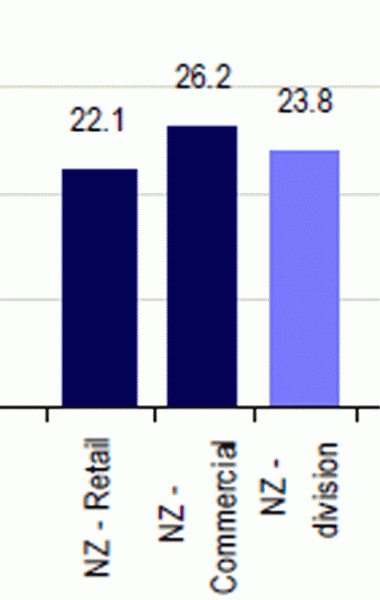 This article was first published in our email for paid subscribers. See here for more details and to subscribe.