Kiwibank quarterly profit falls as expenses rise, parent NZ Post tips in $40m to boost capital position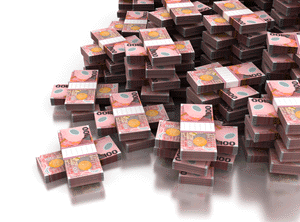 By Gareth Vaughan
Kiwibank has received a $40 million capital injection from its state owned enterprise parent New Zealand Post to bolster its capital position.
The capital stems from an issue of 40 million $1 ordinary shares on March 31. The injection helped increase Kiwibank's total capital to $936 million at March 31 from $911 million at December 31 last year. The capital includes $400 million of share capital and $419 million worth of retained earnings, plus perpetual preference shares and subordinated debt.
The capital infusion comes with Kiwibank having embarked on an upgrade of its core banking system that CEO Paul Brock says will cost more than $100 million and take up to five years.
A Kiwibank spokesman told interest.co.nz the fresh capital was required to "ensure Kiwibank meets regulatory and internal capital requirements."
As of March 31 Kiwibank's Reserve Bank mandated capital adequacy ratios showed its Common Equity Tier 1 Capital Ratio at 8.8% of risk weighted exposures versus 8.2% at December 31 and the mandated minimum of 4.5%. Its Tier 1 Capital Ratio was 10.2%, up from 10.1% at December 31, and versus the minimum requirement of 6%. Its Total Capital Ratio was 11.6% versus December's 11.4%, and the Reserve Bank minimum of 8%. Kiwibank's Buffer Ratio was 3.6%, up from 3.5%, and above the minimum required 2.5%.
Swiss bond issue, rising expenses hit profit, NIM stable
Aside from this month's $100 million unsecured, subordinated "junk" rated capital note issue that will yield 6.61% for the first 5 years, Kiwibank also issued CHF175 million (about NZ$233 million) worth of 5-year bonds in April. The bank's second senior debt issue in Switzerland following a CHF150 million 7.7 year issue last year, is paying Swiss investors a coupon of 0.875%.
Meanwhile, rising costs ate into Kiwibank's March quarter profit. The bank's unaudited profit after tax fell $3 million, or 12%, to $22 million in the March quarter from $25 million in the same period of last year. Operating expenses rose $21 million, or 30%, to $90 million, well ahead of a 16%, or $17 million increase in total operating income to $123 million. Kiwibank reported no impairment losses versus $2 million in the March quarter last year.
Net interest income rose $6 million, or 9%, to $73 million, with Kiwibank's March quarter net interest margin unchanged from the December half-year at 1.82%.
A report released late last year, done for Treasury by Ernst & Young, valued Kiwibank at $992 million.
This is an abridged version of this article. The full version was published in our email for paying subscribers. See here for more details and how to subscribe.